SHOCK LYNAS REVERSAL – AN URGE TO MAKE MONEY? – IF ANWAR WON'T BOW TO WESTERN PRESSURE – THEN WHY IS HE CAVING IN TO LYNAS AND EXTENDING ITS RARE EARTH LICENCE TILL 2026 – ARE 'BILLIONS OF RINGGIT' IN INVESTMENTS NOW MORE IMPORTANT THAN THE WELL-BEING OF THE PEOPLE?
Written by Stan Lee, Politics Now!
KUALA LUMPUR (Politics Now!) – Even as Prime Minister Anwar Ibrahim played the drama queen, posturing and swearing he would never bow to Western pressure, his government quietly announced it would extend a licence for Australia's Lynas to keep its controversial rare earths cracking and leaching facility in Gebeng, Kuantan for another 2 years until March 2026.
The shock volte-face by Anwar regime, which had promised voters it would put public health above monetary gain sparked angry accusations of hypocrisy, dishonesty and abuse of power.
AN URGE TO MAKE MONEY?
Shares in Lynas, which otherwise would have to shut down its Malaysian facility at the start of 2024, shot up by as much as 15% in Sydney, the most since February 2021.
"It is clear from the government's orientation of making money from the rare earth industry but this cannot be at the expense of people's health and the environment," environmentalist Mageswari Sangaralingam of Sahabat Alam Malaysia told the media.
Expressing bafflement at the government's decision, she also urged for greater transparency – a feature that a rising number of Malaysians see to be increasingly absent in Anwar's unity government.
"The government needs to be more accountable and transparent in this regard and the ministry needs to come clean as to the details of the research." Mageswari said.
TRANSPARENCY & HONESTY COMING DOWN, HYPOCRISY & DOUBLE-SPEAK GOING UP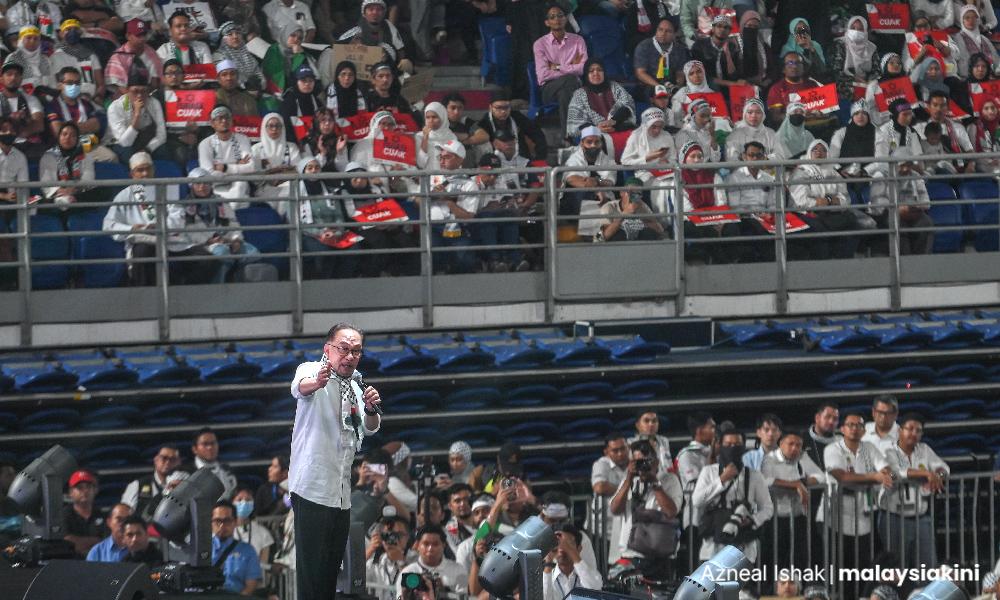 Perhaps, the biggest sting came from Anwar's doublespeak.
At a rally to show solidarity for the Palestinians, Anwar had boasted he had been threatened and pressured by Western powers but would never yield to them.
"Malaysia is a free and independent country. Malaysia will remain a sovereign nation that upholds freedom and the freedom of the Palestinian people," declared Anwar.
Yet he allowed Lynas to continue importing and processing key raw materials for its operations in Malaysia until March 2026.
U.S. & WESTERN PRESSURE AMID SQUEEZE IN GLOBAL RARE EARTH SUPPLY
The Australian firm is believed to have powerful Western allies including the U.S. in its fight to keep its operations going in Malaysia – amid a sharp squeeze in the global supply chain for rare earth elements.
The rare earths refinery that Lynas runs in Malaysia is the largest outside China, but has been dogged by concerns over radioactive waste and community opposition.
The mooted ban threatened to constrain supply of materials that are critical in electric vehicles, wind turbines, and high-tech military equipment.
DOES CHANG REALLY KNOW OR BLINDED BY PURPORTED BILLIONS OF RINGGIT IN INVESTMENT
Science minister Chang 
According Anwar's  science, technology and innovation minister Chang Lih Kang, the updated operating licence "will be in line with legal regulations, protect the people's interests."
Lynas must ensure the radioactive content of residues coming from the plant is below a set threshold, Chang said. And the firm must also invest 1% of its gross revenues on research in Malaysia into removing radioactive material from residues.
The move will attract billions of ringgit in investments in the local rare earths industry, Chang claimed.
MORE HOCUS POCUS FROM ANWAR REGIME?
According to Chang, the decision to extend the licence hinged on a Lynas proposal to extract radioactive thorium from the residue of its Water Leach Purification process to the point where the remaining residue is no longer radioactive enough to be regulated as radioactive waste.
His convoluted explanation, stuffed with complex bits of what appeared to be scientific data, was immediately scoffed at by experts and activists, who wrote it off as more 'hocus pocus' from the ineffective Anwar regime.
"Even if the new technology can extract thorium, (it was) done in a laboratory. Does he (Minister Chang) know how much radioactive WLP residue Lynas produces in a year? It's probably 76,000 tonnes," Save Malaysia Stop Lynas (SMSL) chairperson Tan Bun Teet told the media.
"How does he handle such a huge amount of waste and extract thorium from them? This is a question that hasn't been answered reasonably so far."
Tan also questioned if the Anwar government only listened to Lynas' side of the proposal or if a team had been set up to make a comprehensive assessment of the proposal.
"These questions have not been resolved, nor have they been explained in detail," said Tan.
"A reversal of the government decision based on this preliminary study does not at all sound convincing or assuring from a public health and environmental standpoint," added Mageswari.
Written by Stan Lee, Politics Now!
Politics Now!