JOHOR'S OUTSPOKEN PRINCE SENDS A SHIVER THROUGH ANWAR & ZAHID – ONE IS INDECISIVE, DOESN'T HAVE A GOOD TEAM, LACKS COURAGE YET FOREVER WANTS TO PLAY HERO – WHILE THE OTHER SHOULD KNOW THAT FOR UMNO TO HAVE A FUTURE, "SOME HAVE TO GO"
Written by Wong Choon Mei, Politics Now!
KUALA LUMPUR (Politics Now!) – Johor's outspoken crown price Tunku Ismail Sultan Ibrahim has again called a spade a spade – embattled Prime Minister Anwar Ibrahim is an indecisive leader and doesn't have a good team!
Tunku Ismail also sent a shiver through Anwar's closest ally Deputy Prime Minister Zahid Hamidi, the current president of Umno – which for decades was the largest Malay political party in the country. However it has since been decisively overtaken by Pas in the past year or two as Malay voters rejected the massive corruption scandals shrouding Zahid and his predecessor Najib Razak.
"For Umno to have a future, some have to go If it is stuck with the old system, I do not think Umno has a future unless they change," the NST reported Tunku Ismail as saying said on a podcast hosted by former health minister Khairy Jamaluddin and former Umno information chief Shahril Hamdan.
ANWAR SYCOPHANTS & THE DANGEROUS GAME OF TRYING TO CREATE A CULT FOLLOWING FOR PMX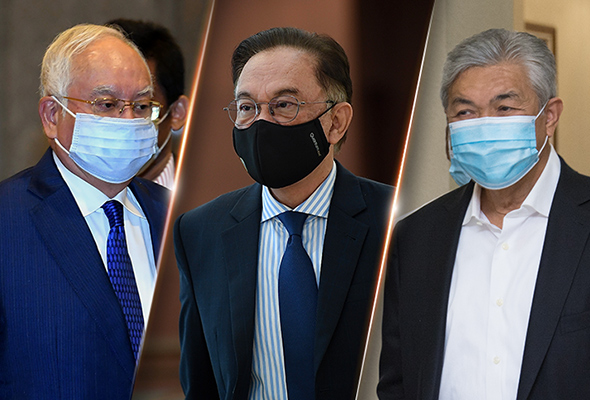 Najib, Anwar, Zahid
All eyes are on how the Little Napoleons – who may range from ministers to political secretaries – now squirming in Anwar's inner circle will react to the strong and spot-on remarks of the TMJ, as the Johor prince is popularly called.
Will they try to bully Tunku Ismail into silence by freezing his social media accounts and then pretend in the way that cowards often do – by refusing to take responsibility and abusing their power with a pompous and stony silence.
"In my opinion, I think he has to execute more and make more decisions. In my view, I don't think he has a good team," TMJ elaborated. 
The Johor prince hit another bullseye when he said Anwar needed to be braver in making decision and the focus now will be on whether Anwar's regime can follow through with the grandiose development plans it has announced.
"Maybe he is playing things too safe," said Tunku Ismail.
"He has the desire to see the country do well, that's for sure, but I think he should be braver in making decisions. You can't appease all parties." 
Indeed, what happens when Anwar's regime starts to give in to the temptations of power – who will be left to blow the whistle on the corrupt after those who dare to get gagged,
I TOO HAVE THE RIGHT TO TALK ABOUT POLITICS, TO GIVE OPINIONS, TO CRITICIZE
Khairy, TMJ, Shahril
As if in anticipation of the heated uproar that Anwar's coterie of sycophants are bound to put up, the TMJ defended the rights of monarchs in the country to discuss politics and give their opinions.
"Why am I not allowed to talk about politics?
"We (royals) do not have to get involved in politics, but if we want to give an opinion then it's okay. I am a citizen of the country too. We should not be exempted from our rights to give our take on politics."
According to the TMJ, royal involvement in politics was necessary to maintain order in rising political situations. 
"If I observe that certain actions are not being taken and that the rakyat (citizenry) are not receiving the benefits, I have the right to speak up and provide reminders.
""We are above politics, and politicians serve the people…I will always give politicians the most fundamental advice, which is to serve the people."
AN ANWAR LEGACY OF NOTHINGNESS – JUST SYCOPHANCY & BROKEN PROMISES?
The Johor prince cited the example of certain countries in the Middle East that had Kings who were more stable compared to those which did not have any.
He also said that the royals here did not openly discuss politics because it was once a prohibited subject, but the situation had changed in recent years.
"I think TMJ was spot in his criticisms. It is quite clear that both Anwar and his best buddy Zahid have to go," a political pundit told Politics Now!
"Having good intentions is no use and expecting to be given the PM's post because you have waited for it since 1997 is ridiculous. Every Malaysian wants the best for their country but not everyone can be PM. However, I would say most of the ordinary folk will be selfless enough to make way for a more capable person to take over instead of fighting tooth and nail to stay PM like our past PMs have so far – from Mahathir to Najib, Muhyiddin and now Anwar himself."
"What's the point of leaving behind a legacy of weakness, sycophancy and broken promises. You may be able to bully and shut down some blogs who proactively criticized your leadership as lacking in substantive ideas and solutions and too lazy to go for the long-haul revamp. In other words, for being 'tin kosong' or empty vessel but are you and your sycophants ready to take on guys like the TMJ? "
"There are over 30 million people in Malaysia and when it's too late and everyone starts to curse at your leadership for being incompetent and ineffective, will you shut down all their blogs and social media accounts too? It's time for Anwar to wake up from the fantasy of his "greatness" as Pas has called it and stop being the proverbial emperor with no clothes," the long-time political watcher added.
Written by Wong Choon Mei, Politics Now!
Politics Now!