AN AMBUSH AWAITS SHAKY ANWAR – ANOTHER DE-FACTO DEFECTION FROM BERSATU – ANWAR NOW 2 UP ON PAPER – BUT WHAT ABOUT THE 12 OR IS IT 15 UMNO-BN REBEL MPs WAITING TO DITCH ZAHID – WILL ANWAR FAIL TO GET HIS LACKLUSTRE BUDGET 2024 PASSED & BE FORCED TO FACE A CONFIDENCE VOTE?
Written by Stan Lee, Politics Now!
 KUALA LUMPUR (Politics Now!) – Another de-facto defection citing 'rising cost of living' – in other words, money! What does this say about scruples and Prime Minister Anwar Ibrahim's regime?
Not a lot – and that's a fact – if opposition MPs are pressured whether directly or indirectly until they have no choice but to express support for Anwar, helping him make up the numbers for a two-thirds super majority in Parliament so that his regime can cling to power or change the federal constitution.
Bersatu's Labuan MP Suhaili Abdul Rahman is the second PN lawmaker to do so, after party mate Iskandar Dzulkarnain, the Kuala Kangsar MP, did the same.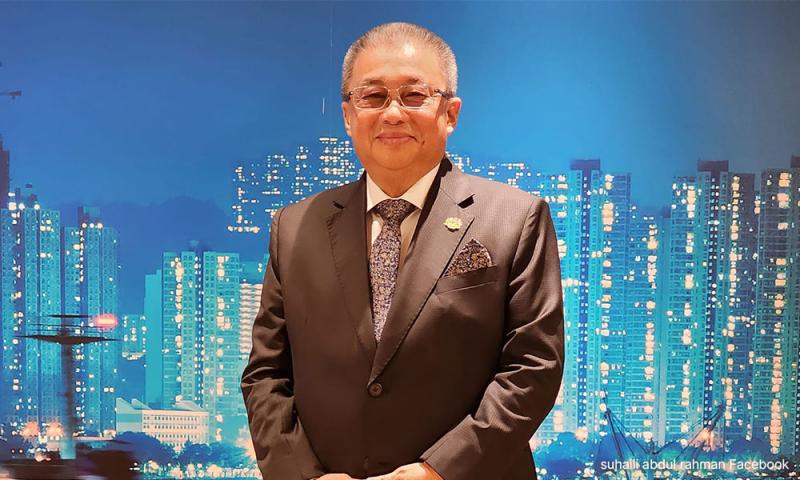 Labuan MP Suhaili Abdul Rahman 
Again using the same modus operandi, with Suhaili also expressing loyalty to Bersatu at the same time – so as not to trigger his own sacking and circumventing a by-election for his seat that he is unlikely to win again after his switch in allegiance.
DOES ANWAR REALLY HAVE ENOUGH MPs TO WARD OFF AN AMBUSH IN PARLIAMENT?
So why is Anwar regime collecting rogue MPs, willing to ditch their party for parliamentary funds when it already has sufficient majority to ward off any ambush by the opposition, even without a supermajority.
Speculation is rife Anwar may be more shaky than the numbers suggest. The PN opposition coalition, led by Bersatu chief Muhyiddin Yassin, has been suspiciously quiet of late although a key opportunity to topple Anwar looms ahead – in the tabling of the Budget for 2024.
Even Pas, the most powerful Malay political party in the country and a component in the PN alliance, has been very sedate in its rhetoric of late – as if like a snake waiting to strike.
If Anwar fails to secure enough votes to get the spending plan passed, he could be forced to face a confidence vote that he could easily lose.
"There has been so much talk about it but suddenly everybody seems to have gone underground but that doesn't mean the scheming and plotting have stopped," a political pundit told Politics Now!
Indeed, Bersatu and Pas bigwigs used to float on an almost daily basis the prospect of a regime change without triggering any snap general election via the same sort of 'de-facto' defection as the Labuan and Kuala Kangsar MPs – but with support coming from Umno rebel MPs for PN.
"The numbers are 'now you see, now you don't' – so take it with a pinch of salt. But it can even be more than that as the stakes are very high for Muhyiddin and Hamzah Zainuddin (the Bersatu secretary-general), given the mountain of corruption cases facing them," the pundit said.
"So while the 2 de-facto defections make it seem as though Anwar is very strong, it's the opposite that can be true."
12 or 15 TO MAKE THEIR MOVE VERY SOON AT BUDGET 2024
The numbers 'at least 12' and even 15 have been brandished around – with some 12 to15 Umno-BN MPs led by former minister Hishammuddin Hussein and ex-premier Ismail Sabri rumored to be ready to dump Anwar and Deputy Prime Minister Zahid Hamidi, the Umno president.
Both Hisham and Ismail Sabri are believed to dislike and have tried to challenge the leadership of Anwar and Deputy Prime Minister Zahid Hamidi, who is also the Umno president.
In June, a Johor Umno leader warned that Umno rebel MPs could make their move during the tabling of Budget 2024.
"At least 12 MPs may rebel, including one minister from the previous administration," said the leader who had declined to be named, citing unhappiness within Umno for Zahid.
He also said Sabah and Sarawak MPs may cross to the opposition, if offered ministerial posts.
"PN is keen to form the government, so they would give as many ministerial posts as required to fulfil the needs of these MPs," he added.
JUST 2 BY-ELECTIONS – BUT NO SNAP GE16 OR BACKDOOR CHANGE IN GOVT?
Malaysia's Parliament has 222 seats. With the backing of the two PN MPs, Anwar should now have the support of 149 MPs, just over the two-thirds needed to amend the Federal Constitution.
Meanwhile, Bersatu has issued a show-cause letter to Iskandar, so it is unlikely that Suhaili will escape the same fate. If Iskandar is sacked, so will Suhaili.
"From now on, I will support government policies and initiatives in matters concerning development, economy, and the welfare of the rakyat, until the 16th general election (GE16)," Suhaili said.
Written by Stan Lee, Politics Now!
Politics Now!