HOW TO BE A TRUE MALAY WARRIOR (PEJUANG) – A LECTURE FROM ANWAR TO MAHATHIR & OTHER MALAY LEADERS – 'YOUR ASSETS ARE WORTH BILLIONS AND YOUR CHILDREN HAVE PLANES, SHIPS, BANK (ACCOUNTS) ABROAD. SELL IT ALL, BRING IT BACK, AND GIVE IT TO THE MALAYS – THAT IS WHEN YOU WILL TRULY BE A 'PEJUANG''
'Reveal all personal, family assets' – PM tells Dr M again
Prime Minister Anwar Ibrahim has repeated his challenge for two-time prime minister Dr Mahathir Mohamad to reveal all his personal and family assets.
Although he did not mention names, Anwar alluded that to be a "pejuang" (warrior), certain leaders with wealth amounting to billions should give their money back to the Malays.
"Your assets are worth billions and your children have planes, ships, bank (accounts) abroad. Sell it all, bring it back, and give it to the Malays – that is when you will truly be a 'pejuang'.
"Yet it has not been answered, I have asked how many billions he has, where he got the money from. Return it all to the Malays in Malaysia," Anwar said during an event today at the Seremban City Council.
While the Malay word pejuang translates to warrior, it is also the name of the party Mahathir founded and helmed in 2020 after quitting Bersatu due to the Sheraton Move.
However, Mahathir resigned as Pejuang's chairperson last December and quit the party in February after it cut ties with the Gerakan Tanah Air (GTA) coalition.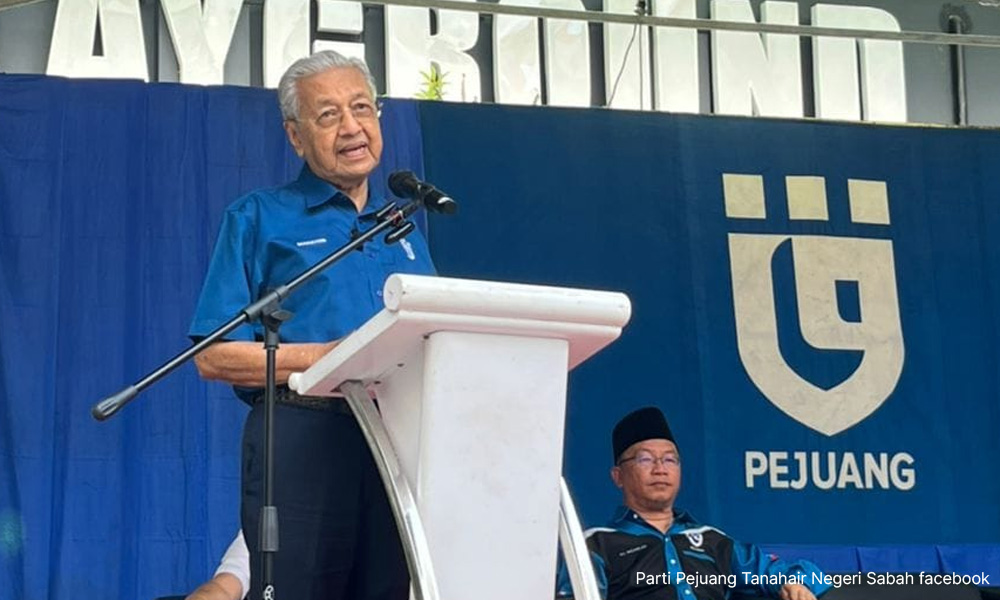 Also at the event were Deputy Prime Minister Ahmad Zahid Hamidi and Negeri Sembilan Menteri Besar Aminuddin Harun.
Mahathir has a RM150 million lawsuit against Anwar over claims that he amassed wealth for personal gain while in power.
On April 17, it was reported Mahathir would proceed with legal action after Anwar did not comply with the nonagenarian's letter of demand for an apology over the claim made during the PKR president's policy speech at the party's special national congress on March 18.
According to a copy of the statement of claim, Mahathir alleged that Anwar, who is also the Pakatan Harapan chairperson, made untrue and baseless statements with the intent to create a negative perception against him.
Though Anwar did not mention any names in his speech, he did refer to someone who "after 22 years and 22 months of being in power, is lamenting about Malays losing everything, losing assets, shares."
"When you lose power, when challenged, when you are fearful of the MACC and Inland Revenue Board coming down hard… you are worth billions (but) you don't pay your taxes, you move your wealth abroad. What sort of prime minister should I be then?" Anwar was reported as saying.
Mahathir claimed this was a clear reference to him as media reports on the speech mentioned his name.
'What have we given up?'
Anwar refuted the opposition's claims that his government does not protect the rights and interests of the Malays.
"What have I done to betray the Malays, the language, and their special rights?
"We have defended projects for the Malay community, and have taken action against existing (projects such as) Jana Wibawa.
"Why did we take action? Because it is a project for the Malays but has been given to the Chinese. It is a Malay project but they 'sakau' (rob) money," he said.
"There are Malay figures – Tuns and Tan Sris – who are rich and flaunt that they want to take care of the Malays. They say Anwar is hopeless, Zahid is useless and cannot take care of the race.
"I want to ask them, what have we given up? The six months that we have held office, what have I given?" he added.
Anwar reiterated his stance that the country's money should not be robbed from the people.
He said that if money is taken, projects will decrease which will only affect the rakyat.
"For six months, myself, Zahid, and other ministers have instructed for tenders. No taking any commissions, no land or shares are taken," he added.
MKINI
,