BOMBSHELL – FROM SCHOOLKIDS TOTING MACHINE GUNS TO THREATS FROM EUROPEAN MPs – BID BY MALAYSIAN POLITICIANS TO 'HIJACK' HAMAS-ISRAEL WAR TO BOOST SAGGING POPULARITY AT HOME BACKFIRES – NOW ONE NEEDS TO SACK HIMSELF AS FINANCE MINISTER, THE OTHER NEEDS TO BE SACKED AS EDUCATION MINISTER
Written by Stan Lee, Politics Now!
KUALA LUMPUR (Politics Now!) – It's time for Education Minister Fadhlina Sidek, whose appointment was shaky from day one, to call it a day. Her boss, the embattled Prime Minister Anwar Ibrahim who also doubles as Finance Minister is already free-falling along with Ringgit. 
Brickbats from both bigwigs and the man in the street are being hurled at the duo, who hail from the ruling PKR party, for trying to 'hijack' the Israel-Hamas war to save their political skins. Even allies are rushing to distance themselves from the fiasco.
"Teach compassion, appreciation of diversity, not war," said MCA Central Committee Member Saw Yee Fung in a statement to the media.
"anwaribrahim @FadhlinaSiddiq Are you happy now? Children and teachers bearing arms? What kind of sick minds do you all have eh?" asked activist lawyer Siti Kasim on X.
"Seriously what is this????" thundered another activist lawyer Ambiga Sreenevasan.
BRAINWAVE OR HALF-BAKED IDEA?
They were responding to the directive by Ministry of Education to all schools to organise a week-long 'Palestine Solidarity Week'. Despite the obvious public unease at dragging schoolchildren into the Middle East crisis, where the politics of violence and protests are more often than not at the forefront, Fadhlina had persisted while Anwar looked the other way. 
Today, the plan backfired after a video showing educators brandishing toy machine guns at schoolchildren triggered a public uproar. A man wearing a bulletproof vest, a balaclava mask, and pointing a toy gun at the students led a group of teachers into an assembly. They were mimicking gunmen in battle as part of a performance to show solidarity with the Palestinians.
One of the teachers was seen holding a placard while others waved the Palestinian flag or wore Palestine-themed scarves across their faces and shoulders. Some also held toy rifles.
"Parents send their children to schools, not only for academic progress but also hope for mental and social balance, developing, learning and interacting with other pupils of other races and religious faiths," 17 NGOs from Sabah and Sarawak scolded in a joint statement.
"Teaching innocent school children about gun-toting and that violence against another is the answer are simply a no-no. We appeal to MoE to please withdraw the directive," said MCA.
"NECESSARY INTERVENTION"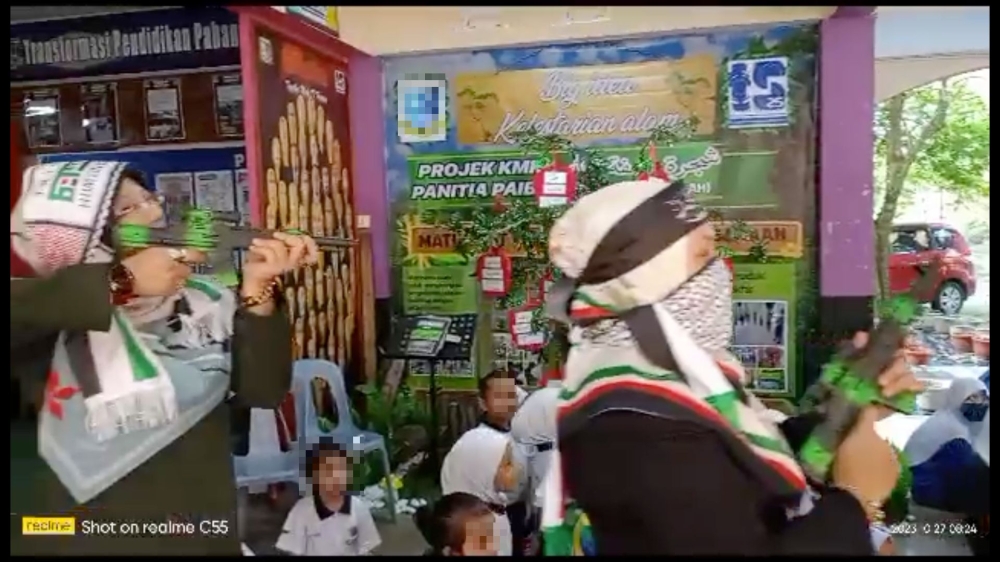 Fadhlina had tried to justified her decision by calling it a 'necessary intervention' to teach students about humanitarian values such as empathy and concern towards the suffering experienced by others. 
Echoing the narcissistic Anwar, she said the programme was also to support the Malaysian government's stance to defend the rights and freedom of the Palestinian people.
SACK YOURSELF AS FINANCE MINISTER – DON'T USE GAZA WAR TO HIDE RINGGIT CRISIS AT HOME
PM Anwar
The ineffective Anwar has been lambasted for putting too much focus on the Hamas-Israel war but neglecting the real crisis at home as the Ringgit plunged to its lowest level in history, raising the specter of runaway inflation and costs of living. 
Calls are mounting even from within his own ruling coalition for him to give up the Finance Ministry post so that more attention could be given to the country's ailing economy.
Anwar was also accused of trying to deflect attention from his government's incompetence and inability to stop the Ringgit bloodbath and capital flight by dragging in European MPs, whom he said had tried to threaten him into changing his pro-Hamas stance.
"Previous prime ministers, including Tun Dr Mahathir Mohamad, Tun Abdullah Ahmad Badawi, Datuk Seri Najib Razak, Tan Sri Muhyiddin Yassin, and Datuk Seri Ismail Sabri, were known for their outspoken stances on this issue, yet none of them reported being "threatened" due to their firm positions," Pas secretary-general Takiyuddin Hassan was reported as saying by Sinar Daily.
"If such "threats" indeed exist, the appropriate action for the Prime Minister, as the head of the government, should be to call in the ambassador or representative of the relevant country to express Malaysia's objections, rather than making unexplained public statements."
At 6pm today, the ringgit was 4.7750/4.7800 against the U.S. dollar, plumbing levels unseen since the Asian Financial crisis 25 years ago.
DO SOMETHING MORE USEFUL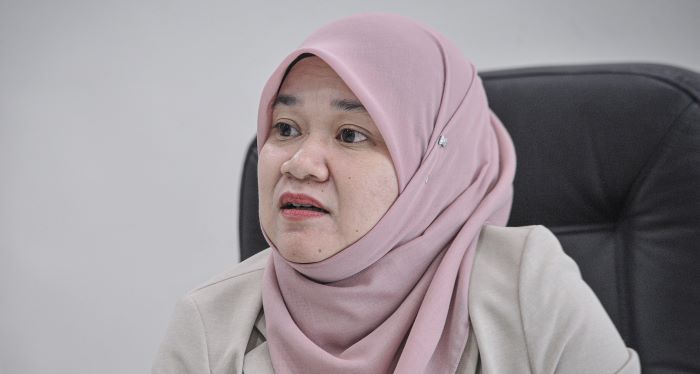 Education Minister Fadhlina Sidek
As the criticisms mounted, in a bizarre turn, Fadhlina appears to be now trying to distance herself from her 'brainwave'. 
In a statement late on Saturday, the Education ministry said it will not compromise with any activities with "extremist" elements, adding that the use of replica weapons, icons and symbols in a provocative and confrontational manner is "strictly prohibited". 
Indeed, if Fadhlina had really wanted to inculcate "humanitarian values and concern for the suffering of others regardless of race, religion or social status", then why not organize multicultural programmes that emphasize co-existence amid diversity, mutual respect, compassion and care for all human life, asked the MCA. 
"It could encourage the schools to organise food rations and medical aid donations to be handed to either the Embassy of Palestine or to the Red Crescent Society to be forwarded to their counterparts to be delivered to Gaza," said the MCA.
Written by Stan Lee, Politics Now!
Politics Now!