WHAT! SODOMY IN THE WHITE HOUSE? – EX-FOX NEWS HOST INTERVIEWS MAN WHO CLAIMS HE HAD GAY SEX WITH OBAMA – (THE U.S. PRESIDENT IS) 'DEFINITELY GAY', SAYS BROTHER MALIK OBAMA – 'THE AMOUNT OF LYING IN THE MEDIA ABOUT IT WAS UNBELIEVABLE. THIS HAPPENS ALL THE TIME UP AND DOWN GOVT,' SAYS TUCKER CARLSON
Tucker Carlson interviews man who allegedly had sex with Obama
Larry Sinclair has reiterated allegations that the US media largely ignored before the 2008 presidential election
Former Fox News host Tucker Carlson has teased an interview with Larry Sinclair, a man whose 2008 allegations of having sex and smoking crack with Barack Obama were shrugged off by US media outlets as the then-senator cruised toward victory in that year's presidential election.
Carlson posted a social media promo showing snippets from the interview on Tuesday, indicating that the full conversation will be released on Wednesday evening. The one-minute clip on X (formerly Twitter) garnered about 4 million views within just one hour of being posted.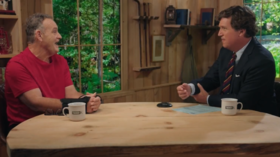 Sinclair said he was introduced to Obama outside a Chicago bar in November 1999 and had no idea that he was an Illinois state senator. He said he twice had sexual relations with Obama, and the two men used cocaine together. He claimed that Obama purchased cocaine on his behalf, and he watched the future president smoke crack in his limousine.
Sinclair detailed his allegations during a briefing at the National Press Club in 2008 and in a book published in 2009. He claimed in the book that Obama also had a gay affair with the choir director at his church and that the man was murdered in December 2007, while the then-senator was running for president.
Asked why the Washington press corps showed no interest in telling his story, even as US voters were assessing Obama and the other 2008 presidential candidates, Sinclair told Carlson, "It would be a story if the media really cared about telling people the truth." Carlson claimed in an interview last week that the media didn't run with the story because the Obama campaign threatened to refuse them access to the candidate. "The amount of lying in the media about it was unbelievable," he said. "This happens all the time up and down government."
Carlson noted that Sinclair signed an affidavit and took a lie detector test to give more credence to his accusations. However, his credibility was undermined by the fact that he served prison time in the 1980s for financial crimes, including forging checks. Sinclair ran unsuccessfully for mayor of Cocoa, Florida, in 2018.
There has been a spate of reports in recent weeks regarding Obama's sexuality. His half-brother in Kenya, Malik Obama, posted a Twitter message in July claiming that the former president is "definitely gay." The post, which was reported by several media outlets, came in response to a letter in which Barack Obama denounced the banning of controversial books in public libraries, including graphic material illustrating gay sexual acts.
Last month, multiple media outlets reported on a recently resurfaced letter that Obama, then a 20-year-old college student, wrote to an ex-girlfriend. "In regard to homosexuality, I must say that I believe this is an attempt to remove oneself from the present, a refusal perhaps to perpetuate the endless farce of earthly life," he said in the 1982 letter. "You see, I make love to men daily, but in the imagination."
Obama married his wife, Michelle, in 1992. The couple has two daughters, who were born in 1998 and 2001, respectively.
Barack Obama's brother claims he's 'definitely gay' – media
The former US president's sibling has responded to his defense of LGBTQ-themed books in children's libraries
Malik Obama attends a US presidential debate in October 2016 in Las Vegas, Nevada.
Barack Obama's half-brother in Kenya has reportedly responded to the former US president's effort to promote the inclusion of LGBTQ-themed books in school libraries by suggesting that his half-sibling is homosexual.
"This man is definitely gay," Malik Obama purportedly said on Monday in a since-deleted Twitter message. The post, which was reported by multiple media outlets, came in response to a letter in which Barack Obama denounced the banning of controversial books in children's libraries, including at least one that features graphic illustrations of gay sexual acts.
The former president praised librarians in his Twitter post, saying they were on the "front lines" of an everyday fight to "make the widest possible range of viewpoints, opinions and ideas available to everyone." He added, "Today, some of the books that shaped my life – and the lives of so many others – are being challenged by people who disagree with certain ideas or perspectives."
Obama went on to promote a campaign called Unite Against Book Bans, an effort by the American Library Association to confront increasing demands to censor content that critics deem inappropriate for children.
Parents have targeted books that allegedly include pornographic or pedophilic material. For example, one title defended by US media outlets as "the most banned book in America," called 'Gender Queer', features graphic images and descriptions of children engaged in homosexual relations.
"Michelle and I want to thank these librarians for their unwavering commitment to the freedom to read," Obama said. "I hope you'll read my letter to them, and join me in reminding anyone who will listen — and even some people you think might not — that the free, robust exchange of ideas has always been at the heart of American democracy."
Malik Obama, who has the same father as the ex-president, visited the White House several times during his brother's first term in office. However, he later claimed that Barack Obama was "cold and ruthless" and blasted him for abandoning his Kenyan family. "What I saw was the kind of person that wants people to worship him," Malik Obama told the New York Post in 2020. "He needs to be worshiped, and I don't do that. I am his older brother, so I don't do that."   RT.COM
RT.COM
.