COMPANY, ACCUSED OF ILLEGAL SAND MINING FROM BEACH IN PERAK, BLOCKS VILLAGERS, ENVIRONMENTALIST & EVEN AN ADUN FROM LEAVING SITE – BY BLOCKING ROAD WITH BULLDOZERS
Scuffle erupts as NGOs, villagers barred from leaving 'illegal' mining site
A scuffle erupted at Pantai Pasir Panjang, Segari near Manjung in Perak when villagers and environmental activists, who held a presser on alleged illegal sand mining, were hindered from leaving.
The fracas occurred at about noon today when representatives from Maegma Minerals Sdn Bhd, which owns the land in question, prevented a group of some 20 people from leaving the turtle landing site situated at the river mouth of Sungai Puyu.
Among those prohibited from leaving include Pantai Remis assemblyperson Wong May Ing and activists from Persatuan Aktivis Sahabat Alam as well as Persatuan Penggiat Alam Segari.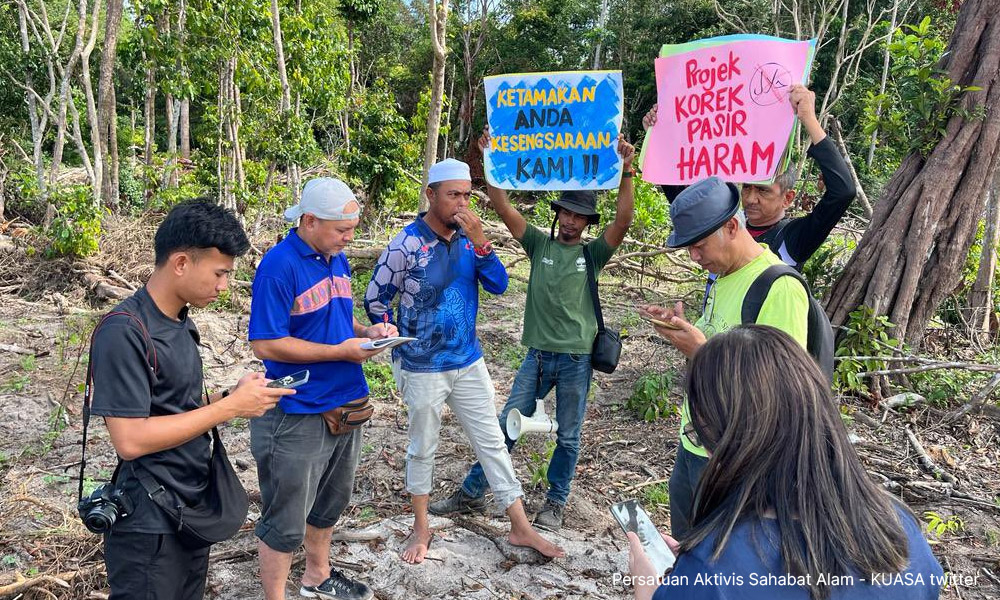 Sahabat Alam Malaysia research field officer Meor Razak Meor Abdul Rahman told Malaysiakini that Maegma Minerals representatives claimed that the participants had trespassed the area.
"Some of us, including Wong, travelled to the location via sea, while the rest of the concerned villagers travelled there by land.
"We held the presser on site to urge local authorities to stop illegal sand mining activities as they destruct turtle landing sites.
"They prevented the participants from leaving by blocking the roads with bulldozers," he said when contacted by Malaysiakini.
No arrest made
Meor already left the site when the commotion happened but was asked to return to the location to quell the scuffle.
"Although police and special branch officers were present, they (Maegma Minerals representatives) still barred the participants from leaving.
"The villagers are upset that the landowners have destroyed the beach by mining and removing sand from the beach," he alleged.
"I only wanted all participants to be able to get out of that place safely, so I apologised to them if there had been any miscommunication. They then allowed us to leave."
Responding briefly to Malaysiakini, Perak chief police Hassan Basri confirmed the incident, saying no arrests were made after both parties agreed to resolve the issue amicably. The incident ended at about 4pm.
However, Meor stood his ground and revealed that the Perak Department of Lands and Mines has confirmed that Maegma Minerals is not given the approval to remove sand from the beach.
Based on the National Physical Plan, he said the turtle landing site in Pantai Pasir Panjang, which was previously categorised as Rank 1 ESA (environmentally sensitive area), is now a Rank 2 ESA but it's still unsuitable for any industrial activities or sand mining.
"It's impossible that they are building a factory there because lands categorised as Rank 1 and Rank 2 are not suitable for that.
"What I saw is that they only wanted to mine sand. The Perak Land and Mines Office director (Mohamad Fariz Mohamad Hanip) repeatedly told us that they are not granted approval to mine sand.
"What they are doing is illegal," he claimed.
'Gazette turtle landing area'
Earlier in the press conference, Meor and other activists called on the state government to gazette the turtle landing area to prevent it from being exploited by irresponsible parties.
The activists also urged the local authorities to take firm actions to stop and disallow any activities that can harm the area from occurring.
On Jan 11, Perak Menteri Besar Saarani Mohamad was reported as saying that stern action would be taken against those mining and removing sand from the Pasir Panjang beach without approval from relevant authorities.
However, Saarani was quoted as saying by Malay Mail that so far, this activity had not been detected in the area.
He added that the land is privately owned, and the state government does not have the right to prevent its owner from carrying out activities on the land in question except for removing the sand without a license.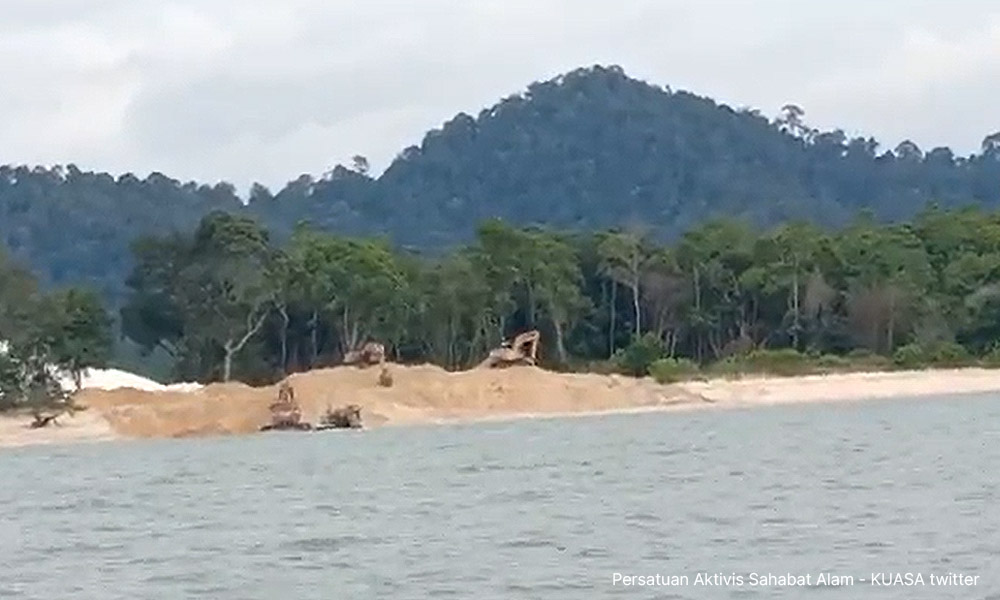 Maegma Minerals, on Jan 8, was reported as saying that the company has complied with all regulations set for the undertaking works at the site.
In a statement, it explained that works that are currently being carried out have been approved by the relevant authorities and are working closely with those agencies.
Maegma Minerals has intentions to develop an integrated steel factory in the area, saying that it can contribute to the nation's economy through important raw materials.
"The sand replacement and production work currently underway are to prepare the land to prevent illegal encroachment and other activities that threaten the environment," it said.
MKINI
.