BIDEN, FACING HUMILIATING DEFEAT IN UKRAINE, MAKES LAST DITCH BID – A 'TOTAL BAN' ON G7 EXPORTS TO RUSSIA – BUT AGAIN FAILS! AS JAPAN & EU OFFICIALS SAY – 'IT'S SIMPLY NOT DOABLE'
Total Ban On G7 Exports To Russia "Simply Not Doable" – Japan, EU Officials Say
As expected, an initiative by some leading Western allies in the Group of Seven (G-7) to ratchet the economic war on Moscow further – to the point of enacting an outright ban on all exports to Russia – has failed before it so much as got off the ground.
The move came as the US-led economic war has clearly failed to stop Moscow's war machine in Ukraine, and as the US, Britain, Canada, France, Germany, Italy, Japan and the European Union are looking ahead to their major summit set for May in Hiroshima.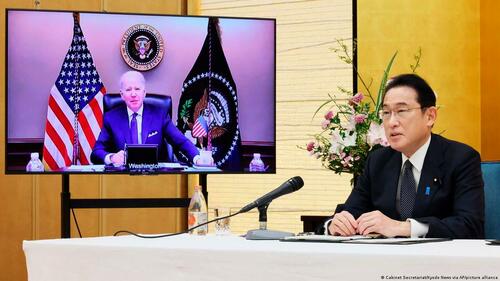 On Monday the Financial Times is citing officials who say the significant policy shift will be a no-go for key countries that must sign off: "But representatives from Japan and EU countries suggested in a preparatory meeting last week that such a move would not be feasible, according to three people briefed on the discussions," the report indicates.
"From our perspective it is simply not do-able," one of the officials told FT. Importantly, all 27 members of the European Union would have to agree to the sanctions before it could be passed, making it extremely unlikely, despite the ten packages which have already been passed (and were subject of intense wrangling and whole countries, like Hungary, being exempted for some sectors like energy). 
However, some aspects of the draft statement which are expected to carry at next month's G-7 summit include efforts to uphold current sanctions, tightening measures that restrict "evasion and circumvention" of sanctions and punishing countries "willfully supporting the financing of Russia's war."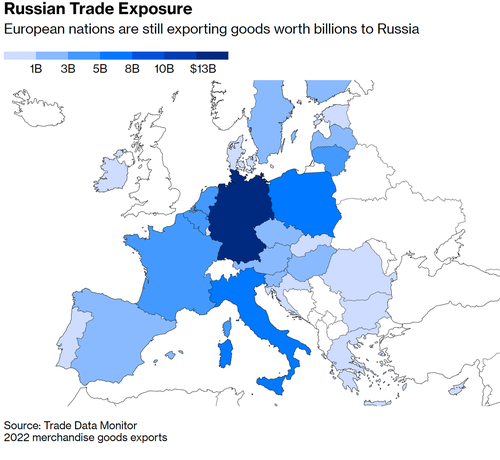 The Miami Herald reported last week that "So far sanctions have almost halved the value of E.U. and G-7 exports to Russia, with limits on everything from electronics to luxury items." It remains "That still leaves $66 billion worth of goods from Europe, the U.S., Canada and Japan going in, according to the Geneva-based Trade Data Monitor."
-zerohedge.com
.