THE COLLAPSE BEGINS – 'AWAY WITH NATO', 'NO WAR', 'LYING GOVT & MEDIA' – AS AMERICA'S PROXY WAR IN UKRAINE BACKFIRES ON ITSELF & EUROPE – MASSIVE PROTESTS CALL FOR CZECH GOVT'S RESIGNATION – WHILE ORDINARY AMERICANS START TO WAKE UP TO THE AWFUL EVILNESS OF THEIR LEADERS & ELITIST SYSTEM WHERE ONLY BIG-BOY CAPITALISTS & CRONY ARMS, OIL & TECH GIANTS GET RICHER & RICHER BEYOND IMAGINATION – 'THERE IS NO ESCAPE FROM DECLINE. THINK OF …THE MONEY WE'VE BEEN POURING INTO THE UKRAINE, OR SPENDING ON "DEFENSE" WHEN NO COUNTRY'S ARMY IS A THREAT TO US'
Massive Protest Sees Demonstrators Call For Czech Government's Resignation
Amid mounting economic woes, thousands of flag-waving Czechs filled Prague's iconic Wenceslas Square on Sunday afternoon to demand the resignation of the country's five-party coalition government, with many urging peace in Ukraine and for the Czech Republic to leave NATO.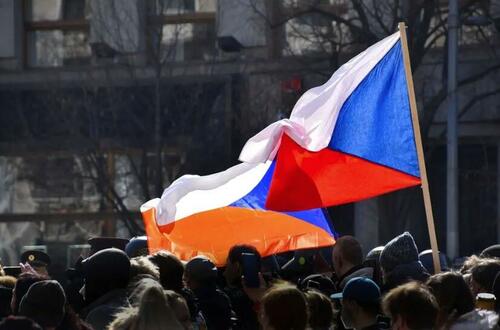 Protesters, most of whom accuse Prime Minister Petr Fiala's center-Right government of being overly concerned with Ukraine while neglecting the needs of Czechs, were seen carrying banners with the words "Away with NATO," "No war," and "Lying government and media." 
"We are here to stand up for our country and for our Czech Republic. We want to take down the five-coalition Fiala government with a non-violent civil protest," Jindrich Rajchl, a lawyer who serves as the head of the PRO party, said at the beginning of his speech. 
"Collect the last remnants of your honor, realize that you are not up to [the task], and resign," he said, referring to Fiala's government.
Rajchl, the main organizer of the event, called Czech Defense Minister Jana Cernochova "the biggest security risk for our country" due to her pro-war stance. Rajchl rejected claims that he and his party are pro-Russian.
Protesters like Renata Urbanova, who traveled to Prague from the southern city of Pisek, told the press that Fiala's government is "full of warmongers" and complained that their policies are "making [Czechs] suffer." She complained that "energy is too expensive and so is food."
Since the onset of the war in February 2022, Fiala's government has been among the European Union's most fervent proponents of the collective West's sanctions against Russia, despite the serious damage they have inflicted on the Czech economy. Additionally, the Czech government is among the top providers of military and humanitarian aid to Ukraine, and has taken in massive amounts of refugees, both of which place a further strain on the country's economy.
Having granted temporary protection to some 400,000 Ukrainian refugees—with its relatively small population of 10.5 million—the Czech Republic hosts the most Ukrainian refugees per capita in the world. The country's inflation rates are among the highest in the European Union, registering at 17.5%, 16.7%, and 15%, in the first three months of this year, respectively. – Authored by Robert Semonsen via EuropeanConservative.com – zerohedge.com
Collapse…
No Escape From The Decline
Live sports often offer an escape from reality, but that wasn't the case for viewers in New York yesterday afternoon. The local CBS station broke away from the second leg of the Champions League quarter final between Chelsea and Real Madrid to cover the collapse of a parking garage in Lower Manhattan.
In a way, that deadly collapse was emblematic of America's broader decline, in that the warning signs were there for most of this century. The parking garage had several unresolved building code violations, with the earliest dating back to 2003. The words "REMEDY CONCRETE DEFECTS" appeared in the violation notice served a few months later, but America's leaders had more important things to focus on at the time, like bringing the blessings of democracy to Iraq.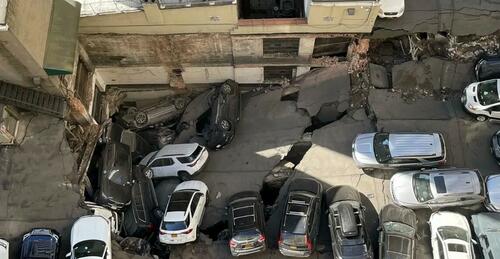 The collapsed parking garage, viewed from above. 
Then, in 2023, while our leaders were focused on fighting a proxy war with Russia over who controls the ethnic Russian parts of Eastern Ukraine, and trying to provoke a war with China over Taiwan, the parking garage collapsed.
The parking garage collapse, on top of chaos in other American cities in recent days, seems inauspicious.
The Pendulum Swings Back
For those unfamiliar with the term "wilding" mentioned in the tweet above, it describes the phenomenon where hundreds or thousands of "teens" engage in crimes simultaneously. Wildings in New York in the 1980s, including the one during which the Central Park jogger was raped and beaten almost to death, helped lead to tough-on-crime responses such as the election of Rudy Giuliani as mayor in New York and Bill Clinton's 1994 Crime Bill and similar local laws across the country. But the pendulum started swinging back toward chaos about 10 years ago.
The media conspired to portray George Zimmerman, an Afro-Peruvian man who shot a black teen in self defense as a "white Hispanic" racist, and was abetted by President Barack Obama, who mused that if he had had a son, his son would have looked like the attacker, Trayvon Martin. And in New York, five of the wilding teens who admitted to raping the Central Park jogger and were convicted by multiracial juries got their convictions vacated and $41 million for their lack of remorse.
Flash forward to last weekend, when Chicago faced a disturbing scene of wilding, with rowdy teenagers rampaging through the city streets. Meanwhile, on the west coast, flash mob looters ransacked a Los Angeles 7-Eleven store, leaving a trail of destruction in their wake. We've backslid on the basic blocking and tackling of civilization, fighting crime. That is now a capability of more advanced nations, such as El Salvador.
And then we have the parking garage collapse in New York, a stark reminder that our nation's infrastructure is in dire need of repair. As buildings and bridges age, the potential for similar disasters increases. The cost of inaction becomes more evident as American citizens are put at risk by failing structures. Think of how many building inspectors and cops we could hire for the money we've been pouring into the Ukraine, or spending on "defense" when no country's army is a threat to us.  – Submitted via Portfolio Armor:  ZH
Britons see steep income drop – data
Wages continue to fall behind soaring inflation, the UK national statistics service has said
UK household incomes are facing the fastest decline in over a decade as wages lag behind spiraling inflation and families struggle to pay their bills, the Office for National Statistics (ONS) reported on Tuesday.
Labor market data showed total income growth in real terms, adjusted for inflation, dropped by 3% between December 2022 and February 2023, while regular pay fell by 2.3% over the same period. The figures represent the steepest decline in regular pay since 2009, when average weekly wages slumped 4.5%, the ONS said.
The pace of wage rises is a closely-watched measure as the cost-of-living crisis deepens in the UK.
Prices of consumer goods and services increased at the fastest rate in four decades in the year to October 2022, the ONS noted. Annual inflation surged from 8.8% in January to 9.2% in February and 10% in March, driven by soaring costs of fresh food, non-alcoholic drinks and energy bills. The surprise inflation surge in February and March followed three consecutive months of slowing price increases, and the rate remains at highs previously seen around 30 years ago.
READ MORE: UK has worst inflation in Western Europe – data
UK households continue to struggle with soaring food and energy bills, while workers in a range of sectors have launched mass strike action in recent months amid disputes over pay and conditions.
The number of days lost to strikes reached 348,000 in February, up from 210,000 days lost in January.
Public and private sector workers in the UK have been striking since last year in an effort to win pay increases as wage value has been eroded by elevated inflation. RT
ZEROHEDGE.COM  / RT.COM
.