GIANT-SLAYER MICHELLE YEOH SHARES HER GOLDEN OSCAR WITH A BEAMING ANWAR – 'HER ACHIEVEMENT HAS LIFTED MALAYSIA'S NAME TO A GLOBAL STAGE. MAY SHE CONTINUE TO ACHIEVE SUCCESS!'
Michelle Yeoh visits Anwar, reminisces about her journey
Oscar-winning actress Michelle Yeoh paid Prime Minister Anwar Ibrahim a visit at his office earlier today.
According to a post on Anwar's official  Facebook page, Yeoh during the meeting, reminisced about her journey in the entertainment world to get to where she is today.
"She also confided that the award meant everything to her, her family, and all Malaysians.
"Her achievement elevated Malaysia's name to the global stage," reads the posting.
"I wish her all the best to reach greater heights ahead."
Anwar also posted snippets of the meeting in a Facebook story earlier today, where the duo can be seen conversing about the famous Oscar statue Yeoh had taken along for the meeting.
In March, the Ipoh-born Yeoh created history by becoming the first Asian actress to win Best Actress in a Leading Role at the 95th Academy Awards at the Dolby Theatre in Los Angeles.
The 60-year-old played Chinese-American immigrant Evelyn Quan in the movie "Everything Everywhere All At Once" who, while being audited by the Internal Revenue Service (IRS), discovered that she must connect with parallel universe versions of herself to prevent a powerful being from destroying the multiverse.
In addition to the Oscars, Yeoh also won in the same category at several other events, including the 80th Golden Globe Awards and the Screen Actors Guild Awards (SAG).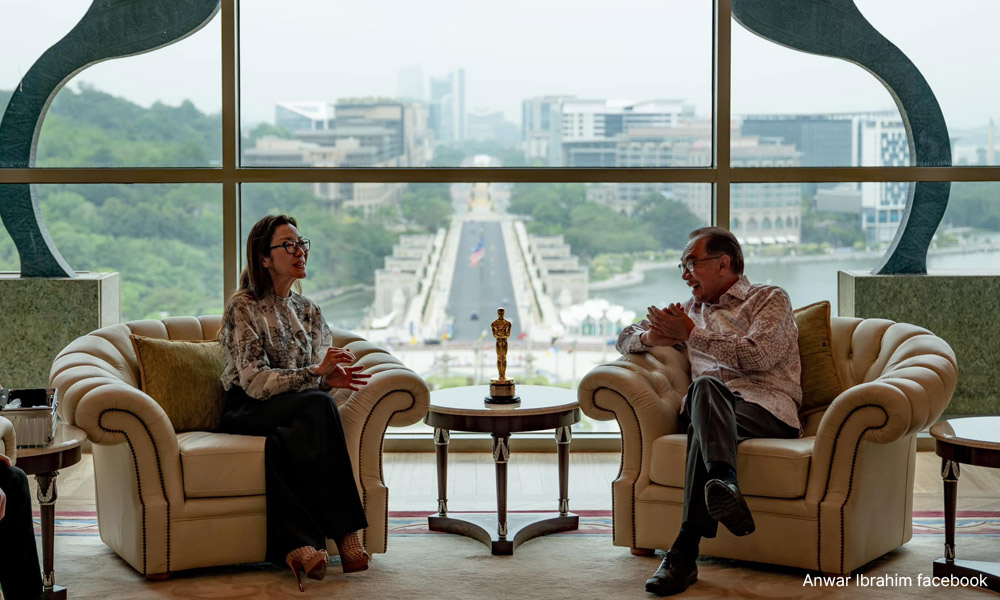 In a recent press conference, Yeoh said that she took pride in Malaysia, her country of birth, despite living abroad for many years.
According to her, this is because the multiracial, multicultural country had shaped her into the person she is today.
"We have learned to live with and embrace each other's culture. That has made me an international global person… so everywhere I go, I don't see the differences.
"Instead, I see how I could learn from other people because when we are here, we learn how to learn from our Malay, Indian and Chinese friends," she said at her first press conference in Malaysia earlier this week.  MKINI
With Oscar in hand, Michelle Yeoh pays PM a visit
Anwar Ibrahim says Michelle Yeoh's success story is a meaningful feat for the actress, her family and all Malaysians.
PETALING JAYA: Malaysia's Oscar-winning actress Michelle Yeoh paid Prime Minister Anwar Ibrahim a visit earlier today, bringing her prized award with her to Perdana Putra.
In a Facebook post, Anwar said Yeoh recounted the joys and pains she had to go through before reaching the pinnacle envied by all actors and actresses – winning an Oscar.
"She also shared that her success story of winning an Oscar was a meaningful feat, not just for herself, but for her family and Malaysians, too.
"Her achievement has lifted Malaysia's name to a global stage," said Anwar. "I wish her all the best. May she continue to achieve success!"
Yeoh became the first Malaysian ever to win an Oscar at this year's Academy Awards in Los Angeles, held last month.
The 61-year-old Ipoh native took home the prize for Best Actress for her role as Evelyn Wang in last year's blockbuster "Everything Everywhere All at Once", beating Cate Blanchett, Ana de Armas, Andrea Riseborough and Michelle Williams.
She held her first press conference in Malaysia since her monumental win two days ago, thanking Malaysians for their support throughout her career.
Just a few days ago, she made headlines for visiting her father's grave in Tanjung Rambutan, Perak, with Oscar in hand, to honour him during Qingming.