QUEEN OF OUR HEARTS MICHELLE YEOH BRINGS THE OSCAR HOME TO MALAYSIA & ASIA – AND AS HER MOM HUMBLY SAYS 'SHE WON BECAUSE SHE'S HARDWORKING' – INDEED, THERE'S NO QUALITY MORE SATISFYING THAN THAT, KNOWING YOU BROKE THROUGH ALL THOSE BARRIERS & GLASS CEILINGS BECAUSE OF YOUR OWN GRIT, DETERMINATION & TALENT!
Breaking down the red carpet look of Michelle Yeoh, Malaysia's first Oscar winner
The Internet was filled with words of praise and congratulatory messages for Tan Sri Michelle Yeoh after she won Best Actress at the 95th Academy Awards held Sunday (March 12) in Los Angeles.
Yeoh, 60, won the coveted acting prize for her role in Everything Everywhere All At Once, making her the first actress of Asian descent and first Malaysian to win the award in the Academy's 95-year history.
She beat her closest contender, two-time Oscar winner Cate Blanchett (Tar) for Hollywood's top acting honour. Other nominees in the category include Ana De Armas (Blonde), Andrea Riseborough (To Leslie) and Michelle Williams (The Fabelmans).
Hundreds of Malaysians flocked to social media to congratulate Yeoh for putting Malaysia on the map.
In a comment on The Star's Instagram page, @rfionahc commented: "I am extra proud to be a Malaysian today! Congratulations Tan Sri Michelle Yeoh. l am mighty proud of this lady. In fact, all Malaysians should be proud of her."
"It will be a very, very long time from now before the next Malaysian (gets a nomination or wins) another Oscar. Well done Tan Sri Michelle Yeoh," Peter Cheah wrote on Facebook.
Malaysia proud. Congrats TSMY ❤️❤️❤️ happy to see yb @hannahyeoh & yb @NancyShukri there too😍😍 pic.twitter.com/y82MRwiCkX

— Mike Aryan (@MikeAryan28) March 13, 2023
On Yeoh's Instagram, @deborahwong_11 wrote: You inspire so many young Malaysian ladies out here, thank you for letting us believe that we can do it too."
On Twitter, many netizens hailed Yeoh as the "Pride Of Malaysia" and described her win as proof that hard work pays off.
"Oscar, SAG (Screen Actors Guild Awards), Golden Globe and more than 30 other awards she won this year with Everything Everywhere All At Once! Iconic! The Pride of Malaysia and Asia, Tan Sri Michelle Yeoh," @el_azmeer tweeted.
"With hard work, talent and tenacity, everything is possible," @Heng_09 wrote.
"This is the first time ever for a Malaysian to win Best Actress at such a prestigious Hollywood award. Super proud and well-deserved. Thank you for making Malaysia proud," tweeted @AreKayRK.
"As a Malaysian who's in the US for grad school and is a dancer in the tough, competitive performing arts field, Michelle Yeoh's win and speech means everything," @EmilyJaneDancer said on Twitter.
Datuk Seri Dr Wee Ka Siong also wished Yeoh heartiest congratulations for being the first Asian and Malaysian woman to win Best Actress at the Academy Awards.
Dr Wee said on Facebook that Yeoh has been an inspiring icon with her resilience and perseverance throughout her four-decade-long acting career.
"Thank you Tan Sri for breaking the glass ceiling for women around the world and making us Malaysians proud," he said in a Facebook post.
Michelle Yeoh's mum beaming with pride after actress' Oscar win: 'She won because she is hardworking'
Datin Janet Yeoh was ecstatic when her daughter Tan Sri Michelle was announced Best Actress at the 95th Academy Awards.
Clapping, Janet hugged family members around her when Michelle was named the winner.
"I am very happy with Michelle's success," Janet, 84, told The Star after the Oscar broadcast.
"She won the award because she is hardworking. You can see that in the way she fights in movies, the way she performs. She is very beautiful, talented and smart also," Janet added.
Janet shared her happiness with her family members and celebrity guests at an special viewing party of the 95th Academy Awards at Dadi Cinema in Pavilion Kuala Lumpur, hosted by the Yeoh family this morning (March 13).
The whole hall erupted with joy when the Ipoh-born star was announced the winner.
Family cheering while watching a live broadcast from Kuala Lumpur, Malaysia of Michelle Yeoh receiving the best actress award for 'Everything Everywhere All At Once'. Photo: YAP CHEE HONG/The Star
In her speech, Michelle thanked her mum, which made Janet beam with pride.
"I have to dedicate this (award) to my mum, all the mums in the world because they are really the superheroes, and without them, none of us would be here tonight. I'm taking this home to her. She's watching right now in Malaysia, KL, with my family and friends. I love you guys. I'm bringing this home to you," Michelle said during her acceptance speech.
Janet, who paid close attention to the screen throughout the broadcast, looked happy whenever the film Everything Everywhere All at Once received an award. The film won a total of seven Oscars.
After the broadcast, Michelle surprised her mum by video calling her to inform her of the win.
Michelle Yeoh reacts as she is named Best Actress at the Oscars. Photo: AFP
Michelle's nephew and niece were equally joyous of the actress' victory at the Oscars.
The two youngsters addressed the guests who were present during a break of the viewing.
"Michelle has lived a passionate life as an actor and is a very hardworking individual," said her nephew, Kelvin Yeoh, calling himself and his sister, Vicki, as Michelle's No.1 fans.
Vicki added that Michelle is proof that dreams can come true.
"We hope that she continues to inspire people just as she has inspired us. She really is an inspiration not only to Asians but everyone, everywhere and maybe … all at once," Vicky said.
Janet had earlier said on the red carpet that she was nervous about the outcome that she couldn't sleep.
Among the local celebrities who were present with Janet to witness the historical moment included Amber Chia, Nasha Aziz, Sangeeta Krishnasamy and Henley Hii.
Also at the event was Datuk Seri Nancy Shukri, the Women, Family and Community Development Minister, who presented the "Anugerah Wanita Kasih Unggul" award to Janet in conjunction with International Women's Day.
Breaking down the red carpet look of Michelle Yeoh, Malaysia's first Oscar winner
Tan Sri Michelle Yeoh made history when she won the "Best Actress" award at the 2023 Oscars. She is the first Malaysian to have done so.
Like the star she is, Yeoh shone during the night, wearing a haute couture design by French luxury fashion house Dior. It had a mesh illusion neckline, plus layers of soft, delicate feather fringe.
The star teased her fans on Instagram, posting up snaps of her ethereal outfit. She also tagged all the brands from her look.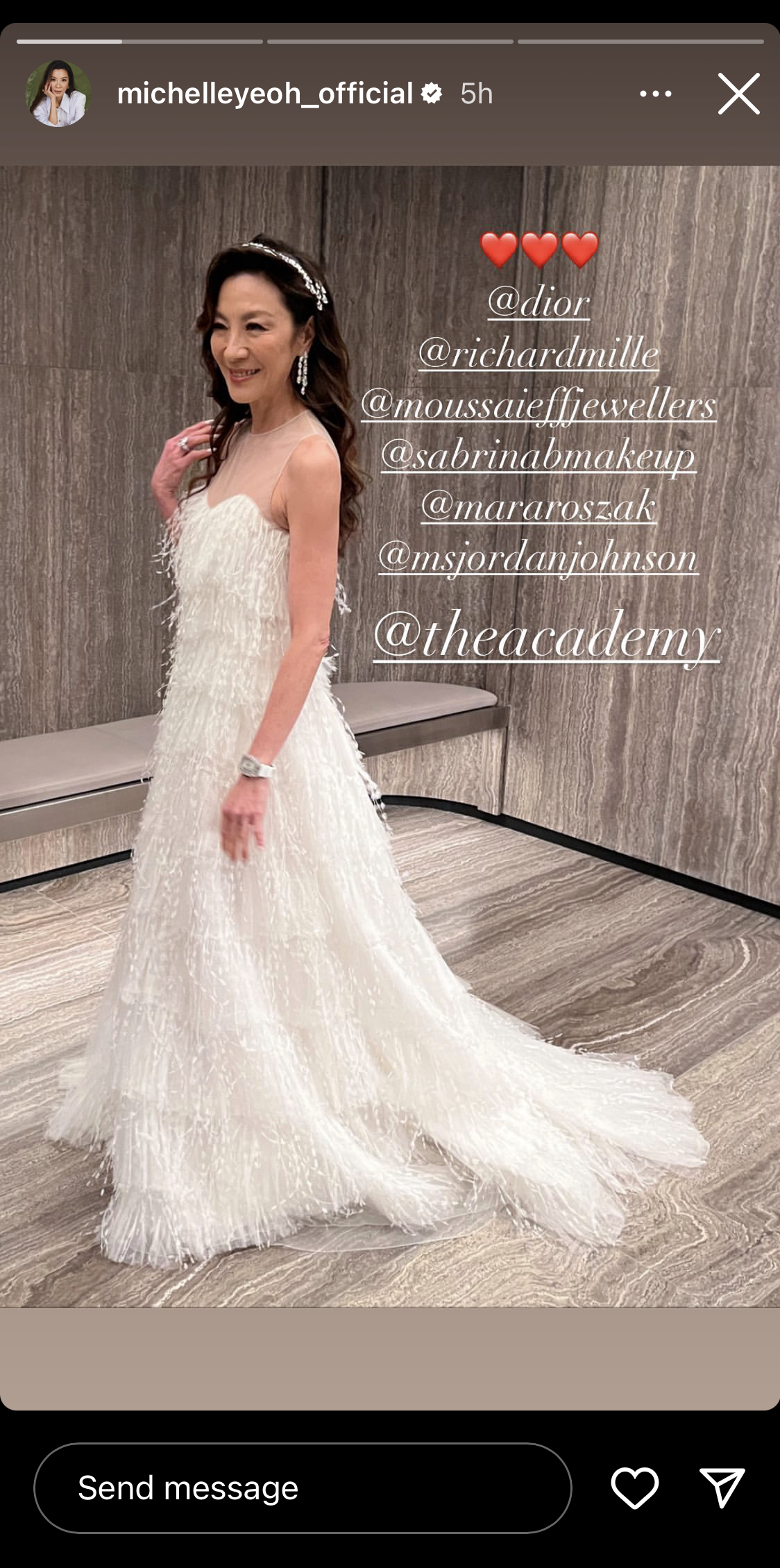 The star posted up teasers of her look on social media. Photo: Instagram/Michelle YeohRead more: Oscars 2023 fashion: Michelle Yeoh and other stars regale on the red carpet
She had on a Richard Mille watch on her wrist. Her jewellery came from Moussaieff Jewellers: a diamond necklace (worned as a headband) and dangling earrings.
Of course, everything that she wore fit a theme. It was white, clean, sleek and oh-so-chic.
Yeoh has been making headlines at this season's awards circuit, appearing in dazzling ensembles by top designers.
At the recent 2023 Screen Actors Guild Awards in February, she stepped out in a cool Schiaparelli haute couture design.
She rocked an Armani midnight blue getup for this year's Golden Globes.
She has also been a highlight at fashion weeks. Pictured among some of the most famous faces in the entertainment industry, she attended runway shows as a front-row guest.
From Elie Saab to Balenciaga, she is fast becoming the fashion industry's darling. In the past she has been the long-time face of luxury watchmaker Richard Mille.
Yeoh made showbiz history at the Academy Awards when she took home the Best Actress award for her performance in Everything Everywhere All At Once.
She is the first actress of Asian descent to win in the Best Actress category in the Academy's 95-year history. She's also the first Malaysian to be nominated and win in the Academy Awards.
ANN
.