INSTEAD OF TOSSING, HADI THROWS 'YEE SANG' AT CNY PARTY MEANT TO SHOW HE'S 'CLOSE' TO THE CHINESE COMMUNITY – INDEED, THE GODS MUST BE WATCHING HIS INSINCERITY AS HE ENDS UP A LAUGHING STOCK ON SOCIAL MEDIA EVEN AMONG THE MALAYS – 'DIA BUAT APA TU? LAWAK BETUL LOBAI NI' – INSTEAD OF TELLING GRANDFATHER STORIES ABOUT HOW HIS GRANDAD HELPED THE CHINESE, HADI SHOULD ASK HIMSELF WHY HE DOESN'T EMULATE HIS GRANDAD – HE SHOULD ALSO ASK HIMSELF, IS IT ONLY MALAYS WHO HELP THE CHINESE? DO NOT THE CHINESE HELP THE MALAYS? HAS NOT A SINGLE CHINESE EVER HELPED HIM?
Hadi: Chinese community close part of my life
In the spirit of Chinese New Year, PAS president Abdul Hadi Awang shared how the Chinese community has been a close part of his life since childhood.
Taking to Facebook, he described his connection with the Chinese community including family ties.
Lawak betul lobai ni..

Maaf. Dah langsung tak respek.. lobai ni tak berakhlak mulia apatah lagi berintegriti. Untuk undi boleh menanam kebencian, selepas itu nak tunjuk bersama..

Malu ambo melihat perangainya.. https://t.co/ghTfv6RJAD

— Khalid Samad (@KhalidSamad) January 23, 2023
Dia buat apa tu? 🤣🤣🤣 pic.twitter.com/q5IBYn9SxV

— Mohd🔺Anuar (@mohdxanuar) January 22, 2023
"The Chinese community is not foreign in my life. My grandfather adopted many children from the Chinese community, whether they embraced Islam or not. They became part of my family.
"During the Second World War, there were many refugees from China who came to the East Coast. My grandfather gave refuge to a non-Muslim Chinese refugee and hid the person in his garden when he was the then village chief.
"Coincidentally, one of my in-laws is Chinese, this shows our family relationship with the Chinese community is not something new," he wrote.
After the Chinese New Year celebration in Kuala Lumpur with Perikatan Nasional and Gerakan leaders yesterday, Hadi said he rushed home to Kampung Rusila, Terengganu, to partake in the celebration with his children and in-laws.
Hadi also shared a few photos of him and his family clad in red as part of the festivities.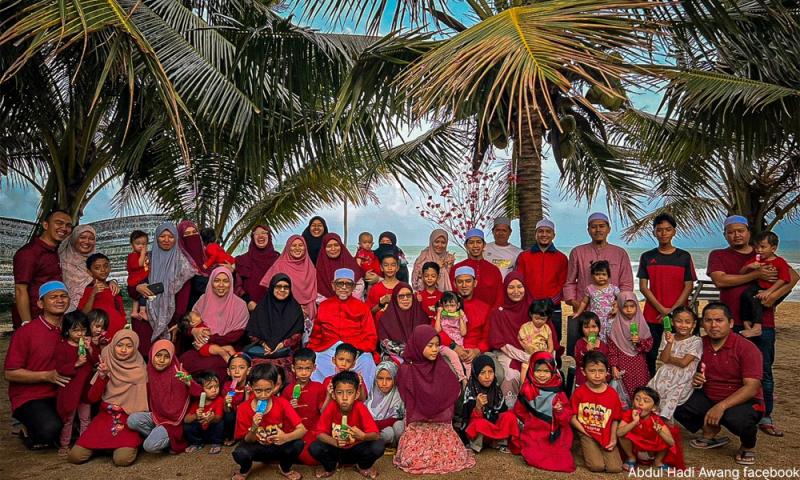 The Marang MP advised that the Chinese New Year celebration can be a platform to strengthen ties among the people and unity among the multi-ethnic groups in the country.
mkini / TWITTER.COM
.