BIG HEARTED OR NOT, ZAHID LIKELY GOT THE ASSURANCE HE WANTED AT AGM – EVEN AS KHAIRY ATTACKS HIM WITH 'STOP THIS MADNESS' – YET WHETHER KJ & ISMAIL SABRI WILL REALLY FIGHT HIM FOR TOP POST OR JUST OUT TO SLING MUD REMAINS TO BE SEEN – AS UMNO YOUTH & WANITA DELEGATES CALL FOR CONTESTS FOR NO.1 & 2 POSTS – 'THE YOUTH KNOWS WHO BETRAYED THE PARTY. DON'T BE UPSET AND IN DOUBT, OPEN THE PLATFORM (AND) THE YOUTH WILL MAKE THE RIGHT CHOICE'
All positions in party should be contested, say Umno delegates
KUALA LUMPUR: Several Umno delegates have expressed hope that all positions in the party are contested during the party elections, which need to be held by May.
In the debate sessions during the Umno Youth and Wanita general assemblies today (Jan 12), the delegates urged for the election "platform" to be opened to everyone in the party and that it was a democratic practice that should continue.
Melaka Umno Youth spokesman Fairul Nizam Roslan said he was confident that Umno president Datuk Seri Dr Ahmad Zahid Hamidi was a leader with a "big heart" who would not block the practice of democracy in the country's largest Malay party.
"I am sure the president has a big heart. We know who took care of our party when under pressure. The youth (wing) knows who has sacrificed a lot for the party.
"The youth knows who betrayed the party. Don't be upset and in doubt, open the platform (and) the youth will make the right choice," said the Asahan state assemblyman when debating the policy speech by Umno Youth chief Datuk Dr Asyraf Wajdi Dusuki.
Negri Sembilan Umno Youth spokesman Muhammad Sufian Maradzi said that no agenda should be set in having certain positions not to be contested in the next polls.
"We remain loyal to the party's struggle, and we are not running away. But let's not be 'tied down' so as not to hold an election (for certain posts) because we are confident that if our leadership has taken care of the party properly, God willing that leadership will continue to be elected by the delegates," he said.
Muhammad Sufian, who is also the Negri Sembilan Umno Youth vice-chief, said after the severe defeat suffered by Umno and Barisan Nasional in the 15th General Election (GE15), it was time for Umno to change its course in line with the wishes of the people.
"We are not being 'naughty', but this is our view. Let us nurture this democracy as we nurture parliamentary democracy in our country because outsiders including young people will be looking at what Umno's struggles are after GE15," he said.
Pahang Wanita Umno spokesman Datuk Juhanis Abd Aziz, in debating the policy speech by Umno Wanita chief Datuk Seri Dr Noraini Ahmad, requested for all positions be contested in the Umno polls this time.
Jokingly, she said: "If you want to have a contest, don't have it 'sekerat-sekerat' (in bits and pieces), the lower (positions) ones are told to be contested, don't do it sekerat-sekerat, it's not nice," she said.
Prior to this, there have been proposals for two of the party's highest positions – president and deputy president – not to be contested in the next election.
But Ahmad Zahid said he was open to being challenged by anyone for the number one position.
Umno deputy president Datuk Seri Mohamad Hasan said the competition for the party's top post could, to some extent, cause internal divisions, but he was also open to accepting the challenge to defend his position.
At the Umno special general assembly on May 15 last year, the party amended its constitution to allow its elections to be held no later than six months after the general election. – Bernama
Zahid 'ready to fight', KJ says it's 'madness' otherwise
Former Umno Youth chief Khairy Jamaluddin said suggestions on preventing the Umno presidency from being contested were "madness".
In a post on Instagram today, Khairy said doing so would be detrimental to democracy.
"Stop this madness. I believe the president is a fighter and will not back down from facing a challenger.
"There should be a contest. Do not kill democracy in Umno," wrote Khairy.
He was responding to news reports that a group of Umno division chiefs had gathered last night to express their view that the top two positions should go unchallenged during the upcoming party election.
'It means he is brave'
Umno president Ahmad Zahid Hamidi immediately indicated he took note of Khairy's remark and responded to him in person with an emphatic "(I am) ready to fight".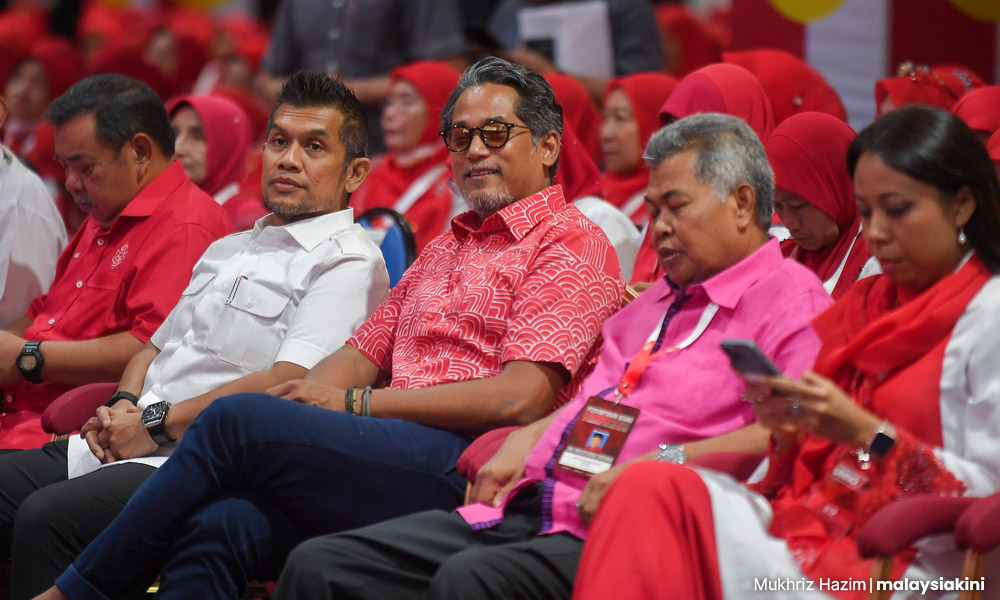 This took place at the sidelines of the Umno annual general assembly in Kuala Lumpur today when a group of Umno figures greeted Zahid who had just arrived.
Based on a video clip uploaded to Khairy's Instagram account, Zahid made the remark when he enthusiastically shook hands with the former.
After that incident, Khairy recorded another video clip in front of Zahid's portrait at the party headquarters.
"It means he is brave. I salute him. He is not scared. He told me 'ready to fight'.
"That means that if there is any effort to subdue democracy in Umno by tabling a motion for the top two positions to not be contested, it is contrary to the bravery shown by our president," said Khairy.
Zahid vs KJ: Round 2?
So far, Khairy is the only one to have publicly indicated an interest in challenging Zahid. Nominations have not opened.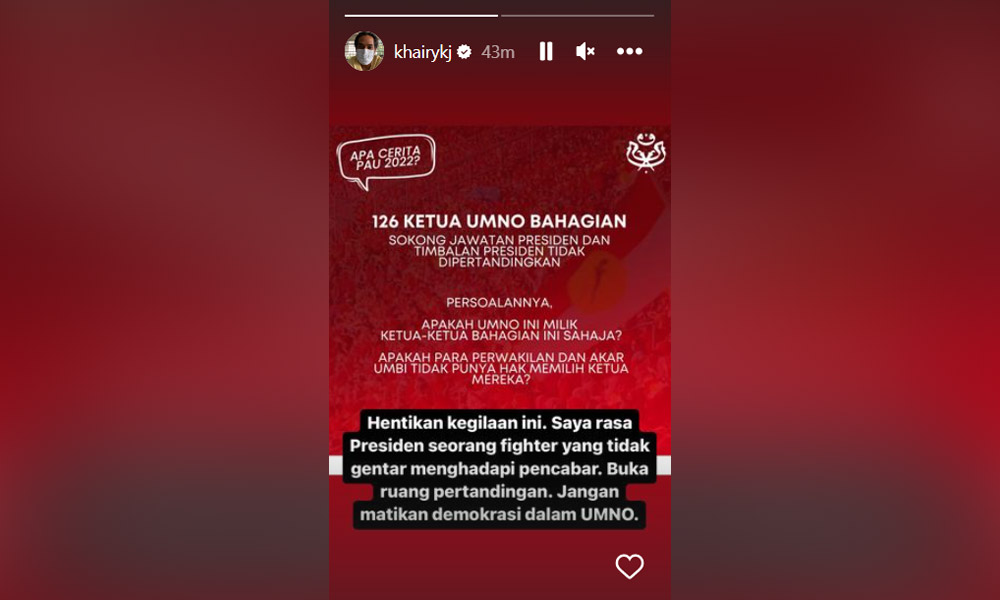 Zahid won the presidency in 2018, staving off a strong challenge from Khairy and Tengku Razaleigh Hamzah.
The party had postponed holding a leadership election twice – first due to the Covid-19 pandemic and then due to the 15th general election.
The upcoming party election, which must be held before May 19, will likely be a gauge of whether the party grassroots accepted the present leadership's decision to join forces with arch-rivals Pakatan Harapan. MKINI
ANN / MKINI
.