DOES THIS MAKE SENSE NOW? – ENDORSED BY 'TIN KOSONG' ANWAR, EMBATTLED HAJIJI SENDS BUNG FROM DEPUTY CM'S CHAIR TO OPPOSITION BENCH – INDEED IT MAKES SENSE WHEN YOU REALISE 'TIN KOSONG' ACTUALLY FEARS A UNITED SABAH – IF WARISAN & UMNO SABAH SUCCEED IN WRESTING STATE GOVT, 'TIN KOSONG' WON'T BE ABLE TO PLAY HIS 'MAIN BELAKANG' DIVISIVE POLITICS – 'YOU ONLY NEED TO LOOK AT SARAWAK TO SEE HOW THEIR DEMANDS ARE MET ALMOST IN AN INSTANT. A UNITED SABAH WOULD SPELL TROUBLE FOR ANY PM LEADING THE COUNTRY'
Turmoil is bad, but Putrajaya fears a united Sabah
Not even 10 days into 2023 and just days away from celebrating Chinese New Year, Sabahans find their lives being turned upside down by Bung Moktar Radin and Shafie Apdal plus one or two other insignificant political parties such as Peter Anthony's KDM.
Why? Because the thirst for power among some politicians knows no bounds.
Why is it that Sabah is the most volatile and politically unstable among all the states? Is it because we are surrounded by political animals? Is it because of the spoils and rewards that come with victory or is it because we are led by national leaders who would rather see a fragmented Sabah than a united Sabah?
A united Sabah would spell trouble for any prime minister leading the country. You only need to look at Sarawak to see how their demands are met almost in an instant. Sarawak is so well entrenched politically that Putrajaya surrenders to their demands.
But in Sabah, there has always been a fight to the finish between political parties that were tacitly encouraged to fight each other – Usno and Upko in the 60s; Berjaya and Usno in the 70s; Berjaya and PBS in the 80s; PBS and Barisan Nasional in the 90s; BN and Warisan in recent times.
This divide and rule policy has certainly not brought any benefit to Sabah. It never will.
A recent attempt of creating a unity government in Sabah has failed miserably. There can never ever be another unity government as long as you have politicians whose lust for power and greed goes unabated, as well as a prime minister who does not stamp his authority or is interested enough in reigning in trouble-making politicians.
We are at the mercy of the powers that be.
The people in Sabah are tired and exhausted by these shenanigans. We want to get on with our lives and earn our keep. Is that so difficult to understand? We need to attract investments. We need to create jobs. We need to assure investors that Sabah is a land of opportunity run by a stable government.
We need to be in unison politically and in one voice for the betterment of Sabah. Sabahans want and need a sense of well being. Why is this so hard to come by?  FMT
Bung goes from DCM to be seated in opposition side
The seating of Sabah BN chief Bung Moktar Radin, whose status as deputy chief minister remains unclear, in the state legislative assembly has been moved to the opposition side amid the political imbroglio plaguing the state.
This was evident at the special state assembly sitting today to discuss the Sabah Energy Commission Bill 2023 and Gas Supply Bill 2023, presented by Chief Minister Hajiji Noor.
Aside from Bung, the sitting arrangement of several other BN lawmakers who had previously served as ministers in the state administration was also moved to the opposition side.
They include Karambunai assemblyperson Yakub Khan and Sukau assemblyperson Jafry Ariffin.
However, the positions of the five state BN representatives who had backed Hajiji amid the crisis, remain unchanged.
In fact, two of them, namely Tanjung Keramat assemblyperson Shahelmy Yahya and Sindumin representative Yusof Yacob, reportedly attended today's sitting.
Both bills were passed without incident at the end of the session.
Although there has yet to be an official announcement from Hajiji, the rearrangement of Bung's seat indicates that he has been sacked as the state deputy chief minister.
Harapan reps relocate to govt backbencher's row
As for Pakatan Harapan representatives, their seats have been moved to the backbencher's row of the government's side.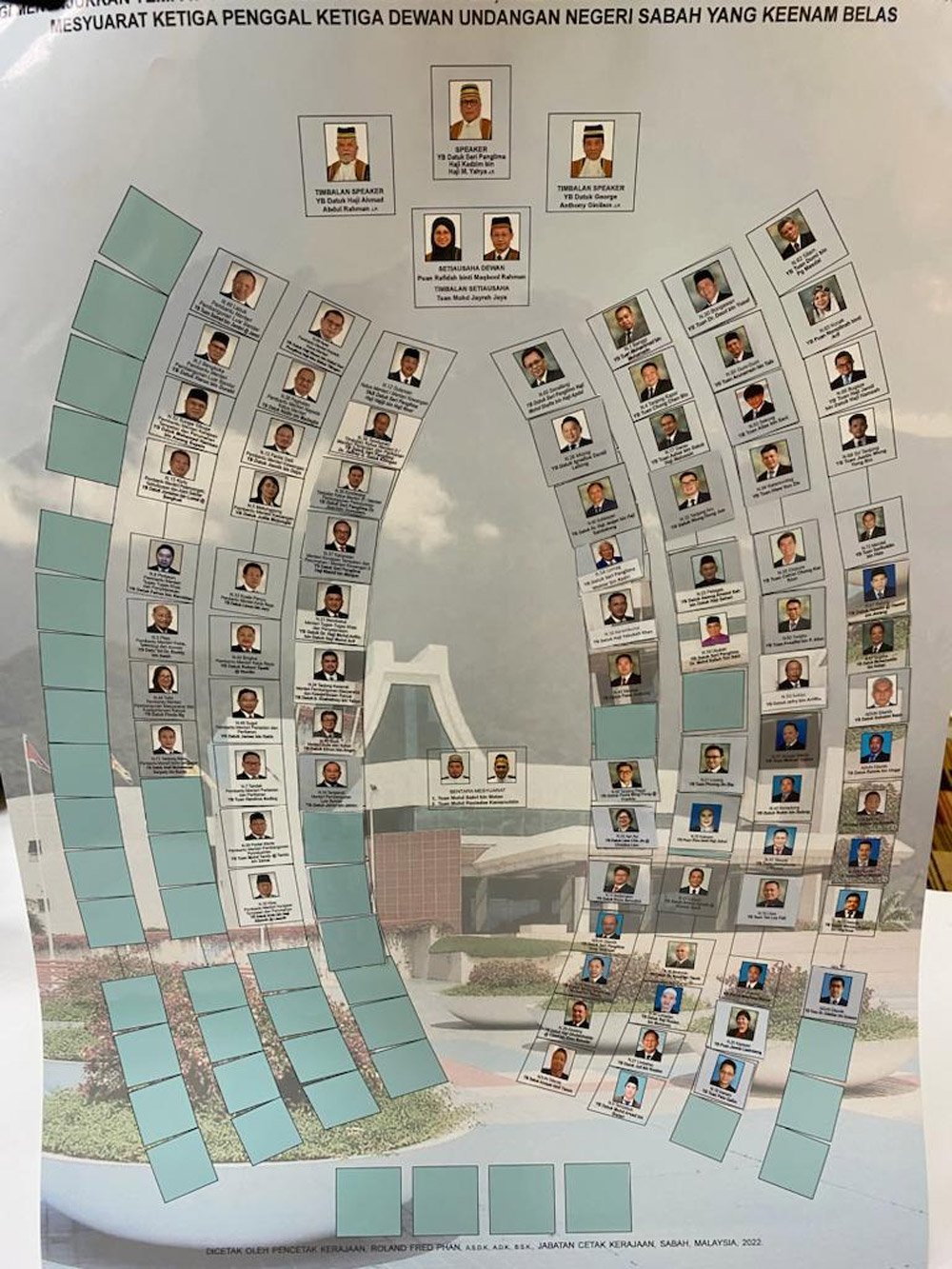 Both Bung and Warisan president Shafie Apdal said they were backing Prime Minister Anwar Ibrahim's proposal for the formation of a unity government in Sabah.
On their absence from the sitting, Bung said that it was due to a number of BN assemblypersons travelling to Kuala Lumpur to attend the Umno annual general assembly tomorrow, while Shafie said that his party lawmakers will be busy working on establishing a new special committee that will determine the leadership of the new unity government.
Both leaders, however, pledged their support for the two bills presented this morning.
Thus far, there is no indication whether Hajiji and lawmakers under the Gabungan Rakyat Sabah (GRS) banner are agreeable to the unity government proposal put forward by Anwar last night, who said that he wants to see a "strong government" under Hajiji.
Last Friday, Sabah BN announced it was withdrawing support for Hajiji to serve as chief minister.
This failed to dislodge Hajiji because five out of 18 Sabah BN lawmakers and seven Pakatan Harapan assemblypersons chose to stick with Hajiji.
As of last night, Hajiji is still expected to command the support of 44 out of 79 assemblypersons. MKINI
FREE MALAYSIA TODAY / MKINI
.