ANWAR STARTS TO 'BEG' HIMSELF – WHY NOT LESS HOT GAS & JUST NAME THE CABINET AS QUICKLY AS POSSIBLE – JUST DAYS IN POWER, ALREADY TIN KOSONG'S PKR STARTS TO ROLL OUT THE MELODRAMA – 'I AM BEGGING THE PM NOT TO APPOINT MPs WHO HAVE COURT CASES,' PLEAS ANWAR'S ECHO HASSAN KARIM AMID TALK ZAHID POISED TO BE DPM – WHILE ANWAR BLEATS HE WANTS TO CUT CABINET SIZE – 'SO YOU HAVE 70 MINISTERS WITH SPECIAL ENVOYS… OF COURSE, WE CAN CONSIDER ONE OR TWO WHEN IT IS ABSOLUTELY NECESSARY, BUT IT SHOULD NOT BE SEEN AS REWARDING POLITICAL MASTERS IN ORDER TO SUPPORT ME AS PM'
PKR MP reminds Anwar not to appoint those facing graft cases to cabinet
Pasir Gudang MP Hassan Abdul Karim has reminded Prime Minister Anwar Ibrahim that the Pakatan Harapan coalition campaigned on an anti-corruption platform and, for that reason alone, MPs facing graft charges should not be appointed to the cabinet.
"We campaigned based on Harapan's main policy to fight corruption.
"I am begging the prime minister not to appoint MPs who have court cases involving corruption and breach of trust as ministers in the new unity government," said Hassan in a statement.
"This criterion should be applied fairly to all MPs regardless of whether they are from Harapan or BN or other political coalition parties that are in the unity government," he added.
"We must form a cabinet that is free from the symptoms of corruption and betrayal of trust.
"To eliminate corruption is our promise," he said.
MPs with court cases include Umno president Ahmad Zahid Hamidi, who has been touted by supporters as a possible deputy prime minister.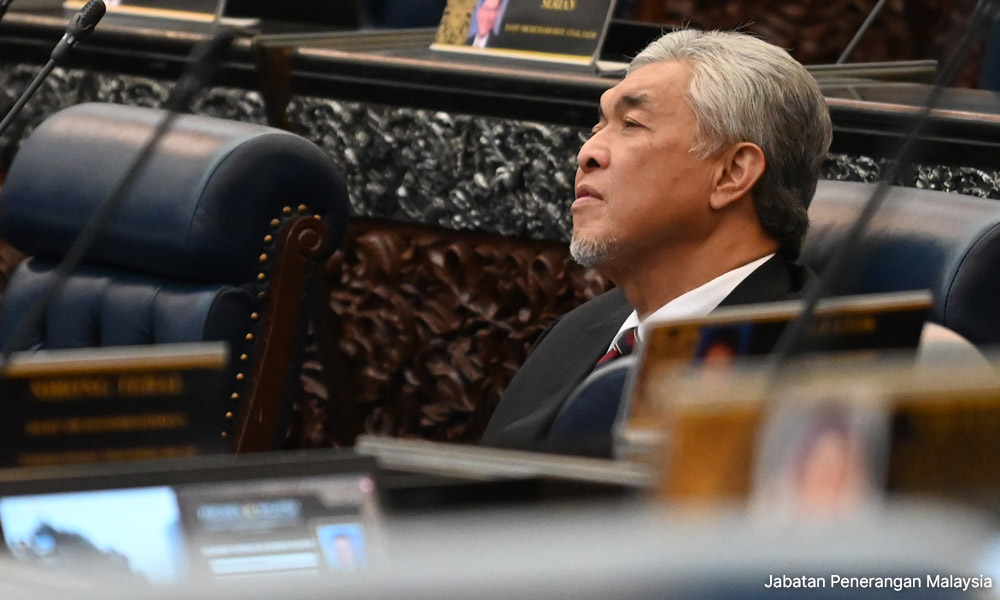 Others are DAP chairperson Lim Guan Eng, Muda president Syed Saddiq Syed Abdul Rahman, and Sabah Umno chief Bung Moktar Radin.
Earlier today, Sinar Harian reported Hassan's party colleague Setiawangsa MP Nik Nazmi Nik Ahmad as making the same call.
"Ideally, those with court cases should not be in the cabinet to prevent issues arising down the line," said the PKR vice-president.
He added that the public remained concerned about corruption cases involving politicians and that a cabinet free of ministers facing trial would put such fears to rest.
Former prime minister Najib Abdul Razak is currently serving a 12-year jail sentence after being found guilty of seven criminal charges related to SRC International Sdn Bhd.  MKINI
PM Anwar: Cabinet appointments not a reward for supporting formation of govt
PUTRAJAYA — Prime Minister Datuk Seri Anwar Ibrahim stressed that the appointment of Cabinet members will not be a reward for supporting the formation of his government.
He also reiterated that the three main component coalitions, namely Pakatan Harapan (PH), Barisan Nasional (BN) and Gabungan Parti Sarawak (GPS), would be consulted over the appointments, while pledging to stick to his promise to reduce both Cabinet numbers and salaries.
"I want to reduce the size of the Cabinet. I don't want to continue this extravagant manner of employing or appointing ministers as a point of reward.
"So you have 70 ministers with special envoys… of course, we can consider one or two when it is absolutely necessary, but it should not be seen as rewarding political masters in order to support me (as prime minister)," he said during a press conference after chairing a special meeting of the 2022 National Action Council on the Costing of Living here today.
He also said that the new government frontline will have to abide by anti-corruption commitments and prioritise the national economic development.
"I want them to support me based on my policies and my commitment to good governance and my commitment to anti-corruption and to resuscitate the economy,'' he added.
Yesterday, it was reported that Anwar said the size of his Cabinet would be reduced and that he is also seeking the agreement of ministerial candidates to reduce their salaries.
Anwar was earlier reported to have said that the Cabinet would have a maximum of 25 ministers, compared to the 31 under the previous administration. MALAY MAIL
MKINI / MALAY MAIL
.