IN ASIA, KIM JONG-UN PREPARES A NUCLEAR WARHEAD TEST AHEAD OF BIDEN VISIT TO POKE FIRE IN SOUTH KOREA – WHILE IN THE U.S. ITSELF, BIDEN'S OWN PARTYMATE SNUBS HIM AS HE DEMANDS PASSAGE OF 'CHINA BILL' – 'PASS THE DAMN BILL & SEND IT TO ME,' CRIES BIDEN AT RALLY – BUT IT LOOKS LIKE HIS PARTYMATE DOESN'T WANT TO BE TAINTED BY HIS BLUNDER-AFTER-BLUNDER IMAGE
N. Korea fires short-range ballistic missile, South's military say
SEOUL: North Korea fired a ballistic missile on Saturday, South Korean military said, three days before the inauguration of South Korean president-elect Yoon Suk-yeol, who has vowed to take a hard line against the North.
South Korean military said that North Korea fired a short-range ballistic missile believed to be a submarine-launched ballistic missile (SLBM) into the sea off its east coast around 5.07am GMT on Saturday from around Sinpo, where North Korea keeps submarines as well as equipment for test-firing SLBMs.
Japan's defence ministry also tweeted that the projectile could be a ballistic missile. It had fallen, Japan's Coast Guard said around 5.25am GMT, based on information from Japan's defence ministry.
Japanese public broadcaster NHK said the projectile landed outside of Japan's exclusive economic zone, citing government sources.
On Wednesday, North Korea fired a ballistic missile toward the sea off its east coast, South Korea and Japan said, after Pyongyang vowed to develop its nuclear forces "at the fastest possible speed".
The US assessed that North Korea was preparing its Punggye-ri nuclear test site and could be ready to conduct a test there as early as this month.
"Instead of accepting invitations to dialogue, the Kim regime appears to be preparing a tactical nuclear warhead test. The timing will depend most on when the underground tunnels and modified device technology are ready," said Leif-Eric Easley, a professor at Ewha University in Seoul.
"A seventh nuclear test would be the first since September 2017 and raise tensions on the Korean Peninsula, increasing dangers of miscalculation and miscommunication between the Kim regime and the incoming Yoon administration."
Yoon takes office on Tuesday. US President Joe Biden is to visit South Korea and meet with him on May 21.  REUTERS / FMT
Joe Biden's Indo-Pacific strategy gets thumbs down by two Japanese legislators
Two members of Japan's House of Representatives – both former government ministers – suggested on Wednesday that US President Joe Biden's plan for greater integration among Washington's Indo-Pacific allies and partners is an inferior substitute for the trading bloc the US abandoned five years ago.
Taro Kono, who served as Japan's defence minister and foreign minister, and Takashi Yamashita, the country's former justice minister, called on Washington to join the Comprehensive and Progressive Agreement for Trans-Pacific Partnership (CPTPP) – the successor to the Trans-Pacific Partnership (TPP), from which Donald Trump withdrew as one of his first actions as US president in 2017.
Speaking at the Brookings Institution in Washington, Kono said that the objectives that Biden has laid out for his Indo-Pacific Economic Framework (IPEF) would be better served through CPTPP if the US were a member.
The partnership, which includes New Zealand, Japan, Canada, Mexico and seven other countries, accounts for about 13 per cent of global commerce.
"When the United States proposed to be part of TPP, it was … to create a rule-making body for the Indo-Pacific, and that's why we paid a huge political cost [to join]," Kono said. "When we managed to sign the TPP, United States simply left.
"Now the Biden administration is talking about Indo-Pacific Economic whatever, I would say forget about it," he added.
Most details of IPEF have yet to be made public, but the White House has released enough of the plan to differentiate it from a traditional trade bloc based on free-trade agreements
It seeks to establish labour and environmental standards as well as trade rules, covering a wide range of sectors, from data protection to carbon emissions. Member countries can opt to participate in parts of the framework.
Yamashita said that such opt-outs would make countries in the region question whether Washington is fully behind its own plan.
"I don't know exactly about the content of the IPEF and some of our friends in the region do not know that," he said. "I think if IPEF is a non-binding regional framework, maybe it could send the message to the Asian countries that the United States is not so much interested."
The Japanese officials echoed misgivings by US lawmakers of both parties about Biden's approach in the region, particularly since China has applied to join CPTPP and IPEF does not so far include any provisions about access to markets. US critics say that market-access elements are essential for the plan to be meaningful.
Using CPTPP and TPP interchangeably, Kono said that the partnership's standards for trade, labour, environmental and intellectual property rights would have ensured that China could have been excluded – an objective that was never made explicit but was seen as the overriding US concern.
"The TPP set such a high standard that China … was not able to meet those targets," Kono said. "So the US [and] Japan were supposed to be leading the rule-making for the Indo-Pacific.
"Hopefully, the American government or the American leader would [experience a] rude awakening and decide to change their policy and come back to the TPP." SCMP / ANN
Biden Heads for JD Vance's Home Turf as Democrat Sits Out Event
President Joe Biden demanded Congress pass legislation to make the U.S. more competitive with China during a speech in Ohio that wasn't attended by the Democratic nominee for the state's pivotal open Senate seat.
"Pass the damn bill and send it to me," Biden said Friday after touring a manufacturing facility in suburban Cincinnati. "If we do, it's going to help bring down prices, bring home jobs, and power America's manufacturing comeback." 
Biden visited the state three days after a primary election that saw Republicans nominate author and venture capitalist JD Vance for the Senate while Democrats selected Representative Tim Ryan. Vance calls Cincinnati his hometown.
Ryan's absence from the speech suggests Democrats running in the most competitive congressional races regard Biden and his low public approval ratings as a drag on their chances.
Just 42% of Americans approve of Biden's performance as president, according to an analysis of polls by FiveThirtyEight.
Ryan dodged questions about whether he wanted Biden campaigning for him in TV interviews this week. "We welcome everybody's support, but I will be the face of this campaign," he told CNN.
White House Press Secretary Jen Psaki attributed Ryan's absence to a funeral and other events the candidate needed to attend, telling reporters traveling to Ohio with the president aboard Air Force One that Biden "remains in close touch" with the congressman.
Ohio's two current senators, Republican Rob Portman and Democrat Sherrod Brown, joined Biden on Friday, along with Greg Landsman, a Democratic city councilman in Cincinnati who is challenging Representative Steve Chabot's re-election.
Brown said the China bill has been delayed because "some Republicans don't want to give Biden a win," but predicted it will pass.
"We're going to get it, yeah, absolutely," he said. "I think it's done — done and done — by the summer, or early summer."
Biden traveled to Cincinnati to celebrate U.S. job gains in manufacturing. The Labor Department reported Friday that the country gained 428,000 jobs in April, despite high inflation and an anticipated interest rate hike from the Federal Reserve.
"I know you're worried about the price of gas, food and other necessities," Biden said, adding that increased domestic manufacturing could help make the U.S. less vulnerable to inflation.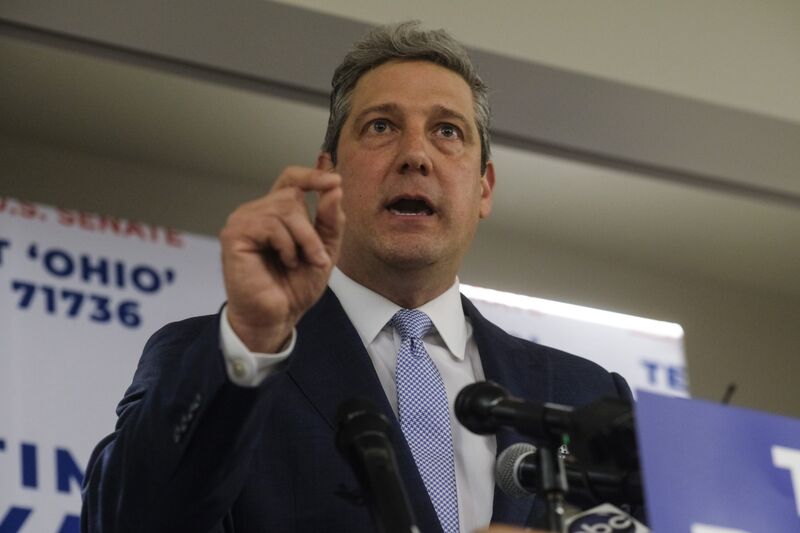 He hailed an agreement between large companies and smaller suppliers to boost so-called additive manufacturing, or 3-D printing.
The initiative includes GE Aviation Systems, Honeywell International Inc., Lockheed Martin Corp., Raytheon Technologies Corp., and Siemens Energy AG. The companies are pledging to buy a minimum amount of 3-D printed material from U.S. small- and medium-sized businesses. The agreement is aimed at solving a chicken-and-egg problem: Small firms can't grow without orders, and large companies lack the scale they need from domestic suppliers, an administration official said.
"Every one of you know that competitiveness and resilience of the American supply chain rests on tens of thousands of small-size manufacturers like the ones I met here today," Biden said.
But the political backdrop of the trip overshadowed the policy aspects, as the Senate race kicks into full gear and Washington lawmakers begin to turn more of their attention to November's midterm elections. Biden didn't mention the Senate race or its candidates.
Ohio was once a Democratic stronghold, but it has grown steadily more conservative. Donald Trump won the state by 8 percentage points in 2020 and endorsed Vance in his primary election. Portman's retirement means a Senate race without an incumbent, making it more competitive, though Ryan likely enters the contest as an underdog due to Ohio's political shift.
Biden has said he thinks Democrats have a shot at gaining two Senate seats in November, though he hasn't said where.
The president this week sharpened his criticism of Republicans, seeking to draw clear contrasts between their proposals and his, particular on taxes and the economy. He's said they're pursuing a "MAGA agenda" he's called "radical" and "extreme," referring to Trump's "Make America Great Again" slogan.
Ryan has sought to appeal to disaffected Republicans in his campaign. BLOOMBERG
FREE MALAYSIA TODAY / BLOOMBERG
.