BOMBSHELL – ANWAR & PKR LOSE WHATEVER SCRAPS OF RESPECT THEY HAVE LEFT WITH THE PEOPLE – EVEN PEJUANG PANS HYPOCRITICAL PKR FOR USING OWN LOGO DESPITE ANWAR'S 'LIP-SERVICE' CALLS FOR UNITY – INDEED, IF PKR READY TO BLAME HARAPAN'S 'BAGGAGE' ALTHOUGH ITS OWN LEADER WAN AZIZAH WAS THE DEPUTY PM OF THAT GOVT, JUST IMAGINE HOW LOST THEY HAVE BECOME IN THE OBSESSION TO MAKE 'TIN KOSONG' ANWAR PM – OR IS PKR READY TO SWITCH SIDES TO THE LIKES OF NAJIB & ZAHID?
Pejuang pans PKR for using own logo amid calls for opposition unity
PKR's decision to contest in the Johor polls using its own logo instead of the Pakatan Harapan logo has drawn a sarcastic response from a fellow opposition party.
Pejuang's Marzuki Yahya, said this flies in the face of Harapan's attempts to unite the opposition.
"Anwar invited other opposition parties to unite under the Pakatan Harapan banner (to face the Johor state election).
"But he ends up deciding his party will use its own logo for the polls," he quipped when contacted yesterday.
Marzuki was referring to Harapan chairperson Anwar Ibrahim, who yesterday announced the coalition's decision that PKR would use its own logo to contest in the Johor state election, while other component parties would stick with the Harapan banner.
The decision was made following a Harapan presidential council meeting at the PKR headquarters in Petaling Jaya, Selangor.
"With regard to our logo, a consensus has been achieved… PKR will use PKR's logo while the rest will use Harapan's logo," Anwar had told a press conference.
The decision came just two days after Anwar said that Harapan would rope in all the opposition parties, including Pejuang, Warisan and Muda, to contest in all 56 state seats in the forthcoming Johor State Legislative Assembly election.
However, Pejuang has indicated that the party is not interested in joining hands with Harapan, with Marzuki describing the coalition as "not a true opposition party".
He added in a statement yesterday: "Harapan is part of Ismail Sabri Yaakob's government (by means of confidence and supply), while it is also part of the government in Johor."
'PKR using own logo in Johor as Harapan's has baggage'
PKR chief organising secretary Nik Nazmi Nik Ahmad said his party decided to use its own logo for the upcoming Johor state elections as the Pakatan Harapan logo has too much baggage due to being associated with their two-year stint as the federal government.
"Our party grassroots and supporters overwhelmingly requested for this.
"We keep hearing that the (Harapan) logo is, for better or worse, associated with the Harapan administration of 2018-2020.
"It had its achievements but also many shortcomings. This included the empowerment of a faction in PKR, that eventually took part in the Sheraton Move, which led to the downfall of the elected Harapan government.
"Fairly or unfairly, the Harapan logo has become a symbol of that era," Nik Nazmi (above) said in a series of posts on Twitter today.
He also noted that their coalition partners in Harapan had accepted their decision to use their own logo.
The PKR logo is also much more recognisable than the Harapan logo, he said, which is an important factor in semi-rural seats where PKR often contests in.
"Any marketing expert will tell you the importance of brand recognition," said the Setiawangsa MP.
Nik Nazmi also pointed out that the Harapan logo was only introduced in 2017, two years after Harapan itself was formed in 2015.
As such, the red-and-white arrowhead logo is not necessarily a part of Harapan's original heritage, he said.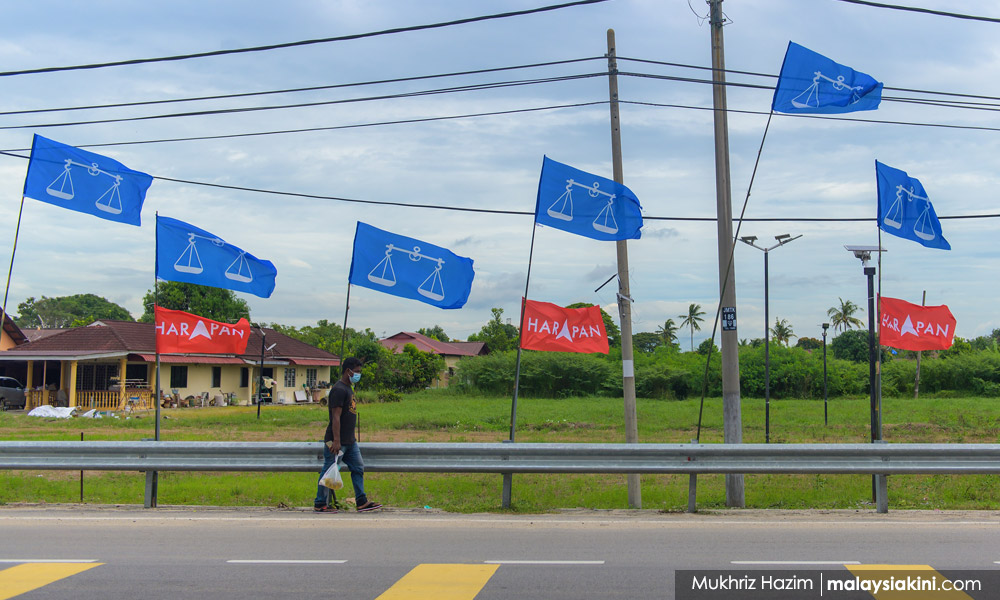 To prove his point, he said the Harapan logo did not really help the coalition during last November's Malacca snap polls.
"It has been argued that voters simply did not recognise it as well as, say, the BN's 'balance scale' logo.
"There have also been anecdotal claims that voters could not easily identify the logo on ballot papers.
"Even (Seputeh MP) Teresa Kok of DAP raised the issue in Parliament," he said.
The PKR logo was also used to great success in the 14th general election, he pointed out, as Harapan had managed to win that election using PKR's logo.
On the contrary, Harapan's logo remains relatively untested nationally.
Logos are flexible
Lastly, he said Harapan parties have always been flexible on the logo issue, as the parties have occasionally used their own logos in some by-elections.
For example, PKR used its own logo during the August 2018 Sungai Kandis by-election while DAP used its logo during the April 2019 Sandakan by-election.
During the Sabah state elections, DAP and Amanah even used the Warisan logo, even though Warisan was not a Harapan component party.
PKR did not object to this at the time, Nik Nazmi said, and now DAP and Amanah have not objected to their current request.
"Harapan remains united and solid in facing the upcoming Johor state election as well as in the defence of the rights of the Malaysian people.
"The logo issue is a question of strategy and tactics in our effort to get the best possible results," he said.
PKR decided to use its own logo in the upcoming Johor polls while Amanah and DAP will stick with using the Harapan banner.
This decision was made following a Harapan presidential council meeting at the PKR headquarters in Petaling Jaya, Selangor earlier today.
MKINI
.