PARLIAMENT SUBPOENAS MACC CHIEF – BUT WILL ARROGANT AZAM, WHO CLAIMS HE'S ANSWERABLE ONLY TO MACC PANEL & ONLY THE KING CAN SACK HIM, BOTHER TO ATTEND – EVEN AS CORRUPTION WATCHDOGS DEMAND 'URGENT REFORM' OF MACC
Azam Baki ordered to appear at PSC meeting next Wednesday
MACC chief commissioner Azam Baki has been issued a subpoena to appear before the Parliament Select Committee (PSC) on the Agencies under the Prime Minister's Department for a meeting on Jan 19 over his controversial company shares ownership.
PSC member Chan Foong Hin said Dewan Rakyat secretary Nizam Mydin Bacha wrote a letter to Azam asking him to attend the meeting set for next Wednesday.
"As far as I know, only Azam has been summoned to the PSC meeting," he told Malaysiakini when asked if the PSC also called in MACC Anti-Corruption Advisory Board chairperson Abu Zahar Ujang.
On whether Azam has confirmed his attendance, Chan pointed out provisions in the Houses of Parliament (Privileges and Powers) Act 1952 to prescribe for the order of attendance of any witness.
Under Section 16 of the Act, Parliament or any committee under it may order any person to attend before the House or before such a committee, and to produce any paper, book, record or document in their possession or under the control of such person.
Previously, the Special Select Committee on Health, Science and Innovation also summoned Health Minister Khairy Jamaluddin, Chan added.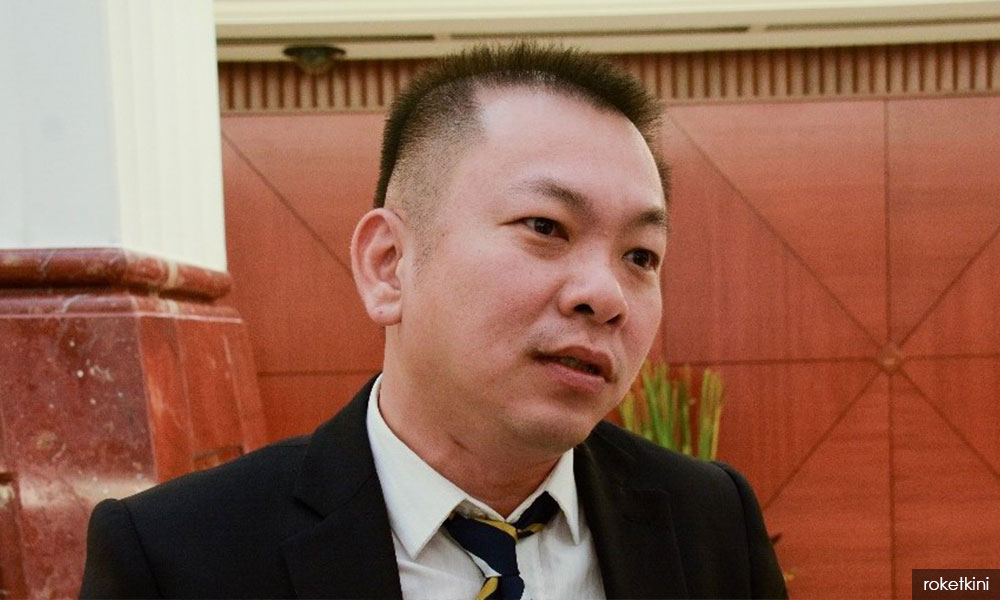 While noting that the PSC, chaired by PAS' Kuala Krai MP Abdul Latiff Abdul Rahman, did not table a report previously following meetings with the agencies under the Prime Minister's Department, Chan said this time may be different.
The Kota Kinabalu MP said the PSC may draft a report following its meeting with Azam.
PSC report will be tabled
Another PSC member, William Leong, said the PSC report will be tabled to the Dewan Rakyat after the inquiry into Azam's share ownership is completed.
Any proposal related to the ownership of the shares can only be done after the inquiry, he added.
"The committee's report will be tabled in the Dewan Rakyat to all MPs and the people so that they will have access to the information," the Selayang MP was quoted as saying by Sinar Harian.
Azam came under scrutiny recently after allegations surfaced about him having owned shares in two companies back in 2015.
According to Excel Force Bhd's 2015 annual report, Azam owned 2,156,000 warrants in the company as of March 21, 2016. At the time, Azam was the head of MACC's investigation division.
Opposition lawmakers had demanded the matter surrounding Azam's share ownership to be referred to a parliamentary committee as MACC's oversight bodies failed to deal with the matter accordingly.
The push on this came after Abu Zahar cleared Azam of any wrongdoing on Jan 5.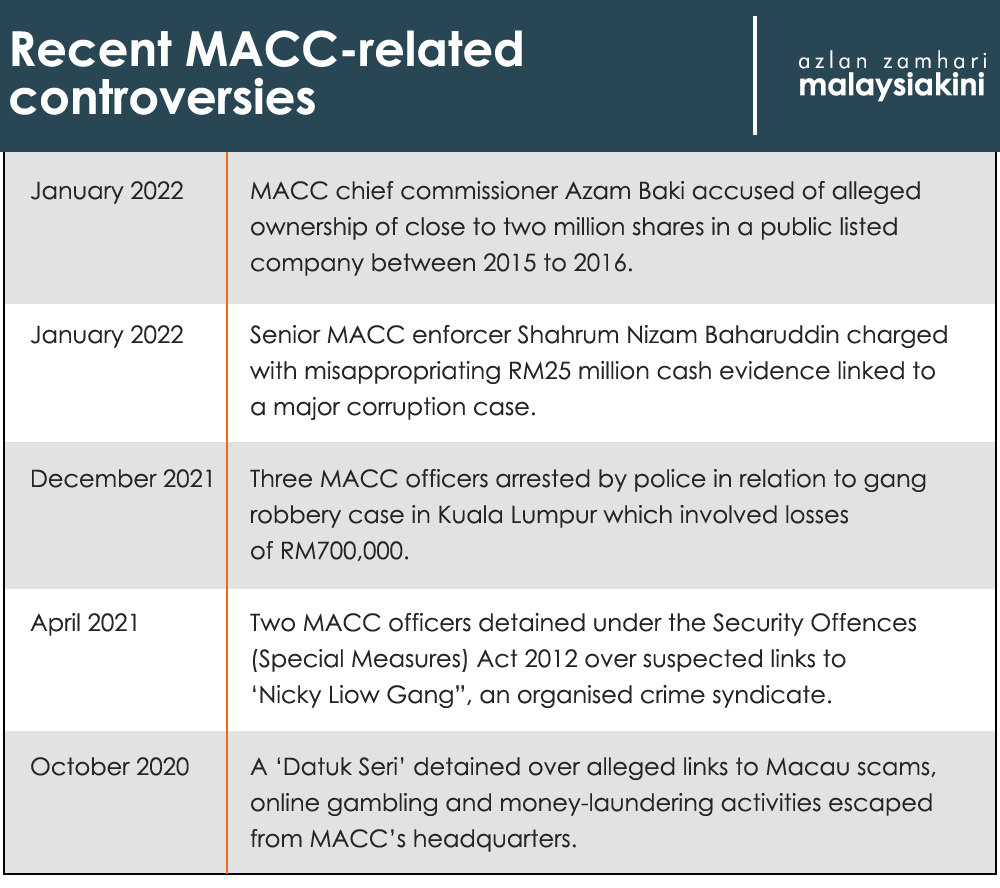 mkini
Watchdogs demand urgent reform of MACC
URGENT reforms are needed to the Malaysian Anti-Corruption Commission (MACC) to ensure the agency's integrity and that it remains credible, activist groups demanded today.
RasuahBusters, the Institute for Democracy and Economic Affairs, Transparency International Malaysia, the Centre for Combating Cronyism and Corruption (C4), the Coalition for Clean and Fair Elections, Vote18, and the Malaysian Coalition for Action (GBM) said that the recent allegations against MACC chief commissioner Azam Baki have increased expectations from Malaysians and civil society.They said the MACC needs to establish and deliver the highest standards of ethics, good governance and independence as a government agency promoting integrity.

The groups demanded an independent investigation of Azam to be carried out by an independent body not connected to the MACC in order to ensure impartiality.

They also said that they were "gravely concerned" that current oversight of the MACC is dysfunctional in nature.

As such, they reiterated that the government creates an independent anti-corruption commission that will report to Parliament and provide oversight over the anti-graft agency, which should also be renamed.

"We hereby emphasise that it is extremely urgent that these reforms are implemented, as without an independent and robust framework to act on corruption, any anti-corruption agency is doomed to fail.

"We welcome the acceptance of some of our demands by the government and shall continue to pursue the rest until they are fully implemented," the groups.

RasuahBusters head Hussamuddin Yaacub said that reforms should be made for the sake of a greater focus, which was to clean up the existing system and not just to focus on the Azam case.

"We take the opportunity to make this case as a momentum to provide awareness to all Malaysians.

"It means there is a big problem in the system, so we want to see the whole system cleaned up," he said.

Azam has been in the spotlight after it was revealed that he had acquired 2.15 million shares in Excel Force MSC Berhad in 2015, as well as 1.93 million shares in Gets Global Berhad in the same year and 1.02 million shares in Gets Global the following year, which he may not have declared.

Azam denied any wrongdoing, saying that the shares were bought by his brother using his account. The MACC advisory panel has also cleared him of any impropriety.

Yesterday, Azam said he would not resign and only the Agong had the power to sack him.

Azam has also filed a defamation suit seeking RM10 million in damages and a public apology from journalist Lalitha Kunaratnam who had revealed his personal finances in two articles last year. TMI
MKINI  /  THE MALAYSIAN INSIGHT
.