FINALLY THE 'DIRTY DEED' IS DONE – FOR BETTER OR FOR WORSE, PAKATAN IN GOOD FAITH SIGNS CONFIDENCE & SUPPLY DEAL WITH ISMAIL SABRI – FACE IT! NOTHING CAN BE WORSE THAN NOW – AND VOTERS WILL APPRECIATE PAKATAN FOR TRYING TO DO SOMETHING POSITIVE – INSTEAD OF FOREVER FOAMING AT THE MOUTH 'SCANDAL-TAINTED ANWAR WAS FRAMED, SCANDAL-TAINTED ANWAR WAS INNOCCENT, SCANDAL-TAINTED ANWAR MUST BE PM!'
Harapan, govt finally put pen to paper on 'historic' reform deal
Pakatan Harapan and the government has finally put ink to paper over a confidence and supply deal.
The deal was signed between representatives of Harapan and the government at the Banquet Hall in Parliament this evening.
Prime Minister Ismail Sabri Yaakob said the agreement, called Memorandum of Understanding on Transformation and Political Stability, was in line with the Yang Di-Pertuan Agong's decree for more bipartisanship.
He said the memorandum of understanding covers the following areas:
Strengthening of the Covid-19 plan
Governance transformation
Parliamentary reforms
Ensuring judicial independence
The Malaysia Agreement 1963
The formation of a steering committee – MKINI
Perikatan, Pakatan sign bipartisan MoU in Parliament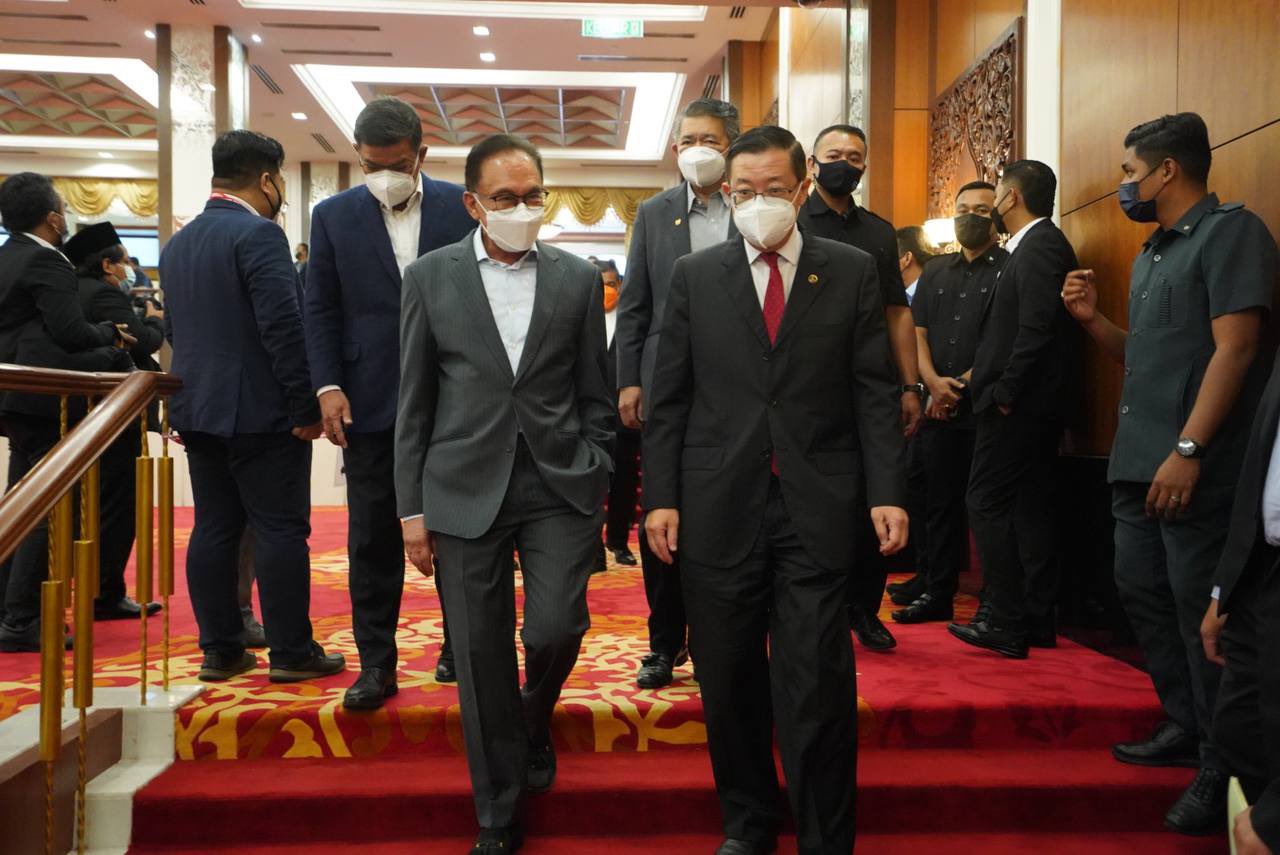 PETALING JAYA: The government and Pakatan Harapan leaders have inked the memorandum of understanding (MOU) on bipartisan cooperation on Monday (Sept 13).
Representatives from the government and the Opposition signed the historic document at a ceremony held at Parliament banquet hall at 5pm today.
A statement on the signing of the MoU was issued by the Prime Minister's Office and signed by Datuk Seri Ismail Sabri Yaakob.
In his statement, Ismail Sabri said the government and Pakatan Harapan have charted a historic milestone by signing an MoU on transformation and political stability.
He said such bipartisan cooperation was in the spirit of Keluarga Malaysia, and in line with the Yang di-Pertuan Agong's Royal Address at the first sitting of the fourth session of the 14th Parliament on Monday (Sept 13).
The MoU covers these aspects: Empowering the Covid-19 plan; administrative transformation, independence of judicial institutions; Malaysia Agreement (MA63) and the setting up of Steering Committee.
Those who were present during the signing of the MOU were Prime Minister Datuk Seri Ismail Sabri Yaakob, Dewan Negara president Tan Sri Rais Yatim, Speaker Datuk Azhar Azizan Harun, Port Dickson MP Datuk Seri Anwar Ibrahim, Bagan MP Lim Guan Eng and Kota Raja MP Mohamad Sabu.
Other MPs present during the signing were Ketereh MP Tan Sri Annuar Musa, Seremban MP Anthony Loke, Senator Datuk Donald Peter Mojuntin, Kulim Bandar Baharu MP Datuk Seri Saifuddin Nasution Ismail and Pulai MP Datuk Seri Salahuddin Ayub. ANN
CLICK TO VIEW THE FULL MOU STATEMENT
MKINI / ANN
.