Umno Youth chief Asyraf Wajdi Dusuki claimed that the Form 4 history textbook glorified communists and wants the Perikatan Nasional (PN) government to fix its content.
This was over two pages about radical Malay leftist leaders' role in fighting for independence and the Malayan People's Anti-Japanese Army's (MPAJA) battle against the Japanese occupation.
"Umno's senior minister has been informed and will raise the matter in the cabinet for immediate action by the education minister," he said.
Asyraf also pointed out that the education minister is from Bersatu, which was part of the previous Pakatan Harapan government.
Umno's senior minister is Ismail Sabri Yaakob while the education minister is Mohd Radzi Md Jidin, who is also Bersatu's senior minister in the government.
Asyraf claimed that facts in the history textbook had been "manipulated".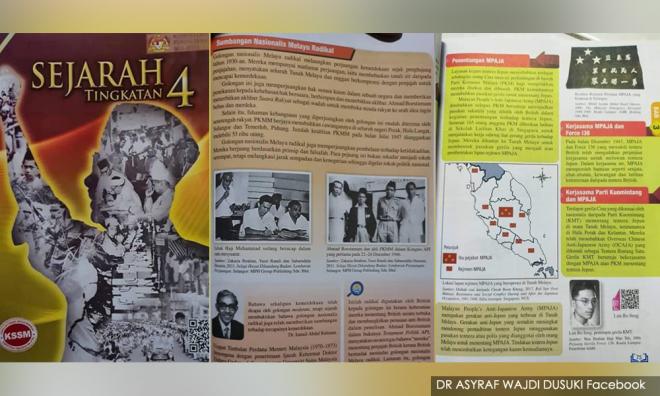 "This appears to be a planned effort during Harapan's 22 months in power to sow the seeds of the 'Malaysian Malaysia' ideology and subtlely brainwash students that socialism and communism are not bad and were among the ideologies used to fight for independence," he said.
He also claimed that Malays were "defamed as lackeys" of the Japanese occupiers.
"The Harapan government had subtlely glorified communists and the MPAJA as heroes and freedom fighters who should be recognised.
"Umno Youth demands the Education Ministry retract the Form 4 textbooks and correct the manipulated facts about the country's history," he added.
The contents of the two pages that have offended Umno Youth are as follow:
PAGE 129
Section 1
Sumbangan Nasionalis Melayu Radikal
Golongan nasionalis Melayu radikal melaungkan perjaungan kemerdekaan sejak penghujung tahun 1930-an. Mereka mempunyai matlamat perjuangan, iaitu membebaskan tanah air daripada penjajahan. menyatukan seluruh Tanah Melayu dan enggan berkompromi dengan penjajah untuk mencapai kemerdekaan.
Golongan ini juga memperjuangkan jak semua kaum dalam sebuah negara dan memberikan penekanan kepada kebebasan hak bersuara, berhimpun dan menerbit akhbar. Ahmad Boestamam menerbitkan akhbar Suara Rakyat sebagai wadah untuk membuka minda rakyat ke arah idea ingin bebas dan merdeka.
Selain itu, fahaman kebangsaan yang diperjuangkan oleh golongan ini mudah diterima oleh setengah rakyat. PKMM (Parti Kebangsaan Melayu Malaya) berjaya menubuhkan cawangannya di seluruh negeri Perak, Hulu Langat, Selangor dan Temerloh, Pahang. Jumlah Keahlian PKMM pada bulan Julai 1947 dianggarkan melebihi 53 ribu orang.
Golongan nasionalis Melayu radikal juga memperjuangkan pembelaan terhadap ketidakadilan. Mereka berjuang berdasarkan prinsip dan falsafah. Para pejuang ini bukan sekadar menjadi tokoh setempat, tetapi melangkaui jarak sempadan dan kenegerian sehingga digelar tokoh politik nasional.
[Photos of Ishak Haji Muhammad and Ahmad Boestamam]
Caption: Ishak Haji Muhammad sedang berucap dalam satu mesyuarat.
Caption: Ahmad Boestamam dan ahli PKMM dalam Kongres API (Angkatan Pemuda Insaf) yang pertama pada 22-23 Disember 1946.
Section 2
Bahawa sekalipun kemerdekaan telah dicapai oleh golongan moderate, tetapi sejarah membuktikan bahawa golongan nasionalis radikal juga telah memberi sumbangan terhadap tercapainya kemerdekaan – Dr Ismail Abdul Rahman.
Ucapan Timbalan Perdana Menteri Malaysia (1970-1973) sempena dengan penerimaan Ijazah Kehormat Doktor Undang-Undang di Konvokesyen Universiti Sains Malaysia pada 23 September 1973.
Section 3
Istilah radikal digunakan oleh British kepada golongan ini kerana keberanian mereka menentang British secara terbuka dan membangkitkan perasaan anti-British dalam penulisannya.
Ahmad Boestamam dalam bukunya Testamant Politik Api, menyatakan secara tegas bahawa "mereka" menentang penjajah British kerana British bertindak menindas golongan nasionalis Melayu radikal. Lantaran itu, golongan ini terpaksa berhadapan dengan pelbagai bentuk penindasan.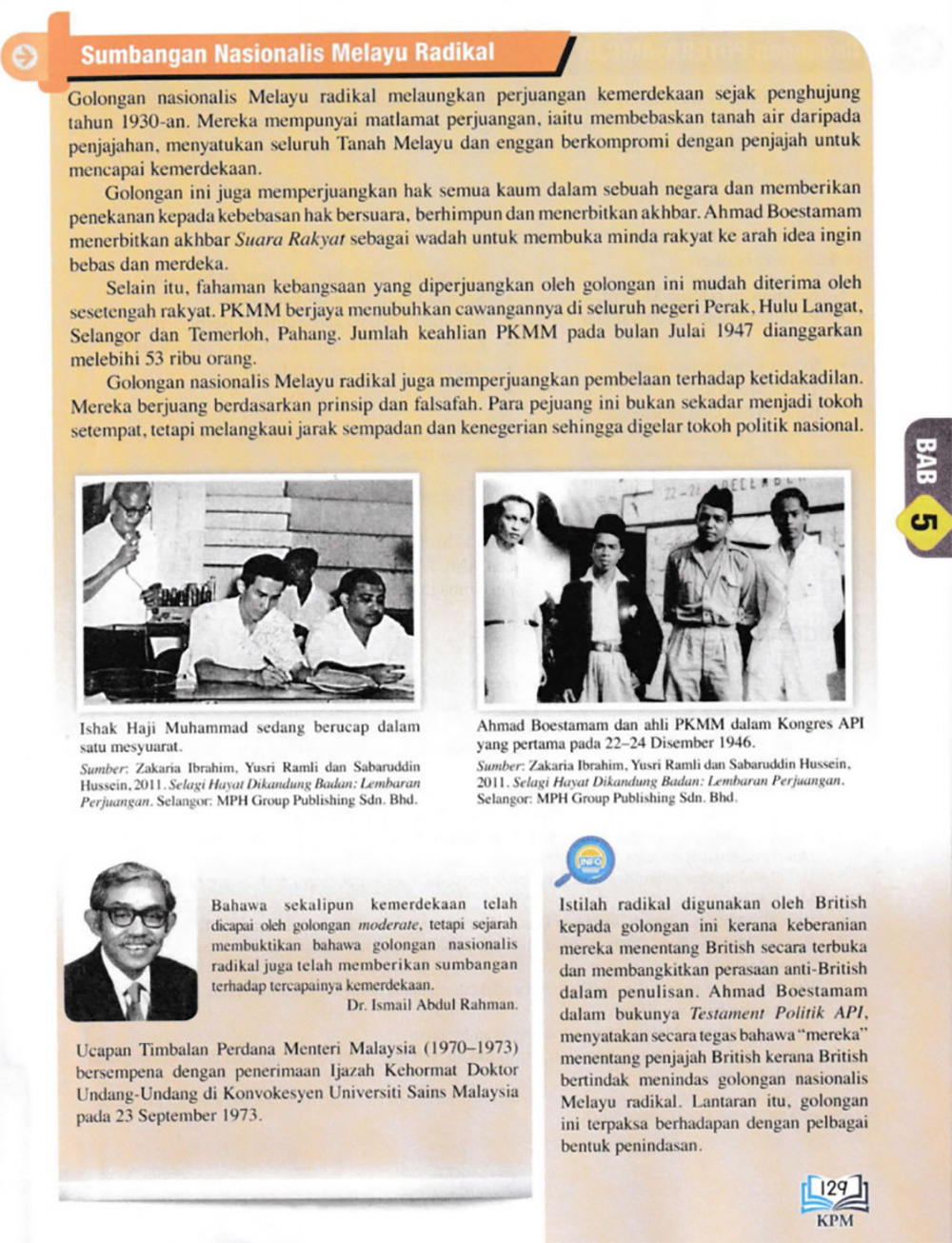 PAGE 75
Section 1
Penentangan MPAJA
Layanan kejam tentera Jepun menyebabkan terdapat sebahagian orang Cina mencari perlindungan di bawah Parti Komunis Malaya (PKM) bagi mengelakkan mereka diseksa dan dibunuh. PKM kemudiannya menubuhkan pasukan gerila untuk menentang Jepun.
Malayan People's Anti-Japanese Army (MPAJA) ditubuhkan selepas PKM bersetuju mewujudkan pasukan sukarela yang dilatih oleh British dalam kegiatan penentangan terhadap tentera Jepun.
Seramai 165 orang anggota PKM diberikan latihan di Sekolah Latihan Khas di Singapura untuk menjalankan kerja sabotaj dan perang gerila terhadap Jepun. Mereka dihantar ke Tanah Melayu untuk membentuk pasukan gerila yang menjadi sas pembentukan lapan rejiman MPAJA.
[Map of MPAJA regiments]
Section 2
MPAJA merupakan gerakan anti-Jepun terbesar di Tanah Melayu. Gerakan anti-Jepun semakin meningkat mendorong pentadbiran tentera Jepun menggunakan pasukan tentera atau polis yang dianggotai orang Melayu untuk menentang MPAJA. Tindakan tentera Jepun telah menimbulkan ketegangan kaum kemudiannya.
[Flag of first MPAJA regiment]
Section 3
Kerjasama MPAJA dan Force 136
Pada bulan Disember 1943, MPAJA dan Force 136 yang mewakili tentera British telah mengadakan perjanjian kerjasama untuk melawan tentera Jepun. Dalam kerjasama ini, MPAJA memperoleh bantuan seperti senjata, ubat-ubatan, kewangan dan latihan ketenteraan daripada tentera British.
Kerjasama Parti Kuomintang dan MPAJA
Terdapat gerila Cina yang dikuasai oleh nasionalis daripada Parti Kuomintang (KMT) menentang tentera Jepun di utara Tanah Melayu, terutamanya di Hulu Perak dan Kelantan. Mereka telah menubuhkan Overseas Chinese Anti-Japanese Army (OCAJA) yang dikenai sebagai Tentera Bintang Satu. Gerila KMT bersetuju bekerjasama dengan MPAJA atau PKM menentang tentera Jepun.
[Photograph of KMT guerilla leader Lim Bo Seng]