Malaysiakini has earlier reported that foreign workers at the Cheria Heights Apartment are required to submit their Covid-19 test results to the apartment management.
Following this, a reader informed Malaysiakini that Merdeka View Apartment, which is located in Kuala Lumpur, requires all its tenants, not just foreign workers, to provide their Covid-19 test results.
When Malaysiakini visited the apartment yesterday, there was a notice at the guardhouse stipulating the new policy. The notice was dated Dec 26, 2020.
The notice states that both new and existing tenants are not allowed to enter the premises if they do not have a Covid-19 test report within seven days, as well as a valid passport and a valid work permit.
A spokesperson of the management office confirmed that every new tenant must submit their latest Covid-19 test results.
According to her, during the first wave of Covid-19 outbreak in May, the residential committee had decided all foreign workers tenants be tested for Covid-19.
She said there was a spike of cases in December, the committee subsequently required all tenants to be screened, including the locals. As a result, she said, all residents had undergone Covid-19 tests at their own expenses.
"Either foreigners or locals, we don't care – the requirement (for a swab test) is the same. What we are trying to do is protect this place, we don't want to have a cluster here."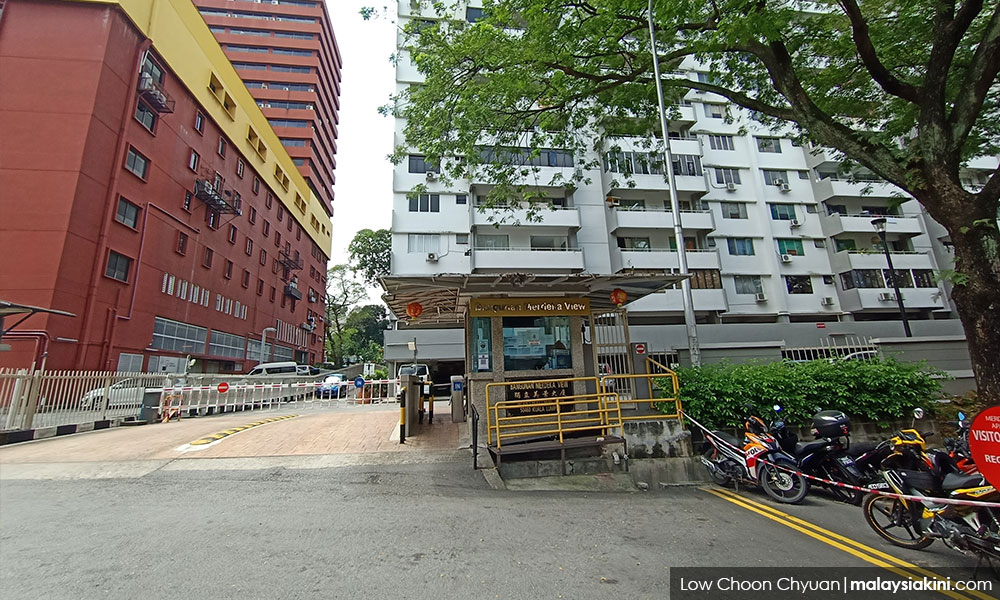 'Not fair'
The reader who complained about the matter said the management office has no rights to impose such a policy.
Speaking on condition of anonymity, the condominium unit owner added that he was unable to take tenants due to the new requirement.
"In my opinion, this is not fair. It caused a lot of losses for unit owners."
The irate owner said he would complain to relevant government agencies and ask them to take actions against the management office.
Malaysiakini learnt that Choo Cheng Khay Apartment, a condominium which is located next to Merdeka View, required foreign workers to submit their Covid-19 test results before taking up tenancy.
The chairperson of Choo Cheng Khay' management council who gave his name as Khiang, confirmed this requirement with Malaysiakini.
He said a large number of migrant workers have wanted to rent units from the condo since last December, and the management decided "to be very careful" and take precautionary measures.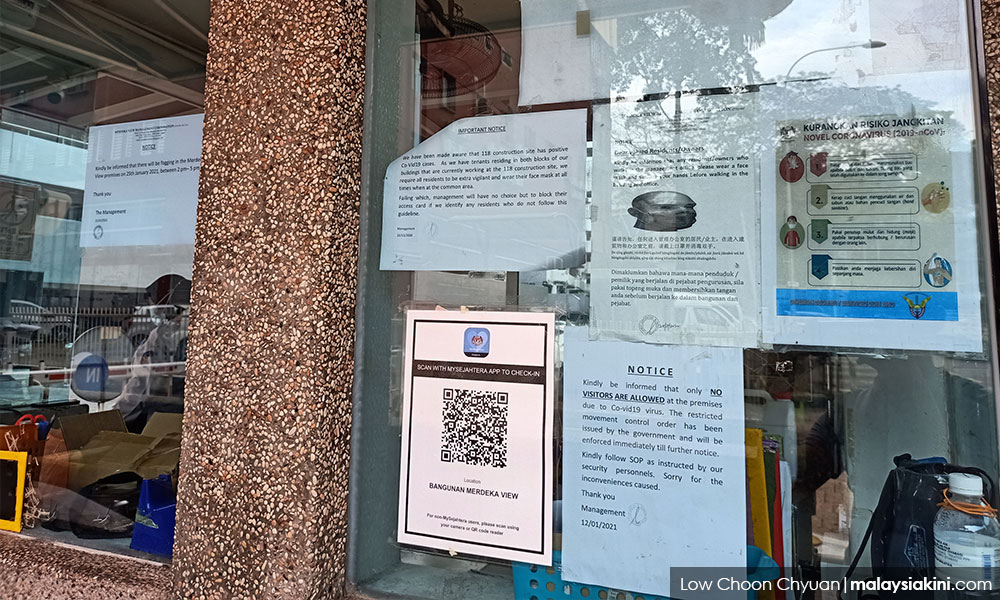 "So, we told them they have to give us a current (Covid-19 test result) to make sure we are well protected."
Kiang, however, stressed that the management office did not require existing tenants to do a swab test.
NGO calls it discrimination
Malaysiakini previously reported that foreign workers in Cheria Heights Apartment are required to submit their Covid-19 test results to the management, otherwise they would be barred from entering the premises.
Migrant rights' group Our Journey director Sumitha Shaanthinni Krishna described the ruling as discriminatory and argued that it does not have the power to bar residents from entering.
However, the management office denied discrimination against such workers and claimed that they are helping the government implement the compulsory Covid-19 test for foreign workers.
Previously, it was reported that the Sri Angsana Hilir condominium in Kuala Lumpur had put up a similar notice for its foreign residents.
The management later said it would amend the notice and would not prevent tenants from entering their homes.
Although previous coronavirus outbreaks involved several factories and construction sites involving mostly foreign workers, local Malaysians now comprise the bulk of new cases. MKINI
Opposition MPs call for 6-month loan repayment moratorium
A GROUP of opposition lawmakers want Putrajaya to order an automatic loan moratorium for six months like it did when it issued the movement control order (MCO) last March.
In a joint statement, the 25 MPs said Malaysians have yet to see Covid-19 cases decrease after two weeks of movement restrictions, which have just been extended by another fortnight.
"This can remove anxiety and bureaucracy almost immediately. SMEs and individuals who are not affected can continue with their existing loan repayment.
"The six-month automatic loan moratorium will improve cashflow in the economy hence creating economic activities," they said.
The MPs said that such a move is crucial to allow people and businesses to have more cash at their disposal.
This will in turn help to improve the bottomline for businesses, encouraging them to keep and even employ more workers  instead of cutting jobs to get through the epidemic crisis.
"Unemployment is soaring. If there are no other aggressive measures, more SMEs will go under, leading to more job losses.
"To prevent (the situation from taking) a nosedive, we urge the government to urgently implement this (loan moratorium)."
The government on Thursday extended the MCO until February 4 for six states and the three federal territories  –  Penang, Selangor, Johor, Sabah, Malacca and Kelantan and Kuala Lumpur, Putrajaya and Labuan.
The MPs said investor confidence, both domestic and foreign, is at an all-time low.
They said more needs to be done to cushion Malaysians against the impact of the MCO and state of emergency that have been simultaneously  declared, and that the RM15 billion Permai stimulus package announced by the prime minister on January 18 is but "a drop in the ocean".
The MPs also called on Putrajaya to increase the Perkeso wage subsidy of RM600 per worker earning below RM4,000 and to extend it for at least six months.
The lawmakers said the current subsidy is insufficient as the effects of the two sets of movement curbs are still being felt in the business sectors
"The six -month wage subsidy will greatly encourage employers not to resort to cutting jobs and help to carry them through half of this year as they face reduced sales and cashflow.
"For some, it may also encourage them to start recruiting again."
They said extraordinary times require the government to take extraordinary measures to save jobs.
"The full consequences of rising unemployment may hurt the nation in ways no future stimulus package can aid."
They said the "incompetence, inefficiency and political instability" of the Perikatan Nasional government have already caused Malaysia to become less competitive and lose out to its Asean neighbours in attracting foreign investors.
"Further denial and stubbornness to do more for the business sector is one more nail in the coffin for our bleeding economy."
The statement was signed by:
1. Darell Leiking (Penampang)
2. Syed Saddiq (Muar)
3. Mohd Azis Jamman (Sepanggar)
4. Hannah Yeoh (Segambut)
5. Yeo Bee Yin (Bakri)
6. Baru Bian (Selangau)
7. Rozman Isli (Labuan)
8. Salahuddin Ayub (Pulai)
9. Amiruddin Hamzah (Kubang Pasu)
10. Teo Nie Ching (Kulai)
11. Isnaraissah Munirah Majilis (Kota Belud)
12. Mahfuz Omar (Pokok Sena)
13. Khalid Samad (Shah Alam)
14. Tengku Zulpuri Shah Bin Raja Puji (Raub)
15. Maria Chin (Petaling Jaya)
16. Wong Shu Qi (Kluang)
17. Teresa Kok (Seputeh)
18. Dr Dzulkefly Ahmad (Kuala Selangor)
19. Dr Lee Boon Chye (Gopeng)
20. Kasthuriraani Patto (Batu Kawan)
21. P. Prabakaran (Batu)
22. M. Kulasegaran (Ipoh Barat)
23. Chong Chieng Jen (Stampin)
24. Nor Azrina Surip @ Nurin Aina (Merbok)
25. Sivarasa Rasiah (Sungai Buloh) – THE MALAYSIAN INSIGHT
MKINI / THE MALAYSIAN INSIGHT
.