BOMBSHELL – NO EXCO POST FOR 'DISRESPECTFUL' PAS? HADI RUSHES TO IPOH TO 'EXPLAIN THE POLITICAL SITUATION' – BUT GETS SNUBBED BACK BY PERAK PALACE – EVEN AS NEW UMNO MB SAYS NOT UP TO HIM BUT THE SULTAN TO APPOINT EXCO MEMBERS
Asked about PAS' absence from Perak exco line-up, MB says appointments up to SultanIPOH — Perak Mentri Besar Datuk Saarani Mohamad said it was Sultan Nazrin Muizzuddin Shah's sole prerogative to appoint the state's executive councillors (excos).

Saarani was responding to questions about the absence of PAS lawmakers from the exco that currently has four Umno and one Bersatu assemblymen.

"As a mentri besar I can only suggest the name of the excos. The one who has the absolute power to appoint them is the Sultan," Saarani told a press conference at the State Secretariat Building here.

When asked if he had suggested any PAS assemblymen as excos to the Sultan yesterday, Saarani said he only suggested five names for a start.

Saarani said that he will suggest another five after the state's 2021 Budget was approved.

He also said the portfolios will be decided once the other five were appointed.

"On Monday, I will call for the first exco meeting to get approval on the existing Budget. And on Tuesday, we will call all 59 state assemblymen to Casuarina Hotel to brief them about the Budget.

"This will allow them to debate about the Budget when the State Legislative Assembly reconvene on Wednesday for Budget tabling.

"We are doing this to show that the new government is not losing focus to put the people's agenda first," he said.

Yesterday, five state lawmakers were sworn-in as the excos at the Istana Iskandariah in Kuala Kangsar after Saarani took his oath of office as the MB.

They were Umno's Datuk Mohd Zolkafly Haru (Lintang), Datuk Shahrul Zaman Yahya (Rungkup), Datuk Dr Wan Norashikin Wan Noordin (Kampong Gajah) and Khairul Shahril Mohamed (Bota), and Bersatu's Datuk Zainol Fadzi Paharudin (Sungai Manik).

Perak PAS commissioner Razman Zakaria said that the party believes Saarani will not forget about PAS on the appointment of excos when asked to comment on PAS assemblymen not being listed in the first round of excos' appointment. MALAY MAIL
Hadi seeks audience with Perak sultan, no date set yet
PAS president Abdul Hadi Awang is seeking an audience with Perak ruler Sultan Nazrin Shah.
However, a source close to the palace informed Malaysiakini that no date has been set yet.
Yesterday, Hadi sent a letter to the palace seeking an audience with Sultan Nazrin. The letter sighted by Malaysiakini stated his intention to inform the ruler of "the political situation involving PAS".
This came after Perak PAS assemblypersons failed to show up for their scheduled audience with Sultan Nazrin on Tuesday amidst political uncertainty over the new menteri besar candidate.
Quoting a source close to the party leadership, news website The Vibes said Hadi intends to "seek forgiveness" from the sultan over the snub.
PAS previously explained that it decided to "postpone" its Dec 8 audience because its national leadership was undecided on its support for Umno's Kota Tampan assemblyperson Saarani Mohamad as the new Perak menteri besar.
It denied allegations that the no-show had been an act of disrespect (derhaka) against the monarchy.
After Bersatu deputy president Ahmad Faizal Azumu was ousted as menteri besar last week, PAS initially ordered its Perak chapter not to take part in forming the new state government.
The party's position, however, changed after Umno president Ahmad Zahid Hamidi apologised to Bersatu and PAS over Faizal's removal.
This paved the way for Saarani to be sworn in as menteri besar yesterday.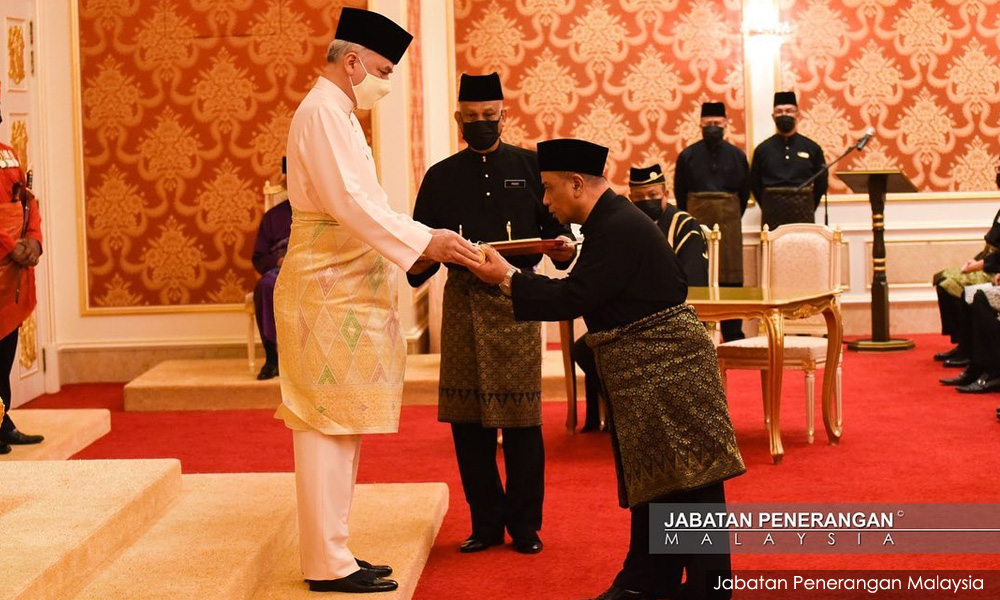 The Perak menteri besar swearing-in ceremony was the third to be held since the 2018 general election, a record Sultan Nazrin said reflected a failure in leadership.
The first batch of state executive councillors was also sworn in yesterday – comprising four Umno representatives and one Bersatu lawmaker.
While PAS is not on the exco yet, it has an agreement with Umno and Bersatu on the allocation of state government positions.
The Perak constitution allows the state government to have up to 10 exco members.  MKINI
MALAY MAIL / MKINI
.