BOMBSHELL – FIRST NAIL IN UMNO'S SELF-CREATED PN COFFIN – THE REST WILL COME IN A HAIL ONCE MUHYIDDIN'S 'COVID BUDGET' IS APPROVED
Yesterday, through his Facebook page, Najib Razak complained about the position of BN which was not given any role in preparing the 2021 Budget.
He said, although BN is part of the PN government, none of the coalition representatives were appointed in the Economic Action Council chaired by the Prime Minister, Muhyiddin Yassin.
As proof of his words, Najib also displayed the membership of the Economic Action Council to explain the allegation why BN criticized the 2021 Budget when it was part of the PN government.
To play its role in defending and meeting the needs of the people, according to Najib, BN will use the debate channel in the Dewan Rakyat for that purpose.
If we remember, UMNO representatives were only invited to give a proposal for the preparation of the 2021 Budget on November 1, which is six days before it was presented by the Minister of Finance, Tengku Zafrul Tengku Abdul Aziz on November 6.
Meaning, there are no UMNO and BN representatives in the Economic Action Council, invited to submit proposals only at the last minute.
The invitation was no more than coughing on the stairs because it was not impossible at that time the process of preparing the budget text was already 99 percent ready.
Therefore, the two main proposals submitted by UMNO for the 2021 Budget – the withdrawal of the EPF Account 1 up to RM10 thousand and the extension of the bank loan moratorium, were completely ignored by the government.
In other words, setting aside UMNO's voice and role further proves that as time goes by, the more the party is bullied by Bersatu and PN.
The position of UMNO and BN which has the largest number of Parliamentary seats in the PN government does not mean even one point.
Previously, UMNO was bullied for being given an insignificant ministry, Muhyiddin appointed several UMNO ministers according to his own choice, appointed only one senior minister from UMNO, but two from Bersatu, intercepted UMNO in the Sabah PRN to seize the post of Chief Minister and was last reportedly only ready to appoint Deputy Prime Minister from UMNO if his candidate is not Zahid Hamidi.
Buli, buli, buli… ..
In fact, without a doubt, this development allows Muhyiddin to continue to find a way to bully UMNO after this for the purpose of strengthening Bersatu's position.
Muhyiddin's ultimate goal is of course to make Bersatu a successor to UMNO.
So, won't UMNO still not retire and want to continue to be bullied again, again and again by Muhyiddin and Bersatu?
The 2021 budget is actually the best platform for UMNO to end the bullying and before Bersatu manages to go further to achieve what it wants.
UMNO must continue to fight to uphold its previous proposals while putting pressure on the 2021 Budget debate this time.
Najib himself in a post on his social media said he would continue to fight and fight until the people can obtain an extension of the bank loan moratorium.
That is exactly what Najib, UMNO and BN should do, in fact they must be in line with Anwar Ibrahim who in his debate speech yesterday warned that he will not support the approval of the 2021 Budget if the government does not make any amendments.
The three things that Anwar stressed need to be amended are the moratorium, the EPF and the large allocation for Services.
If until now the government is still stubborn, the best and most appropriate option for Najib who is now leading BNBBC is to invite as many BN MPs as possible not to support the approval of the 2021 Budget.
Not only by doing so will the government be overthrown and whether after that there will be a GE or not, what is important is the new budget that is tabled later will definitely be as pro as BN itself wants.
At the same time, it is able to put a dot on the ongoing bullying of UMNO.
THE ABOVE IS A GOOGLE TRANSLATE OF THE STORY BELOW:
Semalam, melalui laman Facebooknya, Najib Razak mengeluh mengenai kedudukan BN yang tidak diberi sebarang peranan dalam penyediaan Belanjawan 2021.
Kata beliiau, walaupun BN merupakan sebahagian daripada kerajaan PN, tetapi tiada seorang pun wakil gabungan itu dilantik dalam Majlis Tindakan Ekonomi yang dipengerusikan oleh Perdana Menteri, Muhyiddin Yassin.
Sebagai membuktikan kata-katanya, Najib turut memaparkan keanggotaan Majlis Tindakan Ekonomi untuk menjelaskan dakwaan mengapa BN mengkritik Belanjawan 2021 sedangkan ia sebahagian daripada kerajaan PN.
Bagi memainkan peranannya membela dan memenuhi keperluan rakyat, menurut Najib lagi, BN akan menggunakan saluran perbahasan di Dewan Rakyat untuk tujuan tersebut.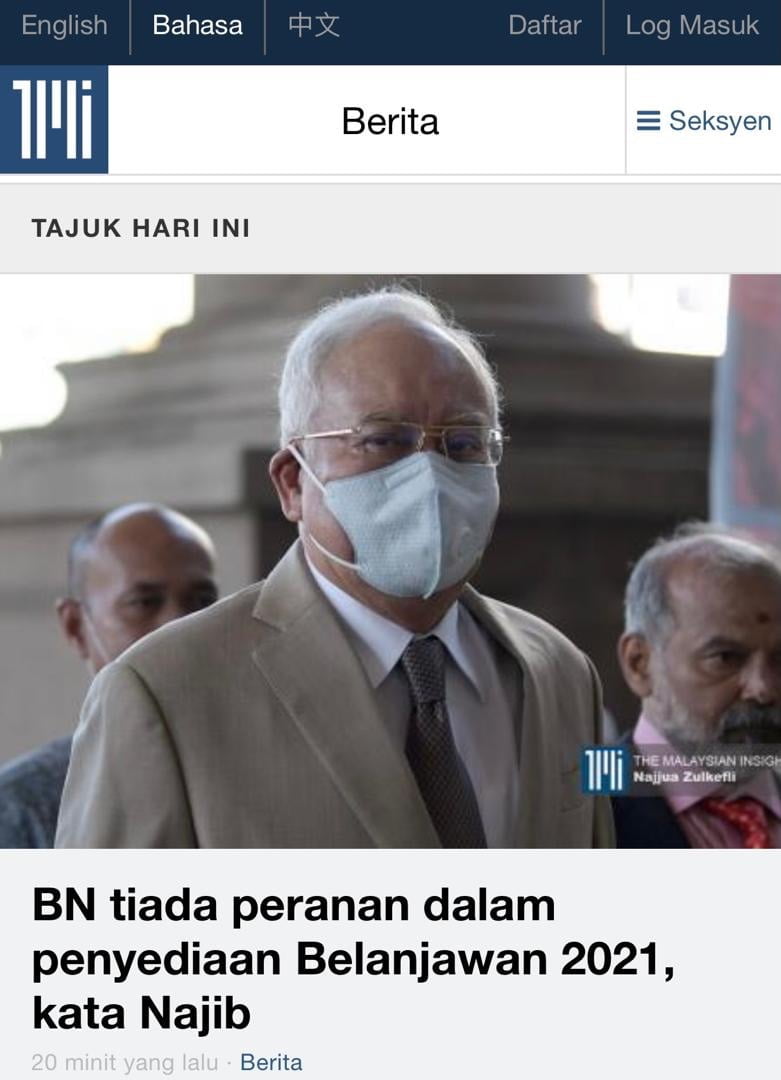 Jika kita masih ingat, wakil UMNO hanya dijemput untuk memberi cadangan bagi penyediaan Belanjawan 2021 ini pada 1 November iaitu enam hari sebelum ia dibentangkan oleh Menteri Kewangan, Tengku Zafrul Tengku Abdul Aziz pada 6 November lalu.
Makna kata, sudahlah tiada wakil UMNO dan BN dalam Majlis Tindakan Ekonomi, dijemput untuk mengemukakan cadangan pula hanyalah di saat-saat akhir saja.
Jemputan itu tidak lebih sekadar melepaskan batuk ditangga kerana tidak mustahil ketika itu proses penyediaan teks belanjawan sudah pun 99 peratus siap disediakan.
Sebab itu, dua cadangan pokok yang dikemukan UMNO untuk Belanjawan 2021 – pengeluaran Akaun 1 KWSP sehingga RM10 ribu dan melanjutkan moratoriim pinjaman bank, langsung tidak dipedulikan kerajaan.
Dalam erti kata lain, menyisihkan suara dan peranan UMNO itu lebih membuktikan semakin masa berlalu, semakin parti itu dibuli oleh Bersatu dan PN.
Kedudukan UMNO dan BN yang mempunyai jumlah kerusi Parlimen terbesar dalam kerajaan PN tidak memberi makna walau sebelah mata sekali pun.
Sebelum ini, UMNO dibuli kerana diberi kementerian yang tidak penting, Muhyiddin melantik beberapa menteri UMNO ikut pilihannya sendiri, melantik hanya satu menteri kanan daripada UMNO, tetapi dua daripada Bersatu, memintas UMNO dalam PRN Sabah untuk merampas jawatan Ketua Menteri dan terakhir dilaporkan hanya sedia melantik Timbalan Perdana Menteri daripada UMNO jika calonnya bukan Zahid Hamidi.
Buli, buli, buli…..
Yang nyata dan tanpa keraguan lagi, perkembangan ini memungkinkan Muhyiddin terus mencari jalan untuk membuli lagi UMNO selepas ini bagi tujuan mengukuhkan kedudukan Bersatu.
Matlamat akhir Muhyiddin tentulah untuk menjadikan Bersatu sebagai pengganti kepada UMNO.
Maka, takkan UMNO masih tak reti-reti dan mahu terus dibuli lagi, lagi dan lagi oleh Muhyiddin dan Bersatu?
Belanjawan 2021 sebenarnya adalah medan terbaik untuk UMNO menamatkan pembulian itu dan sebelum Bersatu berjaya melangkah lebih jauh untuk mencapai apa yang dihasratkannya.
UMNO mesti terus berjuang mengangkat cadangannya sebelum ini sambil melakukan tekanan dalam perbahasan Belanjawan 2021 kali ini.
Najib sendiri dalam tulisan di media sosialnya mengatakan beliau akan terus berjuang dan melawan sehingga rakyat dapat memperolehi pelanjutan moratorium pinjaman bank.
Memang itulah yang sepatutnya dilakukan oleh Najib, UMNO dan BN, malah mereka mesti senada dengan Anwar Ibrahim yang dalam ucapan perbahasan semalam memberi amaran tidak akan menyokong kelulusan Belanjawan 2021 sekiranya kerajaan tidak melakukan sebarang pindaan.
Tiga perkara ditekankan Anwar perlu dipinda ialah moratorium, KWSP dan peruntukan besar untuk Jasa.
Sekiranya sehingga ke sudah kerajaan masih juga berdegil, pilihan yang terbaik dan wajar bagi Najib yang kini mengetuai BNBBC ialah mengajak seramai mungkin Ahli Parlimen BN untuk tidak menyokong kelulusan Belanjawan 2021.
Bukan saja dengan bertindak demikian akan membolehkan kerajaan dijatuhkan dan sama ada selepas itu bakal diadakan PRU atau tidak, yang penting belanjawan baru yang dibentangkan kemudiannya pastilah yang benar-benar pro sebagaimana keinginan BN sendiri.
Sekaligus juga, ia mampu meletakkan tanda titik kepada pembulian berterusan terhadap UMNO.
-https://shahbudindotcom.net/
.