SURELY AGONG IS NOT FAVORING MUHYIDDIN? IF THE COUNTRY'S POLITICAL STABILITY IS THE TOPMOST ISSUE IN FIGHTING COVID-19, THE KING SHOULD STRAIGHTAWAY ADVISE SPEAKER AZHAR TO GIVE PRIORITY TO THE MOTIONS OF CONFIDENCE OR EVEN NO-CONFIDENCE AGAINST MUHYIDDIN – SO THAT MUHYIDDIN CAN CONFIRM HE HAS SUFFICIENT MAJORITY TO RULE & THEREBY KEEP RIVALS FROM TRYING TO SEIZE HIS POST & KEEP ROCKING THE NATION
As reported by the media, there are 25 motion of no-confidence motion and 2 motion of no-confidence motion was submitted by the Members of Parliament for the Dewan Rakyat Session starting November 2.
The 25 motion of no-confidence motion was submitted by the opposition bloc elected representatives, while the 2 motion of no-confidence motion came from the government bloc.
This means that either the opposition or the government, both want the question of the legitimacy of Muhyiddin Yassin's position as Prime Minister must be determined immediately so that there will be no more disputes in the future.
However, in the common practice of Parliament, such private proposals will not be given priority, unless all government proposals have been tabled first.
In other words, it is impossible for a path to be obtained for a private motion because the government's motion will not end until the Day of Judgment.
If it is almost over, there is a new proposal that suddenly appears.
Without his position as Prime Minister confirmed first, let alone Muhyiddin himself postponed a few more and changed the date of the Parliamentary Session, is it a clear action that shows he has no majority.
Apart from that, from time to time, it can be seen that more and more MPs in the government bloc themselves are getting bored with him, so the question of his legitimacy can no longer be allowed to continue.
In simple language, to ensure a stable, uncomplicated and functioning government, there must be a final decision in Parliament on the legitimacy of the Prime Minister.
With various obstacles to confirm Muhyiddin's position over the past eight months, there is a tendency among Members of Parliament to make the 2021 Budget vote at the next Parliament Session an option in that direction.
If the budget is rejected, it means that the government, together with Muhyiddin, will also fall and enter the ditch together.
Realizing his danger, Muhyiddin later proposed a declaration of emergency whose main segment was to suspend Parliament and avoid a voted budget.
However, the proposal approved by the cabinet was rejected by the Agong after getting the views of the Conference of Rulers.
Two days ago, something shocking and unprecedented emerged where the Agong issued an order for MPs to support and approve the 2021 Budget vote.
Since the order was issued after Muhyiddin met the Agong at the Istana Negara to meet the routine schedule before the cabinet meeting, many thought that Muhyiddin may have complained about his critical position or appealed for a lifeline.
While the government bloc certainly breathed a sigh of relief with the order, the opposition bloc MPs seemed a bit reluctant to comply.
On average, the Agong can only recommend that the 2021 Budget be supported, but not to force it.
Therefore, PKR Secretary General, Saifuddin Nasituon said, the Agong's order should be upheld by the way the 2021 Budget is scrutinized, studied and discussed first, then it is decided whether to support or not.
There are also other MPs in the opposition bloc who are of the opinion that they should not be pressured, influenced or constrained in stating their position on the 2021 Budget before it is tabled.
This preliminary picture shows that there is no guarantee that the 2021 Budget will be fully supported and this does not mean that the MPs are disobeying the Agong's order or did not prioritize the people by refusing to support the budget, but because behind that support it still maintains Muhyiddin's position.
As a middle ground in this regard, while many motion of no-confidence motion and motion of no-confidence motion have been tabled by Members of Parliament, it is important for the Speaker of Parliament to take objective steps by allowing one such motion to be tabled before the budget is tabled.
Although there are 25 motions of disbelief and 2 motions of disbelief, one of them is enough to be chosen because they all give the same meaning which is enough to determine the legitimacy of Muhyiddin as Prime Minister.
If Muhyiddin manages to overcome the obstacles to the motion, then not only will his position no longer be in dispute, it will not even arise again whether the Budget faces problems to be approved or not.
If he fails, Muhyiddin must step down and accept God's decree with an open heart for this beloved country to be governed by a new Prime Minister.
More importantly, by prioritizing this motion of no-confidence or trust, it can equally make the Agong's decree regarding the approval of Budget 2021 fully supported and glorified.
Apart from Muhyiddin must have the courage to allow the matter to be implemented, this is also a determination to the identity and integrity of Azhar Azizan Harun as Speaker of Parliament where before being appointed to the post, he once stated that the no-confidence motion must be given priority over other proposals based on the value of its importance.
Now, sitting in the Speaker's chair, when does he want to become a human being who says what he means and means what he says?
THE ABOVE IS A GOOGLE TRANSLATE OF THE STORY BELOW
Sebagaimana dilaporkan media, terdapat 25 usul undi tidak percaya dan 2 usul undi percaya telah dikemukakan oleh Ahli-Ahli Parlimen untuk Sidang Dewan Rakyat bermula 2 November depan.
25 usul undi tidak percaya itu dikemukakan oleh wakil rakyat blok pembangkang, manakala 2 usul percaya pula datang daripada blok kerajaan.
Ini bererti, baik pembangkang atau kerajaan, kedua-duanya mahu soal keabsahan kedudukan Muhyiddin Yassin sebagai Perdana Menteri perlu segera ditentukan agar tidak berlaku lagi pertikaian di lain masa.
Begitu pun, dalam amalan lazim Parlimen, usul-usul persendirian sebegini tidak akan diberi keutamaan, melainkan setelah semua usul kerajaan selesai dibentangkan terlebih dahulu.
Dengan kata lain, adalah mustahil laluan boleh diperolehi untuk usul persendirian kerana usul kerajaan tidak akan habis sehingga hari kiamat sekali pun.
Kalau hampir habis pula, ada saja usul baru yang tiba-tiba muncul.
Tanpa kedudukannya Perdana Menteri dapat disahkan terlebih dahulu, apatah lagi Muhyiddin sendiri beberapa lagi menunda dan mengubah tarikh Sidang Parlimen, ia adakah suatu tindakan yang jelas menunjukkan beliau tiada majoriti.
Selain itu, dari semasa ke semasa juga terlihat semakin ramai Ahli Parlimen blok kerajaan sendiri mula bosan dengannya, dengan itu soal keabsahan beliau tidak boleh lagi dibiarkan terus berpanjangan.
Dalam bahasa yang mudah, untuk memastikan kerajaan yang stabil, tidak celaru dan dapat berfungsi dengan sewajarnya, mesti ada kata putus yang muktamad di Parlimen berhubung keabsahan Perdana Menteri.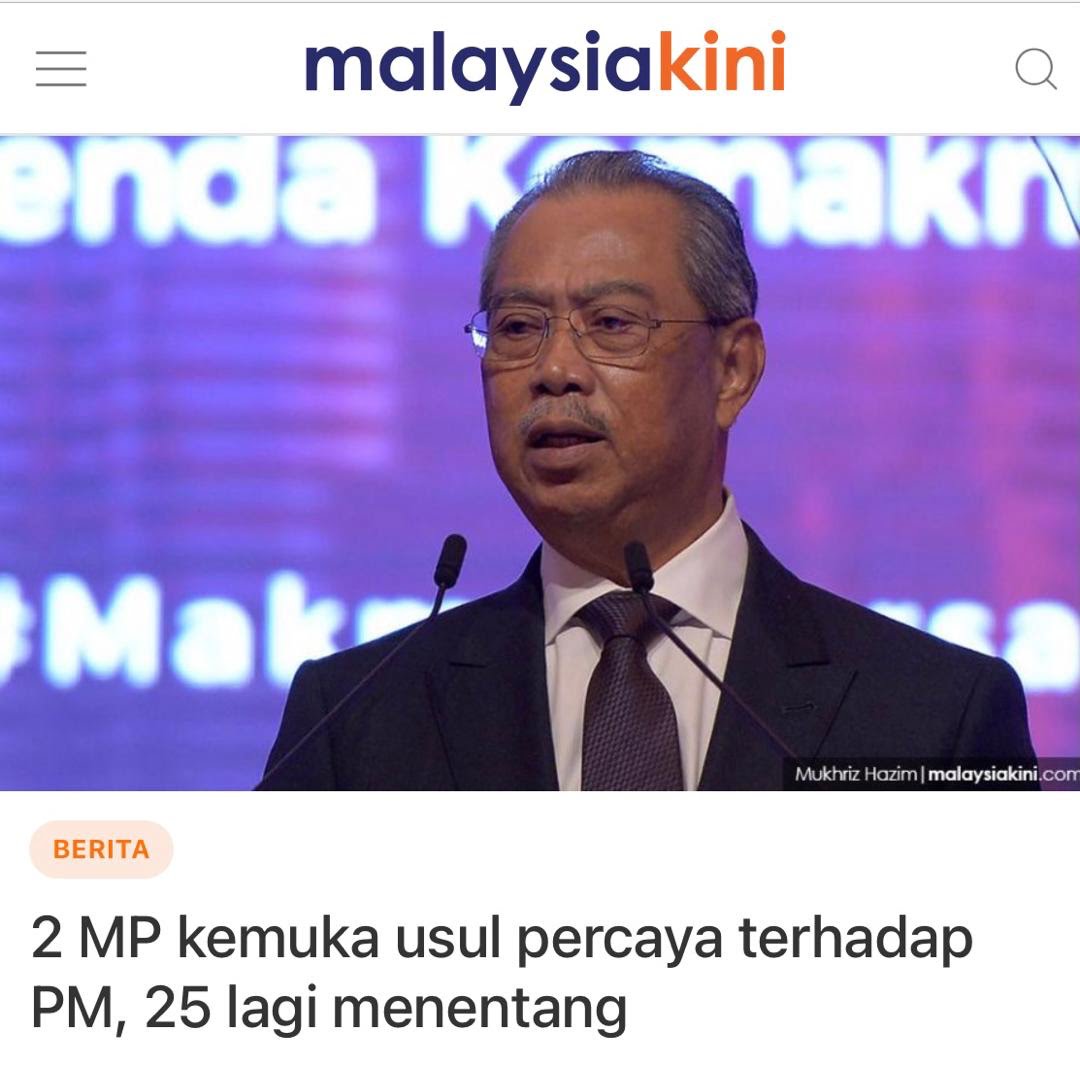 Dengan pelbagai halangan untuk mengesahkan kedudukan Muhyiddin sejak lapan bulan lalu, maka wujud kecenderungan di kalangan Ahli- Ahli Parlimen untuk menjadikan pengundian Belanjawan 2021 pada Sidang Dewan Rakyt akan datang sebagai pilihan ke arah itu.
Jika belanjawan ditolak, bermakna kerajaan, bersekali dengan Muhyiddin, akan turut jatuh dan masuk parit bersama.
Menyedari gugatan itu, Muhyiddin kemudian mencadangkan perisytiharan darurat yang segmen utamanya ialah menggantung Parlimen dan mengelakkan belanjawan diundi.
Bagaimanapun, cadangan yang dipersetujui kabinet itu ditolak oleh Agong setelah mendapat pandangan Majlis Raja-Raja.
Dua hari lalu, sesuatu yang mengejutkan dan tidak pernah berlaku telah muncul di mana Agong mengeluarkan titah agar Ahli-Ahli Parlimen menyokong dan meluluskan pengundian Belanjawan 2021.
Oleh kerana titah itu dikeluarkan selepas Muhyiddin mengadap Agong di Istana Negara bagi memenuhi jadual rutin sebelum menyuarat kabinet, ramai yang beranggapan bahawa Muhyiddin mungkin telah mengadu mengenai kedudukannya yang genting kepada baginda atau merayu agar talian hayat diberikan kepadanya.
Sementara blok kerajaan pastinya menarik nafas lega dengan titah tersebut, Ahli Parlimen blok pembangkang ternampak agak keberatan untuk akur begitu saja.
Rata-ratanya berpendapat, Agong hanya boleh memberi saranan agar Belanjawan 2021 disokong, tetapi tidak boleh sampai memaksa.
Sebab itu, Setiausaha Agung PKR, Saifuddin Nasituon menyebut, titah Agong harus dijunjung dengan cara Belanjawan 2021 itu diteliti, dikaji dan dibahas terlebih dahulu, kemudian barulah diputuskan sama ada untuk menyokong atau sebaliknya.
Terdapat juga Ahli Parlimen blok pembangkang lain yang berpendapat, mereka tidak seharusnya ditekan, dipengaruhi atau dikongkong dalam menyatakan pendirian berhubung Belanjawan 2021 sebelum ia dibentangkan.
Gambaran awal ini memperlihatkan, belum ada jaminan Belanjawan 2021 akan disokong sepenuhnya dan ini bukan bermakna Ahli-Ahli Parlimen ingkar kepada titah Agong atau tidak mengutamakan rakyat dengan enggan menyokong belanjawan, tetapi kerana di sebalik sokongan itu ia bererti mengekalkan lagi kedudukan Muhyiddin yang diragui keabsahannya.
Sebagai jalan tengah dalam hal ini, sementelah pula banyak usul undi tidak percaya dan usul undi percaya telah dikemukakan oleh Ahli-Ahli Parlimen, adalah penting untuk Speaker Parlimen mengambil langkah objektif dengan membenarkan salah satu usul tersebut dikemukakan sebelum belanjawan dibentangkan.
Walaupun ada 25 usul tidak percaya dan 2 usul percaya, salah satu daripadanya sudah memadai untuk dipilih kerana kesemuanya itu memberi maksud yang sama iaitu cukup untuk menentukan keabsahan Muhyiddin sebagai Perdana Menteri.
Jika Muhyiddin berjaya melepasi halangan usul itu, maka bukan saja kedudukannya tidak lagi menjadi pertikaian, bahkan tidak berbangkit lagi sama ada Belanjawan berdepan masalah untuk diluluskan atau tidak.
Kalau gagal, Muhyiddin haruslah berundur dan menerima ketentuan Tuhan dengan hati yang terbuka untuk negara yang dicintai ini ditadbir seterusnya oleh seorang Perdana Menteri yang baru.
Yang lebih penting, dengan mendahulukan usul tidak percaya atau percaya ini, dapat sama menjadikan titah Agong berkaitan kelulusan Belanjawan 2021 disokong dan dimuliakan sepenuhnya.
Selain Muhyiddin kena ada keberanian membenarkan perkara itu dilaksanakan, ini juga juga penentuan kepada jati diri dan intergriti Azhar Azizan Harun sebagai Speaker Parlimen di mana sebelum dilantik ke jawatan tersebut, beliau pernah memberi kenyataan bahawa usul undi tidak percaya mesti diberi keutamaan berbanding usul-usul lain berdasarkan nilai kepentingannya.
Sekarang, sudah duduk di kerusi Speaker, bila lagi mahu jadi manusia yang bikin seperti apa pernah dikata?
-https://shahbudindotcom.net/
.