Parti Warisan Sabah vice-president Jaujan Sambakong has brushed off claims by PBS secretary-general Jahid Jahim that Warisan has been trying to lure PBS' seven assemblypersons to jump ship.
"Who said this? It's he (Jahid) who is saying this," Jaujan (above) said when met at the residence of Warisan president and outgoing Sabah chief minister Shafie Apdal.
Jahid told news portal The Vibes that PBS assemblypersons, including himself, were "harassed" yesterday to team up with the 32 assemblypersons of Shafie's Warisan Plus alliance.
Yesterday, PBS issued a statement denying allegations that it is joining forces with Warisan Plus to form the new state government.
The party also reiterated its position to remain as an ally of Gabungan Rakyat Sabah (GRS), which won 38 seats and is claiming the support of an additional three independents.
Jaujan also refused to answer when asked whether any assemblyperson from GRS had met with Shafie at his home last night.
"I don't know anything about this," he told Malaysiakini.
Asked if Warisan, as the largest single party last Saturday's state election with 23 seats, was making an attempt to form the next state government, Jaujan was equally non-committal.
"The result is there, the Election Commission has released the results. Let's leave it to the governor (Juhar Mahiruddin). We can only wait," he said, adding that Warisan respected the decision of the voters.
Yesterday, Sabah BN and Sabah Perikatan Nasional (PN) apparently failed to reach a consensus on their chief ministerial candidate after a two-hour meeting, following which they went to meet with Juhar.
Sabah BN's Bung Moktar Radin (below) and Sabah PN's Hajiji Mohd Noor, believed to be the favoured candidates for the chief minister post, had an audience with the governor yesterday afternoon.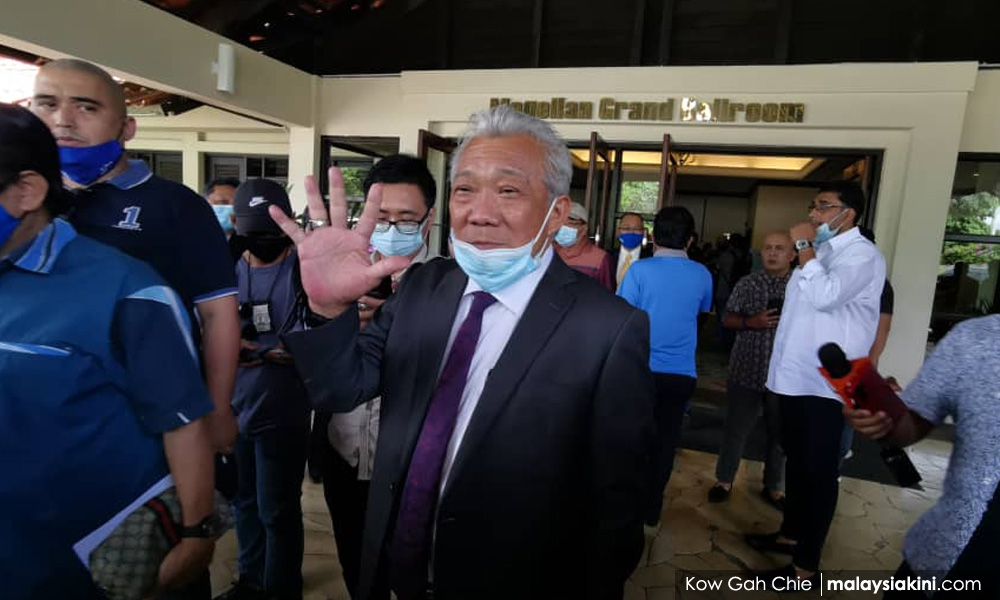 Bung told the press that they asked the governor to make the decision over who would be the next chief minister. Bung then said the governor has asked for more time to make a decision, but that he would reach one as quickly as possible.
Meanwhile, more party leaders and supporters were seen arriving at Shafie's house in a show of support.
Newly-elected assemblypersons Mohammadin Ketapi (Segama) and Peter Anthony (Melalap) were seen arriving after 9am.
"I just came to see Shafie," Mohamaddin said when asked if Shafie had given any instructions to them.
He said he wasn't sure at this moment whether Warisan Plus would be able to form the state government.
"That, I do not know. I have to see what is happening. I do not know anything yet at the moment," Mohamaddin added. MKINI
THE MALAYSIAN INSIGHT
.