WILL AZMIN SNATCH THE PM9 POST FROM RIGHT UNDER NAJIB & ZAHID'S NOSES? ALL EYES ON WHO WILL DELIVER HARI RAYA ADDRESS WITH MUHYIDDIN IN QUARANTINE: SELEPAS MUHYIDDIN DIKUARANTIN, SIAPA PANGKU TUGAS PM & SIAPA SAMPAIKAN PERUTUSAN HARI RAYA MALAM ESOK?
Namun demikian, Muhyiddin yang telah menjalani saringan kemudiannya disahkan negatif Covid-19.
Tempoh kuarantin di rumah selama 14 hari bermula petang ini yang dijalani oleh Perdana Menteri adalah sebagai mematuhi Perintah Pengawasan dan Pemerhatian bagi Kontak Covid-19 (Seksyen 15(1) Akta 342).
Berikutan itu, kini timbul persoalan siapa yang akan menjalankan tugas-tugas Perdana Menteri selama tempoh 14 hari mendatang ini?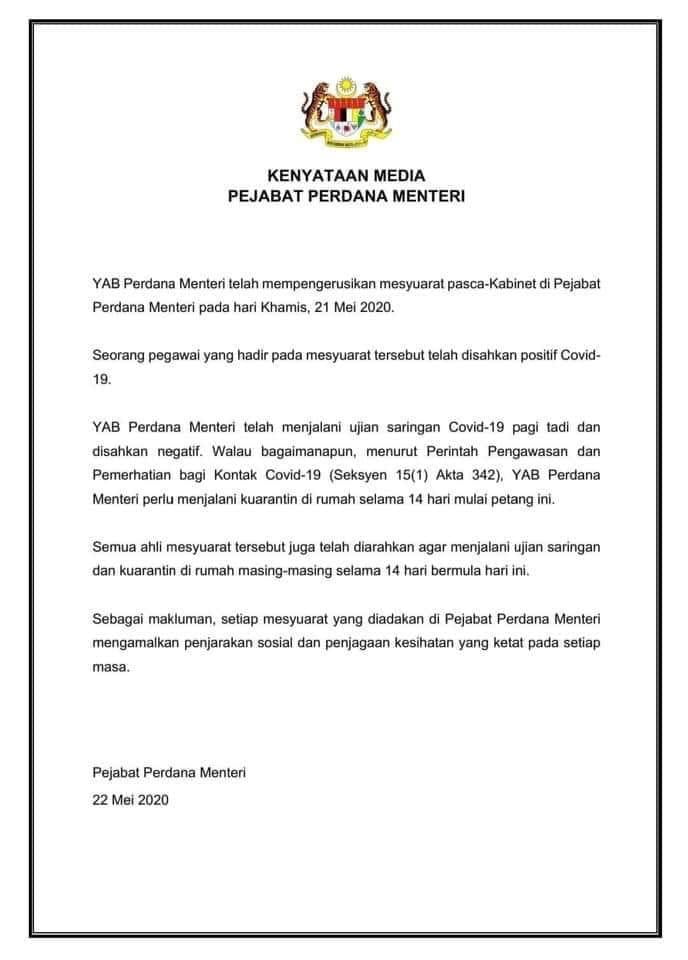 Adakah Azmin Ali, Menteri Kanan yang dianggap paling kanan akan diberi tugas menjalankan tugas-tugas Perdana Menteri?
Atau empat menteri kanan sedia ada akan berkongsi mengambil alih tugas Perdana Menteri?
Namun demikian, Muhyiddin sebelum ini ada menyebut bahawa Azmin Ali, salah seorang Menteri Kanan yang dilantiknya akan mempengerusikan mesyuarat kabinet sepanjang ketiadaannya.
Ini bermakna, hampir pasti mesyuarat kabinet pada minggu depan akan dipengerusikan oleh Azmin.
Tetapi, bagaimana dengan perutusan Hari Raya Aldil Fitri Perdana Menteri yang biasanya dibuat secara langsung pada malam esok?
Adakah Azmin juga akan menggantikan Muhyiddin?
Auwww….apa reaksi UMNO agaknya jika itu berlaku?
-https://shahbudindotcom.net/
.