Netizens on Twitter have been using the hashtag #BankerJagaBanker to protest against Bank Negara Malaysia's announcement yesterday on the latest change in procedure for the six-month loan moratorium for hire-purchase (HP) agreements and fixed-rate Islamic financing repayments.
Bank Negara had said yesterday that additional documentation would be required to defer HP and fixed-rate Islamic financing repayments. This comes after its March 25 announcement that there would be an "automatic" moratoria on all loan and financing repayments.
The announcement yesterday had led to speculation that requiring borrowers to sign additional documentation opened the door for banks to charge additional interest for deferring HP and fixed-rate Islamic loans.
This had caused a wave of brickbats against the announcement among netizens, who began to criticise Finance Minister Tengku Zafrul Tengku Abdul Aziz (photo, above) over the change in procedure.
"See? Unelected backdoor government's finance minister handles Bank Negara like he handles CIMB. Not aware of the rakyat's interest at all," said Twitter user 'khxrs', under the #BankerJagaBanker hashtag.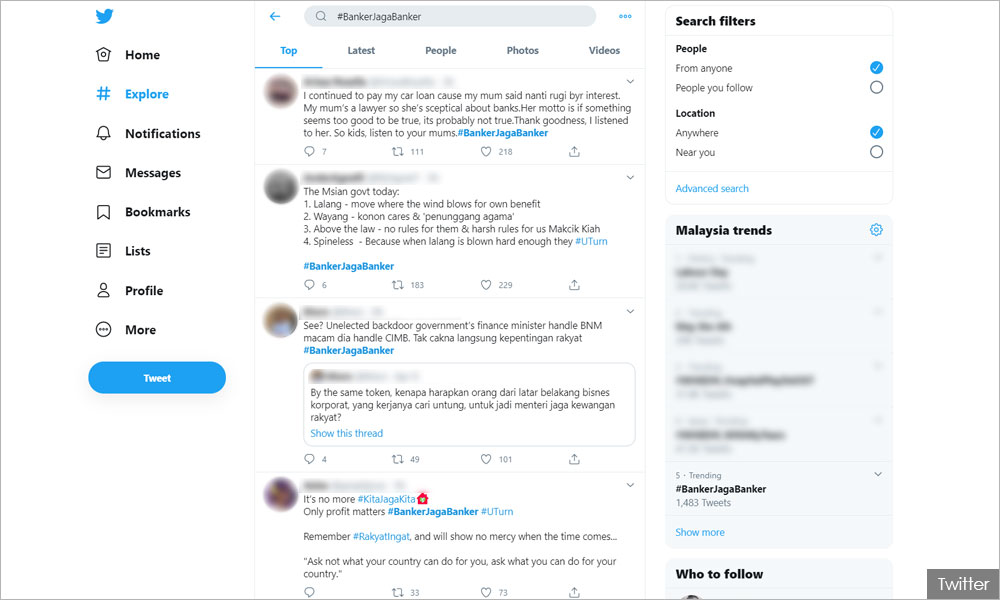 Tengku Zafrul was formerly the CIMB Group Holdings Bhd chief executive officer, who was roped in by Prime Minister Muhyiddin Yassin to become the finance minister on March 9.
Twitter user "Nuzul Fikrie Salam" also urged Malaysians to realise how fragile the system is.
"#BankerJagaBanker, Mak Cik Kiah and all should wake up the Malaysians. Just how fragile our system is. Policies which should protect the needy are also difficult to implement.
"And we need to fix the damn economy where the rich capitalises so much. The rest had to fight for scraps," he said.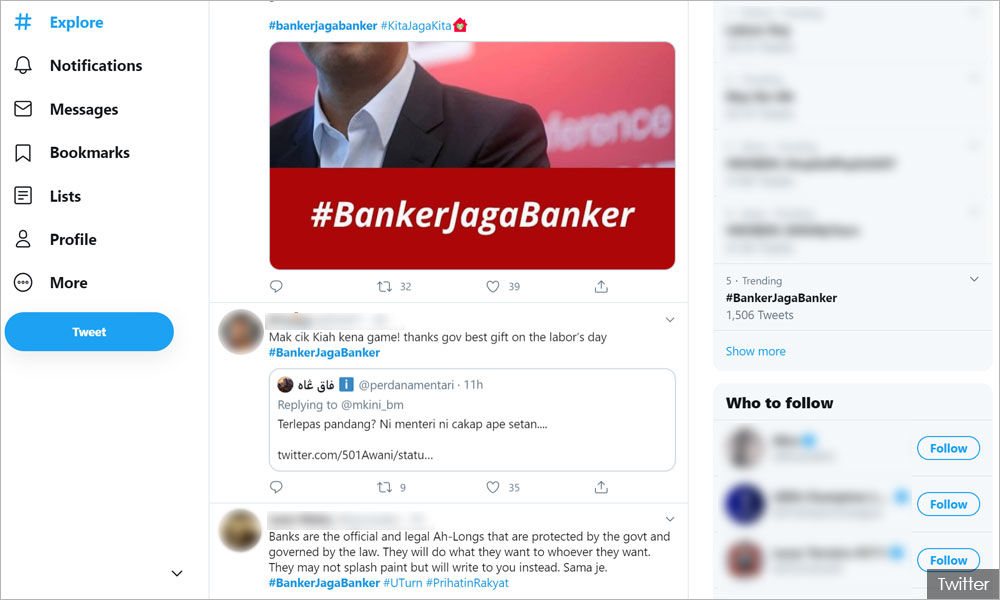 Twitter user "Ivy Kwek" also wondered what gave Tengku Zafrul the confidence to announce such a decision a day before Labour Day.
"#MayDay2020 will probably go down as the hardest one ever in our lifetime. And all we got was this. #KitaJagaKita #BankerJagaBanker," she said.
However, Bank Negara has since denied that it had reversed its decision on the six-months payment deferment for both HP loans and fixed-rate Islamic financing.
"The payment deferment is still automatic for HP and fixed-rate Islamic financing," said Bank Negara.
It said the latest change in procedure, which requires borrowers to "complete the documentation to give legal effect on the moratorium", is unavoidable.
Bank Negara also expressed regret that their announcement had caused confusion and anxiety. MKINI
THE MALAYSIAN INSIGHT / MKINI
.