TAMIL TERROR LINKS THE EXCUSE FOR MAHATHIR TO JETTISON DAP FOR UMNO & PAS? PERLIS MUFTI, THE STAUNCHEST ZAKIR NAIK DEFENDER, RUSHES LIKE ON CUE TO CALL DAP A 'NATIONAL THREAT', 'CANCER' – EVEN AS RUMORS SWIRL OF AN IMMINENT 'COUP D'ETAT'
DAP's Satees Muniandy has reacted with outrage to the Perlis mufti calling his party a 'threat to national security and cancer that is getting worse and worse'.
"I read on Facebook that the Perlis mufti Mohd Asri (Zainul Abidin) has given a few comments on the arrest of seven individuals, including two DAP reps for links to the LTTE (Liberation Tigers of Tamil Eelam).
"I think this is uncalled for him to support the arrests even after the police said not to interfere and let justice take its course," Satees told Malaysiakini today.
"What more he is such a staunch supporter of the preacher Zakir Naik who is wanted in India on terror-linked charges. Even Bangladesh, a Muslim majority nation shut down Zakir's Peace TV," he added.
Satees, who is state assemblyperson for Bagan Dalam, said the mood now was to divide the population, distract from the presence of Zakir Naik and to create falsehoods and lies by targeting an innocent minority.
The Perlis mufti had posted on Thursday night that "if anyone makes a public statement in support of al-Qaeda or IS, they will be arrested and charged".
"Therefore, DAP leaders who openly state support for LTTE terrorists should be prosecuted and arrested. How dangerous for the country if there are political leaders involved in supporting terrorist groups and efforts to shed blood?"
"I believe that if this continues, the majority of Malaysians will see DAP as not only a threat to the country's constitution but a threat to national security. The cancer is getting worse and worse," wrote Mohd Asri.
On Thursday, police detained two DAP assemblypersons over their alleged connections with the Liberation Tigers of Tamil Eelam (LTTE).
The two are Malacca exco member G Saminathan and Seremban Jaya assemblyperson P Gunasekaran and are among seven individuals held under the Security Offences (Special Measures) Act (Sosma) which allows for 28 days of detention.
Bukit Aman said the state reps were involved in an LTTE remembrance event in Malacca last year, where they delivered speeches in support of the group.
"They were also found to have distributed reading materials and items related to LTTE during the event," police said.
Among the seven was an insurance agent who allegedly planned to carry out a terror attack at the Sri Lanka High Commission building in Kuala Lumpur.
mkini
Harapan discussed detention of two elected reps informally – Saifuddin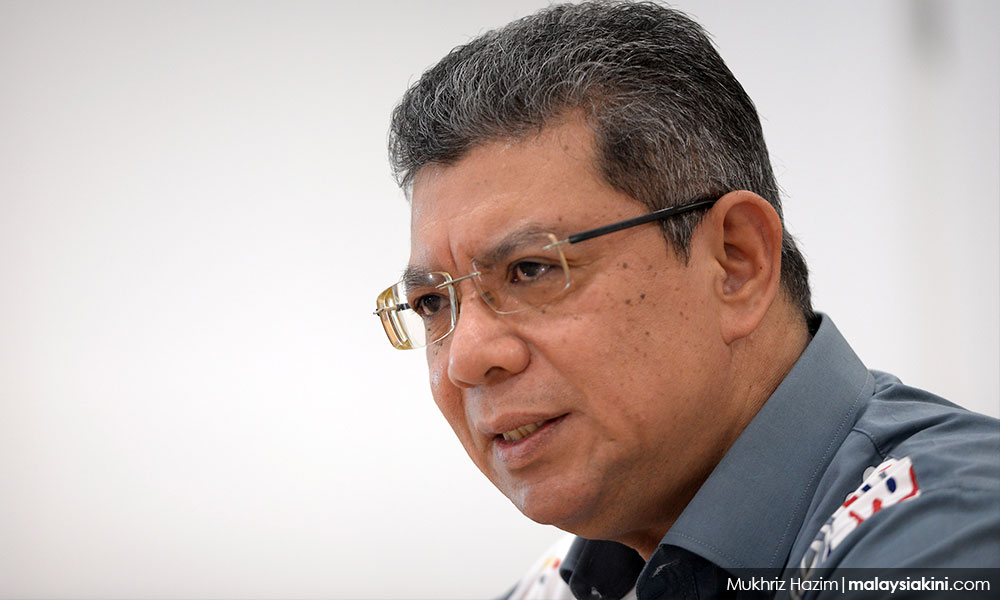 The issue of the detention of two DAP state assemblypersons for purported involvement with the Tamil Eelam Liberation Tigers (LTTE) terrorist group was discussed by the leadership of Pakatan Harapan.
Harapan secretariat chief Saifuddin Abdullah, however, said that the case was discussed informally yesterday, and for the time being, no decision had been made.
"We will wait for the completion of the investigation report and will follow all the existing procedures," he told reporters after launching a Diabetes Awareness Campaign at Dewan Indera Mahkota 2 in Kuantan today.
Last Thursday, the media reported that the Bukit Aman Special Branch Anti-Terrorism Division principal assistant director Ayub Khan Mydin Pitchay confirmed the detentions of the two elected representatives from Malacca and Negeri Sembilan.
The two were part of a group of seven individuals who were said to be involved with the LTTE group, which was set up to fight for the independence of the Tamil Eelam region in Sri Lanka.
Saifuddin also said that Wisma Putra, with the close cooperation of the relevant enforcement agencies, always followed developments of the LTTE, just like the other groups of terrorists.
"We evaluate, and there are many things we look at, such as the definitions of terrorism itself which are given by other countries or international bodies which may differ and do not meet our stand.
"For example, Israel regards Fatah and Hamas as terrorists but we do not, and even though the official Palestinian embassy is the Palestinian Liberation Organisation (PLO), namely, Fatah, we also have ties with the office set up by Hamas representatives in Kuala Lumpur," he said.
In addition, Saifuddin also said some terrorist organisations must also be seen that from being radicals they had changed to moderates, had participated in their countries' general elections and making them no longer definable as terrorists because they had become political parties.
Saifuddin said a very cautious approach in defining the word terrorist needed to be taken because groups that were labeled as such before this had been buried, leaving behind only a small fragment of supporters.
– Bernama
.