SADLY FOR MAHATHIR, MALAYSIANS REMEMBER HE DOES ONE THING – BUT SAYS ANOTHER: AFTER PUBLICLY WOOING UMNO & PAS WITH MALAY DIGNITY CONGRESS, DR M MAKES A SHOW OF REJECTING PRELIMINARY CALLS FROM MAT HASAN FACTION TO WITHDRAW BERSATU FROM PAKATAN & FORM NEW GOVT WITH UMNO, PAS?
A SUGGESTION to form a government with Barisan Nasional (BN) and PAS to strengthen the Malay and Muslim position in Putrajaya has been shot down by Prime Minister and Bersatu chairman Dr Mahathir Mohamad.
He said Malaysia is a multi-racial country and it will not be right for the government to consist of members of one race.
"We are not interested in forming a new government. Malaysia is a multi-racial country and since independence we have had government with all races in it.
"This is a reality of this country and all the races have rights in our country," said Dr Mahathir at the Parliament lobby today.
Team up with Umno and PAS for Malay unity – Mat Hasan tells Dr M
Umno deputy president Mohamad Hasan had proposed that Dr Mahathir form a government with BN and PAS if he was sincere in strengthening the Malay and Muslim position in the country after lamenting at the Malay Dignity Congress last Sunday that infighting in the community had weakened its position in the country.
Mohamad, who is also Rantau assemblyman, said the new government could consist of parties from Sabah and Sarawak.
Umno deputy president Mohamad Hasan has urged prime minister, Dr Mahathir Mohamad, to pull Bersatu out of Pakatan Harapan and team up with Umno and PAS for the sake of Malay unity.
"The Malay Dignity Congress that took place on Sunday confirmed what Umno and PAS have been saying all along.
"That the position of Islam as a federal religion and the importance of Malay and other native peoples are being eroded under the Harapan administration of the alliance," claimed Mohamad, who also known as Mat Hasan.
"This conclusion, by academics and politicians, was also acknowledged by Mahathir in his closing speech. Even though he tried to put the blame on Malays and Umno, he could not deny the weakness of the Harapan government," he said in a Facebook post yesterday.
Mat Hasan quoted Mahathir himself as saying that the Malays had allowed themselves to be split and surrender power until their dignity was trampled upon and viewed negatively by other races.
"Clearly, the Malays who are the majority in the country should be united, but they are split into small groups, so they cannot control over half of the people's support.
"I agree with Mahathir's request that Malays and Muslims are united. But kind of unity?"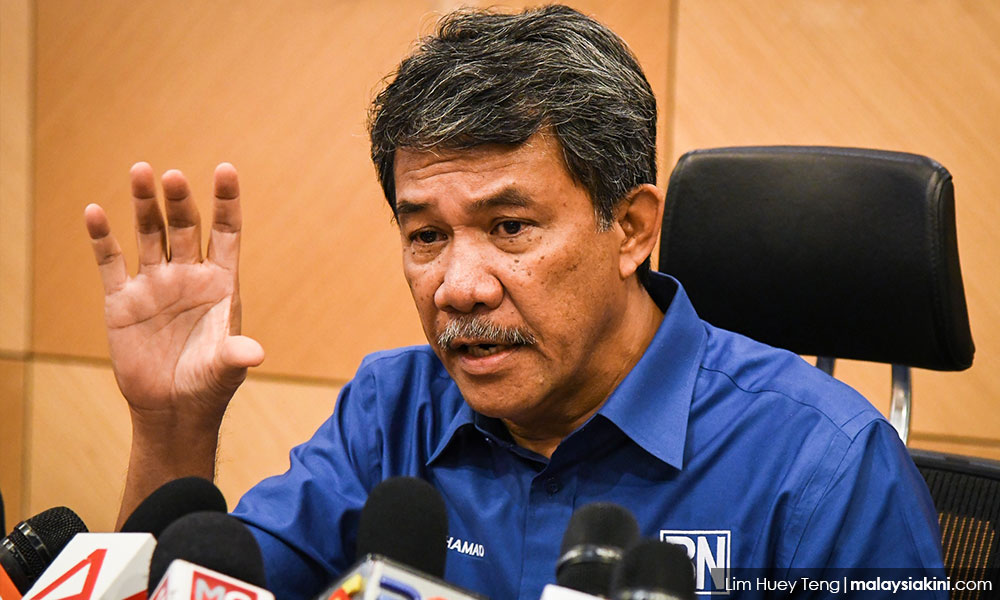 "A small group of Malays / Muslims should join a bigger group," said Mat Hasan (above).
"Today the biggest group of Malays/Muslims support the idea of the unity of the Ummah. I believe Umno and PAS have no problem to accept the participation of Mahathir and Bersatu in this Malays/Muslim agenda," he said.
He asked the prime minister if he was willing to sacrifice his position and interests so that the power of Malays/Muslims in this country could be restored.
"If Mahathir is honest and wants to see Malay/Muslims become a strong political power, he should have no problem compromising with Umno and PAS," he said.
He accused Mahathir of only seeing things from his own point of view.
Mat Hasan said there are many decisions of the Harapan government that have caused Muslims and Malays to be angry and disappointed and feel insulted in our own home.
"If it is true that he is honest and sincere and he wants Malay and Islam's position to be restored, tomorrow he can build a new government with the cooperation of BN, PAS and friends from Sabah and Sarawak," he said.
"But Umno and PAS should be given a significant role in restoring this country. We don't want to be just passengers.
"It's up to Mahathir to make a decision because at the moment the majority of Malays/Muslims have decided to reject Harapan," he added. – mkini
the malaysian insight / mkini
.