MALAYSIA BELONGS TO THE MALAYS – 'THIS IS OUR LAND, IT IS UNDER OUR CARE,' SHOUTS MALAY UNITY CONGRESS IN HATE SPEECH DEPLORED BY THE OTHER CITIZENS YET MAHATHIR DECLARES 'NOTHING RACIST' ABOUT IT
Academic Zainal Kling has launched the Malay Dignity Congress with a hardline speech full of emphasis on the sovereignty and special position of the Malay race.
"The Malay people have been living on this land for a long time, building our rule and sovereignty.
"With our values and our culture, we allowed our country to be ruled and administered (colonised) by others, then we reclaimed it (the country) in the name of independence.
"It is this independence we are reclaiming again today because it is due to this independence that we have our sovereignty and power," said Zainal, who is also chief executive of the Malay Dignity Congress secretariat.
"We accept other people as equal citizens of our country, except we claim certain special demands."
Zainal added that the Federal Constitution was based on Malay history and traditions.
"The Federal Constitution protects Malay rights and the position of the Yang di-Pertuan Agong," he said.
"This is our land, it is under our care."
Zainal said there were those who took advantage of the good nature of the Malays to manipulate and provoke them and insult the Islamic religion and the institution of monarchy.
He also issued a warning, saying there were those who were attempting to re-write the social contract.
The event at the Stadium Malawati in Shah Alam kicked off with Zainal's speech around 9.30am in which he addressed a 5,000-strong crowd.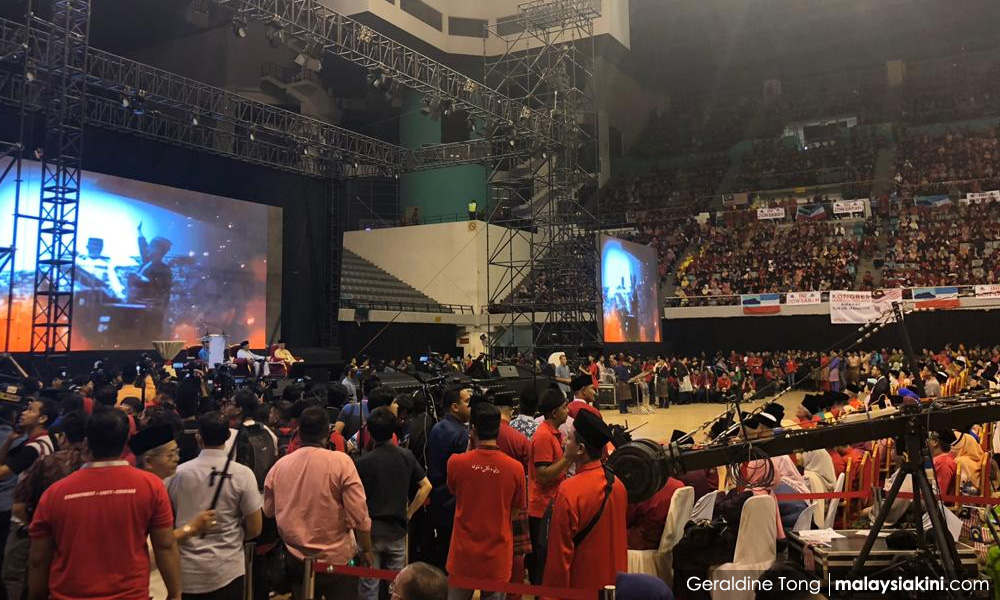 There were also more outside the stadium where organisers have set up tents, a giant screen and chairs.
Prominent leaders attending the event included those from both sides of the political divide, such as Umno secretary-general Annuar Musa and former ministers Khairy Jamaluddin, Hishammuddin Hussein and Noh Omar, PAS president Abdul Hadi Awang and Kelantan Menteri Besar Ahmad Yaakob.
Also present were Bersatu's Redzuan Yusof, Mustapa Mohamed, Ahmad Faizal Azumu, Syed Saddiq Syed Abdul Rahman, Maszlee Malik and Mukhriz Mahathir, as well as PKR deputy president Azmin Ali and Amanah chief Mohamad Sabu.
Other prominent attendees at the congress included Perlis mufti Asri Zainul Abidin and singer Siti Nurhaliza.
Prime Minister Dr Mahathir Mohamad is expected to give a speech at the congress later in the morning.
M'kini
No attacks on Chinese and Indians, how can congress be racist, asks Dr M
SHAH ALAM – Dr Mahathir Mohamad today dismissed criticisms that the Malay Dignity Congress is racist, saying there were no attacks on the Chinese and Indians.
At a press conference after the congress, Mahathir also denied that the event was political in nature as those who attended came from various political parties, NGOs and universities.
They came as Malays who wanted to restore Malay dignity, he added.
"It's not racist. In fact, we criticised Malays on how they ended up like this."
Earlier, delegates mooted resolutions calling for top government positions to be held only by Muslims and for certain exemptions from the National Higher Education Fund Corporation (PTPTN) to be given to Malays who obtained excellent results.
"The resolutions reflect the feelings of the Malays.
"Obviously, Malays are worried about their future and concerned they are not looked up to like others."
However, he said the government was not obliged to accept the resolutions.
"We will look at what we can do and can't do."
Mahathir also said he had attended similar congresses of other races and that no one had stopped him before.
"I am also going to open the Hakka Congress for the whole world; no Malays will be there."
Mahathir also said he hoped the Malays don't have to keep discussing the community's problems.
"It's for them (Malays) to make use of the opportunities, work hard and share the wealth of the country."
– FMT
.