DAY BY DAY, MAHATHIR SOUNDS MORE LIKE PAKATAN'S NO.1 ENEMY: WE SIMPLY MADE PROMISES THAT ARE HARD TO IMPLEMENT, CLAIMS PM – YET IN CALLING PAKATAN 'VICTIM OF OWN MANIFESTO' INSTEAD OF HIS OWN MACHIAVELLI POLITICS, DR M SHOULD BE THE FIRST TO EXPLAIN WHY HE LIED TO VOTERS
Prime Minister Dr Mahathir Mohamad reiterated that Pakatan Harapan did not expect to win the last general election and therefore made promises in its manifesto which were difficult to deliver.
"We thought we were going to lose. We put in tough things in the manifesto so that if we lose, the (BN) government would be in a quandary (after winning the polls).
"But now, we are the government. We are victims of our own manifesto," he said during his keynote address to the Lawasia conference in Petaling Jaya this morning.
Mahathir pointed out that repealing laws which involved the Federal Constitution required the support of two-thirds of the members of the Dewan Rakyat.
"The new government wants to adhere to the rule of law. Of course, we realise that some of the laws in this country are bad laws, draconian laws. We want to repeal them and install new laws.
"This is not as easy as we thought when we were in the opposition. We thought, when we become the government, we would just throw out these laws. Unfortunately, we have procedures to go through.
"Since we do not have a two-thirds majority, we are stuck with old laws… Of course, people are impatient. They want to see these laws cease immediately. This is just not possible…
"And now we are being criticised for not keeping our promises. While it is easy to make promises during elections, it is not so easy to implement them if you win," he added.
Political ambitions influence lawmakers
Mahathir, whose first tenure as prime minister had witnessed the use of security laws to stifle dissent and imprison opposition leaders, said while certain legislations were oppressive, these were, however, still laws.
"And if you talk about the rule of law, you have to implement the laws as they are. So what is important is that the legislature must come up with good laws.
"If the legislature approves bad laws, then, of course, we are stuck with having to implement bad laws that are not good for the people. (These laws) maybe good for the government but not for the people," he added.
Therefore, Mahathir said those who advise the government on matters of the law must be "good people".
"Sometimes lawyers, being humans, some of them are not so good. They advise the government on the wrong things, they feel that they should please the leaders and all that," he added.
Emphasising that Parliament should be able to reject bad laws, Mahathir, however, said political aspirations could influence the decisions of lawmakers.
"Sometimes, they have a need to please the leader so that they can be made a minister or deputy prime minister. They want to achieve their ambitions.
"Therefore, what happens is that they support bad laws. Several bad laws were passed by the previous government," he added.
Citing the Anti-Fake News Act, Mahathir said the Harapan government wanted to repeal the law to prevent the circulation of fraudulent claims on social media but this proved futile when the Upper House voted against it.
"Now there is a rethinking. Do we get rid of the Anti-Fake News law or do we amend it or do we retain it? If we retain or amend it, then it becomes the law and we have to adhere to that.
"But laws by themselves are meant to be good. It is the abuse of the law that produces bad results," he added.
Coalition must approve IRC report release – 'Democratic' Dr M tells Ambiga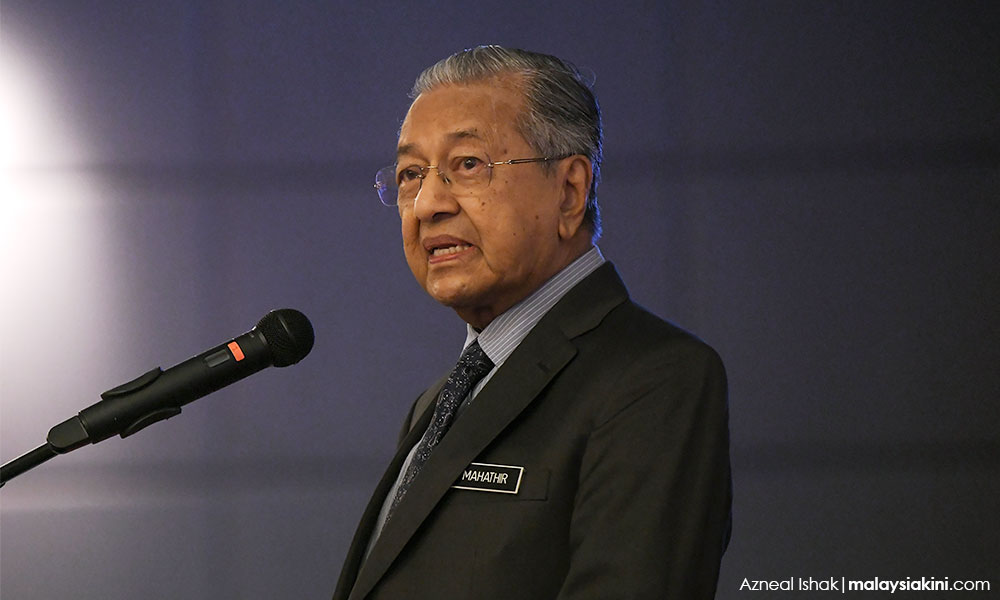 Prime Minister Dr Mahathir Mohamad said he is prepared to reveal the Institutional Reform Committee (IRC) report to the public.
However, he said this cannot be a unilateral decision and must be decided by all Pakatan Harapan parties which would have different agendas.
"If you ask me, I'll publish (the report).
"But I am not an independent agent. We have to remember there are five parties in the government (Harapan's four parties and Parti Warisan Sabah), each with its own agenda, and if I want to practice democracy, I need to consult with them first.
"It depends on what consensus we can achieve but of course, I like to be popular. If you want me to reveal it, I will reveal it," he said.
Mahathir said this during a question-and-answer session at the Constitutional Law and Rule of Law Conference in Petaling Jaya today.
However, while the prime minister is now claiming the need to consult his coalition partners, there have been a number of occasions in the past when Mahathir has been accused by critics of making unilateral decisions.
He was responding to a question by IRC member Ambiga Sreenevasan, who asked him to consider publishing the report so he could get feedback from the public.
"After all, we were wise enough to vote for you (as a government). I think the public is wise enough to provide the right feedback. Please publish the IRC report," she said.
The IRC was set up by the Council of Eminent Persons (CEP) shortly after GE14 last year to identify problems, examine and propose reforms with regard to certain key institutions.
Among the institutions that the IRC evaluated were the Attorney General's Chambers (AGC), the Election Commission (EC), MACC and enforcement agencies such as the police.
The IRC report was submitted to the CEP last year but has not been made public.
This January, de facto deputy law minister Hanipa Maidin told Parliament that the IRC made a total of 223 recommendations related to governance, integrity and corruption prevention that are now being overseen by the National Centre for Governance, Integrity and Anti-Corruption (GIACC).
– M'kini
.