IF GOD SAYS 'NO' TO ANWAR, THEN IT'S 'NO' – AZMIN CARTEL DEFIANT AMID TALK OF ANWAR SUCCEEDING MAHATHIR NEXT YEAR: OUT OF CHIPS, HENCHWOMAN ZURAIDA CONTINUES TO BLAME ANWAR FOR NOT BEING 'MAGNANIMOUS' TO MEET WITH THEIR FACTION – YET REFUSES TO ATTEND PARTY MEETINGS IN BID TO MAKE ANWAR LOOK WEAK
AMPANG – PKR vice-president Zuraida Kamaruddin is leaving it to God regarding the possibility of Anwar Ibrahim becoming the eighth prime minister next year.
"I can plan whatever I want. But if God says no, then it's no. We just leave it to Him," Zuraida told reporters at an event called TenagaKita Plogging: Trash to Cash Zon 18 at Flat 940 in Pandan Indah today.
Last Wednesday, PKR president Anwar told Bloomberg TV he would take over as prime minister next year.
Zuraida also hoped to have a "reconciliation meeting" with Anwar to discuss the "more sensitive" issues that cannot be discussed at a typical PKR meeting.
She hoped Anwar would be willing to have this meeting.
"We're not opposing him. We just want to discuss these issues in private and plan our way forward.
"With a clear goal, we can then work together," she said.
– FMT
'PM-in-waiting' should be magnanimous, says Zuraida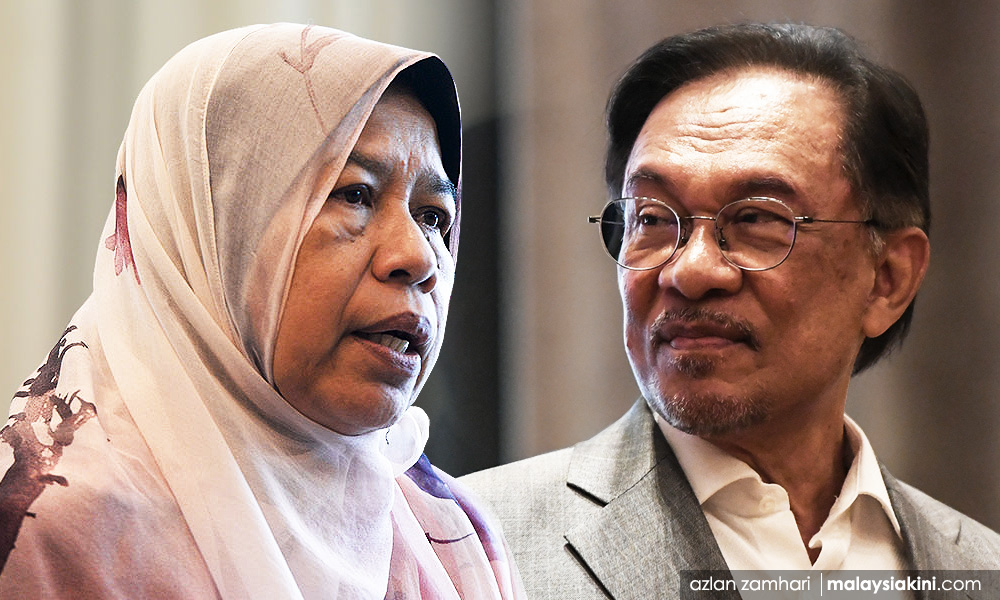 PKR vice-president Zuraida Kamaruddin said the party president Anwar Ibrahim should be magnanimous and accept her request for a "reconciliation meeting".
"We want to meet and I think the eighth prime minister should be magnanimous," she said when met in Ampang, Selangor today.
Zuraida has been pressing Anwar for the meeting following the revelation that PKR deputy president Azmin Ali and his followers have been skipping important meetings, such as the party's weekly political bureau and monthly central leadership council meetings, following the party elections last year.
Anwar had brushed off the idea of holding "reconciliation meetings" on the grounds that Zuraida and Azmin can air their grievances during regular political bureau or central leadership council meetings.
However, Zuraida insisted today that a separate meeting was necessary because the matters that needed to be discussed were serious and sensitive.
"We can't have a lot of people chiming in. It involves the direction of the party. We love the party and the country.
"If the party is strong, so will be the country. That is what we want," she said, adding that she would not attend any party meetings unless Anwar gives in.
According to the party's constitution, central leadership council members who are absent from meetings without leave three times in a row are assumed to have vacated the position.
– FMT
.