GOOD JOB, BEE YIN – CLOUD SEEDING SUCCESSFULLY BRINGS DOWN SRI AMAN API FROM 400 TO 125: HAZE SET TO IMPROVE NEXT WEEK AS INTER-MONSOON WINDS 'KICK IN'
PUTRAJAYA – The cloud-seeding operation in Sri Aman, Sarawak, on Friday (Sept 20) successfully reduced the Air Pollutant Index (API) readings from a hazardous level of over 400 to an unhealthy air quality at 125 as of 10am Saturday (Sept 21).
The Department of Environment (DOE) in a statement here said firefighting teams are in the midst of battling the forest fires in Kampung STC Sri Aman Village, Jalan Tisak Betong and Jalan Ketajau which have affected air quality in Sri Aman.
The blaze in Sumatra and Kalimantan, Indonesia were still causing the trans-boundary haze and had contributed to the rise in API readings along the west coast and south of Peninsular Malaysia, western Sarawak as well as around Tawau and Sandakan, Sabah.
According to an Asean Specialised Meteorological Centre (ASMC) report on Friday, National Oceanic and Atmospheric Administration (NOAA-20) satellite images detected 676 hotspots in Sumatra, 332 in Kalimantan, and 20 in Malaysia, namely with nine in the peninsula, Sarawak (seven) and Sabah (four).
Meanwhile, the Regional Hazard Map released by ASMC showed hotspots in Central and South Sumatra, Riau and Jambi continued to produce moderate to thick haze and impacting almost the entire Peninsular Malaysia.
Hotspots were found in the southern, eastern, western and central parts of Kalimantan, which continue to worsen the haze in Sarawak, it said.
As at 8pm Saturday, unhealthy API readings were reported in Kuching (154), Samarahan (135), Sarikei (107), Sri Aman (110).
In Selangor, areas recording an API reading of more than 100 were Johan Setia Klang (160), Kuala Selangor (110), Petaling Jaya (145), Shah Alam (132), Banting (114) and Klang (119).
Three areas in Kuala Lumpur, Batu Muda (162) and Cheras (151) were in the same category.
Also in the unhealthy category were Putrajaya at 136 as well as Segamat (130) and Tangkak (101) in Johor recorded API readings of 131 and 102. Two areas in Negeri Sembilan namely Nilai (141) and Seremban (127) remained unhealthy.
In Pahang, Temerloh (102) and Jerantut (111) were also at unhealthy levels, as was Balik Pulau in Penang (104).
An API reading of between 0 and 50 is categorised as good, 51-100 (moderate), 101 to 200 (unhealthy), 201 to 300 (very unhealthy) and above 300 (hazardous).
– Bernama
Haze 'to improve next week'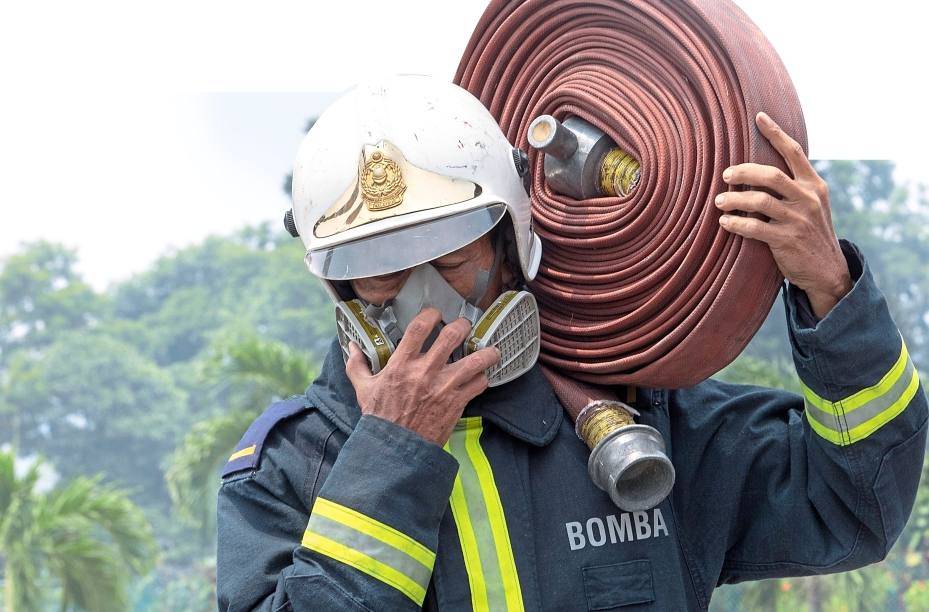 PETALING JAYA – Malaysians can expect a respite from the haze as the inter-monsoon wind kicks in from next week.
The monsoon transition phase is expected to begin next Tuesday and it will last until the beginning of November, said a statement by the Malaysian Meteorological Department.
This marks the end of the southwest monsoon period, which began on May 6, the department said yesterday.
"During this phase, regional areas will receive wind from various directions with low speeds, which poses a potential for the formation of a thunderstorm."
Thunderstorms along with heavy downpours and strong winds are expected during the evening and night at the west coast and interior areas of Peninsular Malaysia, the west coast of Sabah, and central Sarawak as well as its west coast.
While the rainy weather could cause flash floods and damage to weak infrastructures, the department said the haze situation is expected to improve.
Bernama quoted Deputy Prime Minister Datuk Seri Dr Wan Azizah Wan Ismail as saying that about 60% of the fire in 81ha of plantation land and forest area in Sri Aman, Sarawak, had been put out as of Friday.
She said the Fire and Rescue Department, the Civil Defence Force, the Malaysian Maritime Enforcement Agency, with the cooperation of various agencies, were working hard to put out the fire in the remaining 32ha of land.The operations was in its sixth 24-hour day yesterday since Sept 19.
Dr Wan Azizah, who handed out face masks yesterday, said the Malaysian Meteorological Department and the air force carried out cloud-seeding operations in west Sarawak on Friday.
This has generated some rain in Kuching, Samarahan, Sri Aman, Betong, Saratok and Sarikei, she said.
She said two other cloud seeding operations were conducted on Sept 12 and 19 in Peninsular Malaysia and Sarawak.
In Smarang (Central Java), Bernama quoted Malaysian ambassador to Indonesia, Zainal Abidin Bakar, as saying that Malaysia was always ready to assist Indonesia to put out the forest fires if it was needed.
Since January, over 300,000 hectares of forest and plantations were on fire in several provinces in Indonesia.
— Bernama
.