'LET THE DATA SPEAK FOR ITSELF' – AS YEO BEE YIN TICKS OFF INDONESIA, MAHATHIR SAYS CABINET HAS DISCUSSED WAYS TO REDUCE HAZE – BUT WHAT 'MAGIC FORMULA' HAS DR M TO OFFER EXCEPT TO CRACK DOWN HARD ON FAT-CAT MALAYSIAN OWNERS OF MASSIVE PLANTATIONS IN INDONESIA
Energy, Science, Technology, Environment and Climate Change Minister Yeo Bee Yin has told her Indonesian counterpart Siti Nurbaya Bakar not to be in denial over the cause of haze in the region.
This comes after Siti Nurbaya accused Malaysia of not being transparent about its own forest fires.
The Indonesian minister's claim contradicts the Asean Specialised Meteorological Centre's (ASMC) data, which show that the haze in Peninsular Malaysia primarily originated from Sumatra while the haze in Sarawak originated from Kalimantan.
"Let the data speak for itself," said Yeo in a Facebook post tonight.
She cited the latest data on the total number of hotspots recorded by ASMC, which showed 474 located in Kalimantan and 387 in Sumatra, as opposed to Malaysia with just seven.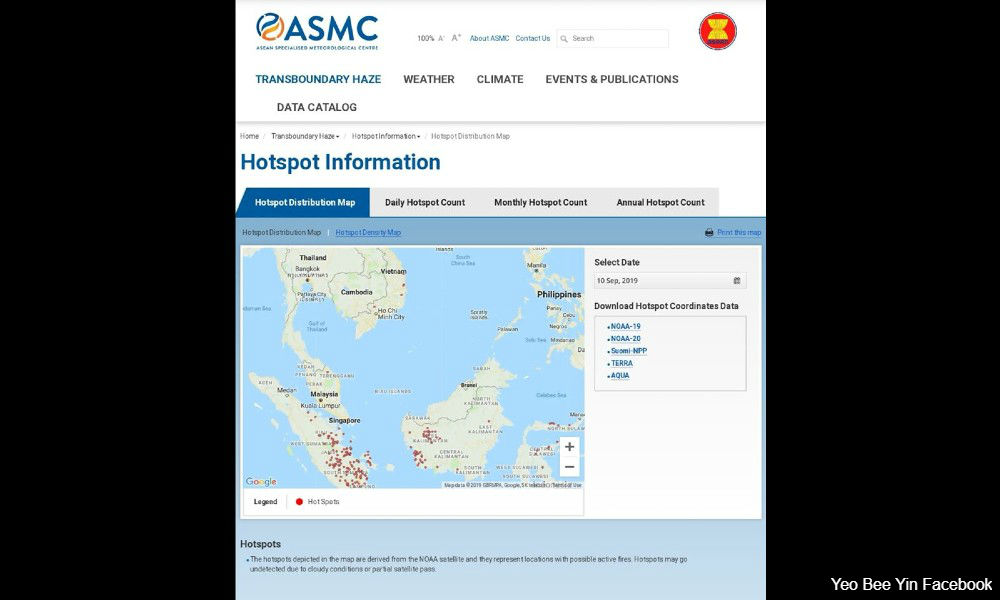 Yeo also dismissed Siti Nurbaya's claim by highlighting wind direction charts.
"Minister Siti Nurbaya should not be in denial," she said.
Earlier today, Sarawak Deputy Chief Minister (II) Douglas Uggah Embas slammed Siti Nurbaya's claims, saying he hoped she would get her facts straight.
"I hope she'll look at the right map. She shouldn't point fingers at the wrong country," he said.
The ASMC's tracking draws data from the US National Oceanic and Atmospheric Administration.
– M'kini
PM: Cabinet has discussed ways to manage haze
PUTRAJAYA— The Cabinet yesterday discussed ways to manage the ongoing haze situation that has blanketed several parts of the country, Prime Minister Tun Dr Mahathir Mohamad said.
"We discussed ways how to reduce the haze," he told the media when met at Binary University College's 35th anniversary celebrations here last night.
Dr Mahathir was also asked about the statement by Indonesian Environment Forestry Minister Siti Nurbaya Bakar, who said that the haze in Malaysia was caused by its own forest fires.
"That's her comment, so we can't say anything," the premier said.
The country has been hit by haze since Sept 5, a situation that has been worsening by the day, to the extent that schools in Sarawak have been ordered to close temporarily.
According to a Department of Environment (DoE) statement yesterday, the fires in Sumatera and Kalimantan, Indonesia were causing transboundary haze and the rise in the Air Pollutant Index (API) in the west coast of Peninsula Malaysia and western Sarawak.
Meanwhile, Dr Mahathir conveyed his condolences to the family of Indonesia's third president Allahyarham Bacharuddin Jusuf Habibie or BJ Habibie, who passed away yesterday.
"He was my good friend, I am sad but he has been ill for some time," Dr Mahathir said.
Dr Mahathir said he would not be able to pay his respects as he needed to attend another event tomorrow.
BJ Habibie died at the Gatot Sobroto Armed Forces Hospital in Jakarta due to various health problems faced.
BJ Habibie, 83, was the third Indonesian president, succeeding President Soeharto and held the post from May 21, 1998 to October 20, 1999. — Bernama
MKINI / BERNAMA
.