'ZAKIR NAIK CAN COME TO PERLIS BUT HE CAN'T TALK': COPS GET TOUGH WITH HATE-SPEWING PREACHER – EVEN AS HIS AIDE CONFIRMS HE WON'T SPEAK AT EVENT BECAUSE 'PERLIS MUFTI HAS ADVISED HIM NOT TO'
THE provocative Zakir Naik will not be attending an event in Perlis this weekend as the state mufti has advised him to stay away, the preacher's aide said today.
Zamri Vinoth told The Malaysia Insight that the decision was made following a letter from Perlis mufti Mohd Asri Zainul Abidin to the event organiser to exclude Zakir and his family.
"In the letter, the mufti asked the organisers not to involve Zakir and his family in the programme to keep him away from potential trouble from those who are against him," he said.
Zamri said the organiser has agreed to excuse Zakir and his son Fariq Naik from participating in the Malaysia Revert Camp 2019 in Masjid Al Hussain, Kuala Perlis, over the weekend.
The Malaysian Insight was informed that the police had also advised Zakir not to attend the event.
Yesterday Zamri said the Muslim preacher would proceed with his speeches as planned this weekend in Perlis amid calls for him to leave Malaysia.
Zamri said Zakir had not received any official instructions to call off his appearances, and that he did not expect Putrajaya to act on several ministers' demand that the controversial preacher be sent home to India.
Zamri said Zakir, who has permanent residency in Malaysia, believed the Malaysian government would continue to allow freedom of speech.
"The programmes have been arranged and will proceed as planned, as long as there is no official instruction (to do otherwise)."
In Perlis, Zakir is expected to field questions in the event "Ask Dr Zakir" and to speak on "Quran – The Path to Happiness".
These follow a talk in Kota Baru, Kelantan, earlier this month, which caused Zakir to be accused of insulting Malaysian Hindus by questioning their loyalty to Malaysia. He also called Malaysian Chinese "guests" and said they should "go back" to where they came from if he had to do the same.
This sparked an outcry and calls for Zakir's deportation to India, including from several ministers. The preacher is wanted at home for alleged money-laundering, hate speech and inciting terrorism.
Zamri today said they welcomed and would follow the Perlis mufti's well-intentioned advice to stay out of Perlis.
"The three-day programme will proceed. It is just that we want to give Zakir some rest. The situation is hot now, we don't want to make it any worse," he said.
He said Zakir's slot at the programme will be taken up by one of his students.
He also said that they were contacted by the police about the programme.
"But I told them to issue an official letter if they want Zakir to skip the event.
"If they want to stop him from taking part, there must be an official letter. They have not issued anything."
Meanwhile, Perlis police chief Noor Mushar Mohd said the cops will take action if Zakir speaks at the event.
He said 150 police reports have been lodged against Zakir and it would be best if he refrained from from speaking in the state.
"Zakir can come to Perlis but he can't talk and action will be taken against him if he does so," Noor Mushar is quoted saying on The Star Online.
Noor Mushar said Zakir must inform the police 10 days ahead if he intend to give a talk in the future. He must also state the subject of the talk.
"We are a multi-racial country and the sensitivities of others have to be taken into consideration."
https://www.themalaysianinsight.com
Mufti advises organisers not to involve Zakir in Perlis event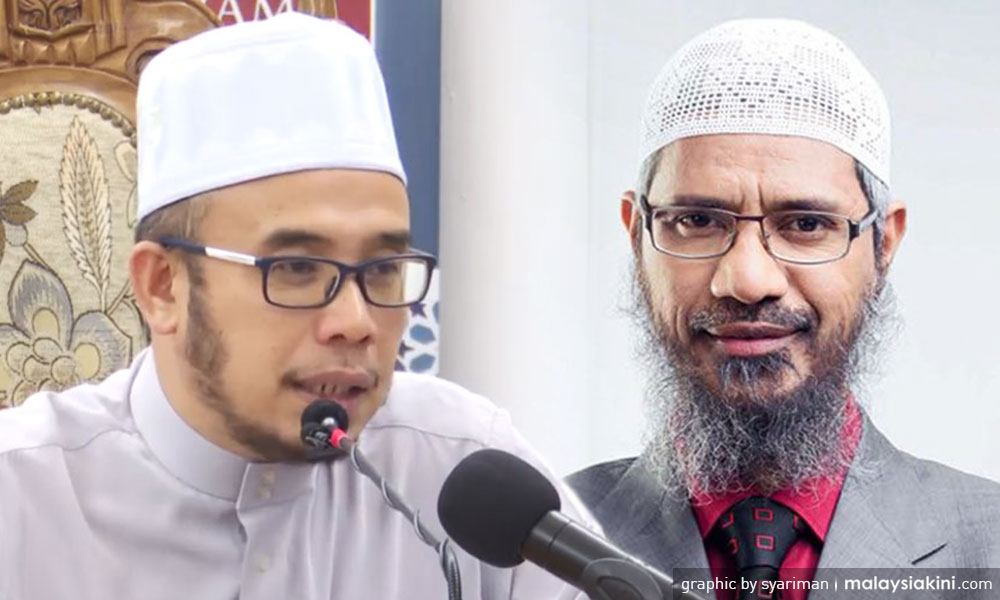 Perlis Mufti Mohd Asri Zainul Abidin has advised organisers to drop controversial Muslim preacher Zakir Naik from the Malaysia Revert Camp programme in the state.
Speaking to Malaysiakini today, Asri said the decision is for the good of the Indian-born preacher and his family given current circumstances.
"This not because of hatred towards him (Zakir)… Muslims, in general, want us to allow him (to speak at the event)," he added.
Zakir and his son Fariq were scheduled to speak at the three-day event, which will feature notable Muslim converts, in Kuala Perlis.
Fariq was supposed to speak tonight, and Zakir tomorrow. The preacher's wife and daughter were slated to speak at other events in the state.
Asri had conveyed his advice in a letter to the Malaysia Revert Camp's organisers.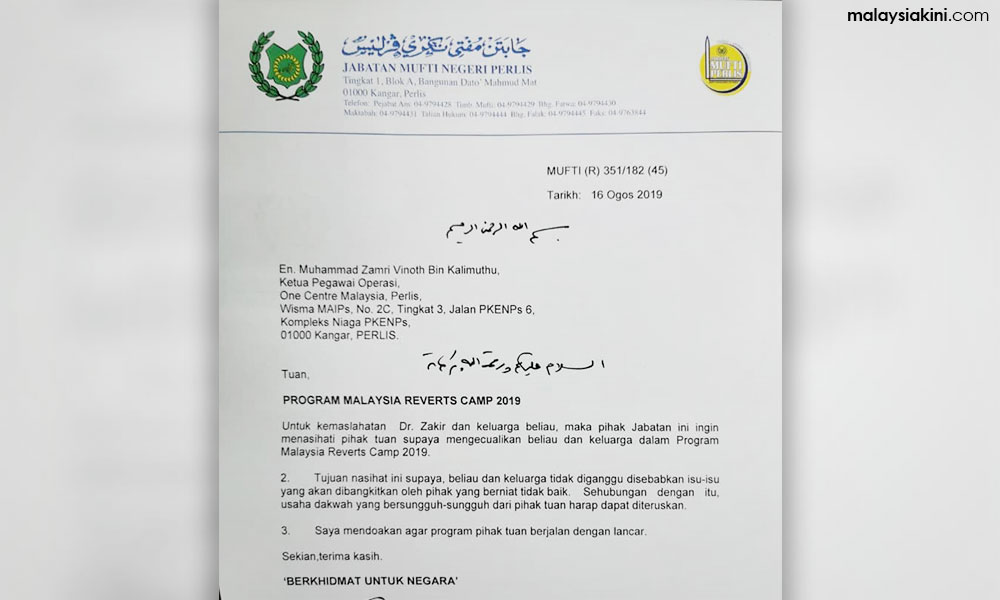 The letter (photo) cited concerns that Zakir and his family would be harassed due to issues raised by "those with ill intentions."
Asked for clarification, Asri said he had no problem if Zakir wanted to visit Perlis.
"There is no problem if he wants to come here, but he can't speak (at events)," the mufti said.
Zakir had come under fire for saying that Hindu Malaysians supported the Indian government more than Prime Minister Dr Mahathir Mohamad in regards to his charges in India.
He had also made some pointed remarks about Chinese Malaysians, calling them "guests."
Zakir claimed his remarks on both matters were misquoted.
Prime Minister Dr Mahathir Mohamad has thus far refused to deport the preacher despite requests expressing concern about whether he will receive a fair trial there.
However, he said that Malaysia would welcome it if other countries would like to accept Zakir.
It was reported on May 2017 that Saudi Arabia granted citizenship to Zakir.
Cabinet members had raised their ire about Zakir to Mahathir, calling for his permanent residency to be revoked.
– M'kini
.