HERE COMES MAHATHIR'S BETRAYAL: IN TYPICAL RACIST RABBLE-ROUSING FASHION, BERSATU YOUTH LAUNCHES ONLINE PETITION TO BAN 'DONG ZONG' – EVEN AS DAP'S SANER NIE CHING URGES COMMUNICATION, NOT DELIBERATELY ENACTING RACIAL WALLS FOR THE SAKE OF POLITICS
The Bersatu Youth Wing has launched an online petition seeking support for their call to ban Chinese educationist group Dong Zong.
Youth exco Muzzammil Ismail branded Dong Zong as "extremist" out to undermine racial unity over its latest claims that the government's move to introduce khat in schools was a form of "Islamisation".
"In the past they had led the calls to pressure the government, particularly Education Minister Maszlee Malik, to recognise UEC.
"Today Dong Zong continue to pressure the government using various demands," said Muzzammil in reference to Dong Zong's latest petition against the teaching of Jawi calligraphy to Standard Four pupils.
"Launching a petition to protest Jawi is a calculated and despicable act to undermine Malaysia's heritage," he stressed.
Last week, about 20 people, led by a Bersatu Youth exco member (above), had also submitted a memorandum to Dong Zong in response to the group's initial concerns.
Dong Zong's latest objection was raised despite the Education Ministry's compromise to make the lessons optional and halving the number of pages.
Prime Minister Dr Mahathir Mohamad yesterday similarly branded Dong Zong as a "racist" group which had long been opposed to the government's efforts to promote unity.
At the time of writing, the Bersatu Youth's petition against Dong Zong has recorded over 20,000 supporters in less than 24-hours.
'Racist' label for Dong Zong – we need communication, not walls, says Teo
Rather than erecting walls between them, there should be more communication between the government and Dong Zong, said Deputy Education Minister Teo Nie Ching.
"I feel that we should have more communication between us instead of more and more walls between us.
"Only then (we) can we promote mutual respect and understanding in the community," she said at the sidelines of the launching of the national civics programme for schools today.
She was asked about Prime Minister Dr Mahathir Mohamad branding the Chinese educationists' group as "racist" yesterday.
Mahathir had lashed out at Dong Zong for claiming that the three-page khat lessons to be introduced for the Standard 4 syllabus was a form of "Islamisation".
Dong Zong had started a petition asking the government the scrap the plan to introduce khat lessons despite the Education Ministry reducing the planned six pages to three and making the lessons optional after strong pushback from the non-Malay community.
DAP veteran Lim Kit Siang said Mahathir was wrong to brand Dong Zong as "racist".
He, however, said Dong Zong was not right to claim that the khat lessons for vernacular schools' Standard Four Bahasa Malaysia subject from 2020 were the beginning of Islamisation.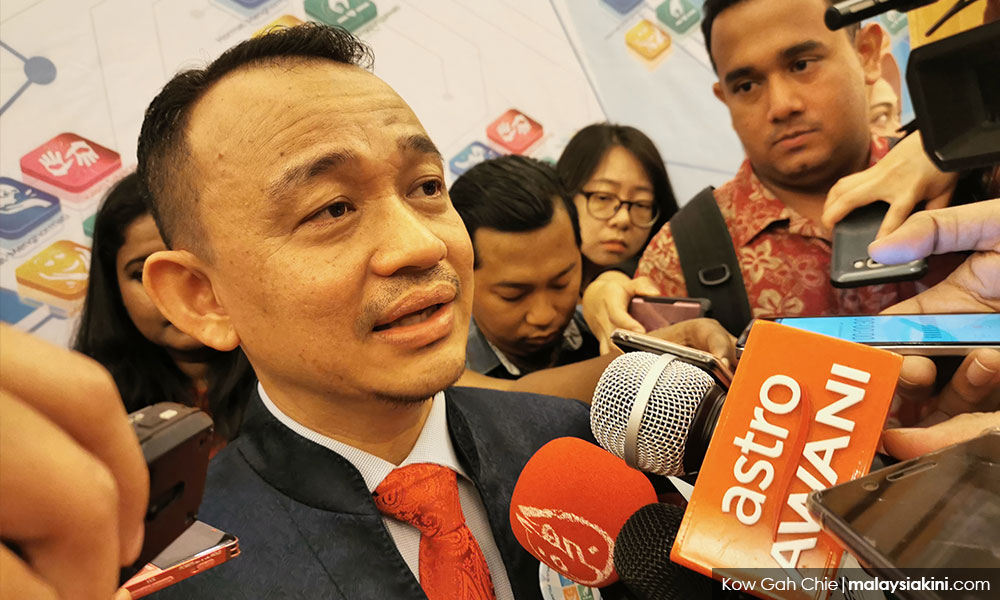 Bersatu's Youth wing has also launched an online petition seeking support for their call to ban Dong Zong.
Meanwhile, Education Minister Maszlee Malik, who also attended the launching of the national civics education programme today (above), declined to weigh in on whether he will support DAP's proposal to review khat issue at the cabinet meeting tomorrow.
"I am a Bersatu minister, not DAP (minister). You should ask DAP ministers in the cabinet," he told the media when met at the event.
Finance Minister Lim Guan Eng said he would renew his call on Wednesday for the cabinet to review its plan for the introduction of khat lessons.