KHAIRY TO JUMP SHIP WITH NAJIB RETURNING TO POWER IN BN? SO WHAT – NAJIB MORE IMPORTANT TO 'MONEY-CRAZED' UMNO-BN THAN 'LONE WOLF' 'ABOUT TO DEFECT ANYWAY' KJ
FOR urbanites, Najib Razak is a villain who brought Malaysia into debt which the country is struggling to pay and who robbed its institutions of integrity.
But to rural folk, especially Malays, the former prime minister represents quite the opposite.
To those living in the hinterland, Najib is a caring leader who looks after the little people with cash aid and subsidies.
Political scientist Dr Mazlan Ali said it is this appeal that has allowed him back into the Barisan Nasional coalition as an adviser.
It is why BN now deems him an asset even though he was responsible for its historic downfall in the 14th general election.
More than a year after the shock defeat, the Pekan MP has reinvented himself as a man of the people through his "Malu Apa Bossku" roadshow, to which voters disappointed with Pakatan Harapan have flocked.
Najib also has the biggest social media presence among BN leaders. He has 4.13 million followers on Twitter and 3.88 million following him on Facebook.
He has also used his three decades of experience in the government to poke holes in PH's policies, said analyst Mohd Azlan Zainal.
"Najib is seen as being more sensitive and strategic in positioning himself compared to other Umno leaders who are more interested in playing up race and religious issues,"  said Azlan of think-tank Ilham Centre.
"His appointment as BN adviser is the correct move for the coalition as he knows the twists and turns of government. Also, other opposition parties, specifically, PAS, has accepted Umno and are willing to forgive Najib."
Other analysts, such as Dr James Chin of the University of Tasmania, disagreed that Najib is an asset just because he has a large social media following.
"(He is) a liability. Most people accept that he was responsible for the 1MDB scandal. Social media is not real life," said Chin, referring to 1Malaysia Development Bhd (1MDB), the state fund that was Najib's brainchild and from which he allegedly stole RM50 billion.
Najib faces multiple criminal charges over 1MDB's missing funds.
Anti-graft authorities have initiated court action to seize RM270 million of 1MDB funds that Najib allegedly siphoned off and distributed among individuals and parties linked to BN. The bulk of the money allegedly went to Umno.
From liability to sympathy figure
Yet despite Najib's ongoing high-profile trial for corruption and power abuse in connection with SRC International, BN believe its new advisory board chairmtan can help it to regain the people's confidence.
To the low-income segment of the Malay population, Najib's alleged crimes are forgivable as he was a "generous" patron who gave them plenty of aid, said Mazlan of UTM.
Prime Minister Dr Mahathir Mohamad has repeatedly mocked Najib for his "cash is king" approach to politics.
But the poor think quite differently of Najib's largesse.
"During Najib's time, they got all sorts of aid and subsidies. But now during PH's time, rubber prices are down and the aid and subsidies have dried up," Mazlan said.
"To these people, Najib's corruption cases are his personal issues. What's important is that he helped them when he was prime minister."
BN is hoping Najib's newfound popularity will boost its chances in the next general election, especially in 30 marginal seats with a significant percentage of Malay voters, said Mazlan.
Ilham Centre's Azlan said the complexity of Najib's SRC International trial has been a blessing for the accused.
Many do not understand court procedures and that the wheels of justice in this case are moving slowly and carefully to ensure a fair trial
"Some are questioning why it is taking so long to take action when PH is in power. So the question is, is Najib really guilty or not?
Coupled with the "Malu Apa Bossku" roadshows designed to burnish his image, Azlan said Najib could further push the idea that his corruption charges were politically motivated.
"PH needs to immediately start serving the people, showing it is sensitive to religious and economic issues and fulfil its promises instead of just blaming Najib, because the reality is, Najib has lost," said Azlan.
"If PH fails in this, he said, public perception of Najib could quickly change from liability to persecuted figure."
– https://www.themalaysianinsight.com
'Suddenly I'm not so happy where I am' – KJ strides off after query on Najib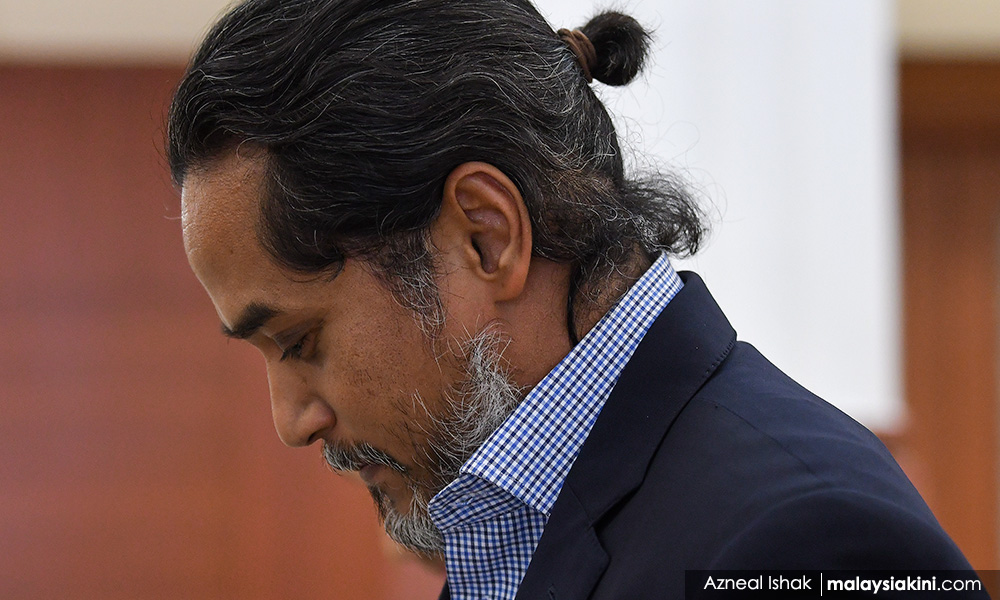 Former Umno Youth chief Khairy Jamaluddin today said he is "suddenly not so happy" about where he is, just two days after declining to join Bersatu and stating that he was "quite happy" about his position in Umno.
Khairy was swarmed by journalists at the Parliament lobby this evening where he was asked about former prime minister Najib Abdul Razak's appointment as the BN advisory board chairperson.
The Rembau MP raised his eyebrows and widened his eyes but stayed silent for two seconds.
He then said: "Suddenly, I am not so happy where I am".
Khairy, who was surrounded by journalists, then strode off, trying to make his way through the circle.
Surprised journalists then followed him for further comments but Khairy did not entertain them.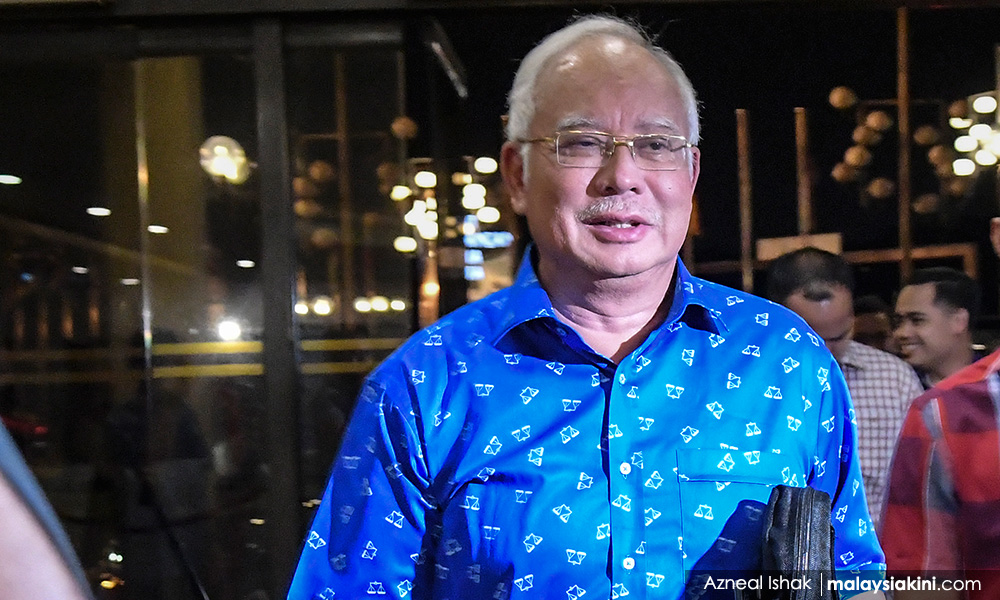 Yesterday, Najib (photo) was appointed as the BN advisory board chairperson.
His appointment came less than two weeks after Ahmad Zahid Hamidi resumed his duties as Umno president and BN chairperson.
Najib is facing 42 charges of money laundering, abuse of power and criminal breach of trust while Zahid is facing 87 graft-related charges.
On Monday, Khairy was asked about Bersatu Youth chief Syed Saddiq Abdul Rahman's invitation for him to join Bersatu.
However, Khairy declined, stating "I'm quite happy where I am, thank you".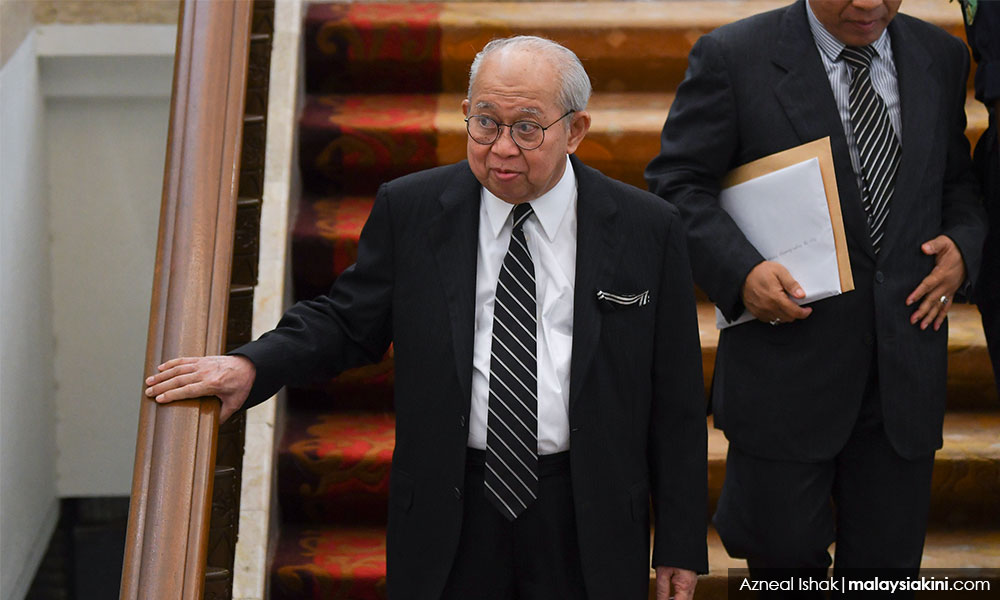 Meanwhile, Umno veteran Tengku Razaleigh Hamzah (photo) said he was surprised by Najib's appointment as this was not informed to Umno members before this.
"But I suppose this is good as he is an active member of Umno which is a member of BN…We can get his practical experience to be passed to us in the light of the problems we are facing today," he said when met at Parliament's lobby today.
When asked if this means the Umno warlord emerged and defeated the reformist faction, he said: "Maybe."
"I think this is just a passing phase, and also maybe, this is only a test for all of us. Afterall, Umno doesn't belong to members of Umno alone but also belongs to the whole (Malay) community. The same with BN as it is a national party," he said.
"We are going to be tested about what kind of advice we should accept," he said.
Apart from Najib, other Umno leaders who recently reemerged include Ahmad Zahid Hamidi – who is facing 87 corruption and other charges – reclaiming his Umno presidency and the appointment of Tengku Adnan Tengku Mansor as BN secretary-general.
These leaders are seen as Umno warlords.
"Well, I think they are going to clear themselves. That's what they said, so we will wait and see. This is not (only) happening to Umno as other parties also have problems," he said.
"I suppose the name (of Najib) still rings in the ear," Tengku Razaleigh said.
When met at Parliament earlier today, both PAS president Abdul Hadi Awang and secretary-general Takiyuddin Hassan declined to comment about Najib's appointment.
"The president will issue a statement," said Takiyuddin.
– M'kini
.