'JUSTICE FOR HAZIQ' STARTS TO GAIN GROUND AS THIRD WAVE OF VIDEOS EMERGE & AZMIN'S MEN RUSH TO DAMAGE-CONTROL: BUT WILL SACKING HAZIQ MAKE AZMIN'S GAY SEX SCANDAL DISAPPEAR?
PETALING JAYA – A third wave of video clips implicating Datuk Seri Azmin Ali has surfaced, this time uploaded on YouTube.
The 46-second long audio-only clip, titled "Azmin love Haziq 3/4" posted on the file-sharing website shows a discussion between two men agreeing to meet discreetly at a five-star hotel in Kuala Lumpur in March this year.
The uploader of the clips claimed that the men talking are the same individuals as those in the recent sex videos.
Another clip, which is being shared on WhatsApp, is taken from a low angle and only shows the torsos and legs of the men. The faces of the men cannot be seen.
In the past week, clips of a sex video involving two men have gone viral, followed by a confession by Haziq Abdullah Abdul Aziz, who is also Santubong PKR Youth chief, that he was one of the two men in the videos.
He also claimed that the other person was Azmin.
Azmin had categorically denied the allegation, saying it was made to tarnish his reputation and destroy his political career.
Haziq is being investigated under four charges, including Section 377B of the Penal Code for carnal intercourse against the order of nature and Section 292 for distributing obscene materials.
– ANN
Not acting against Haziq will be seen as Anwar's failure, claims Azmin strongman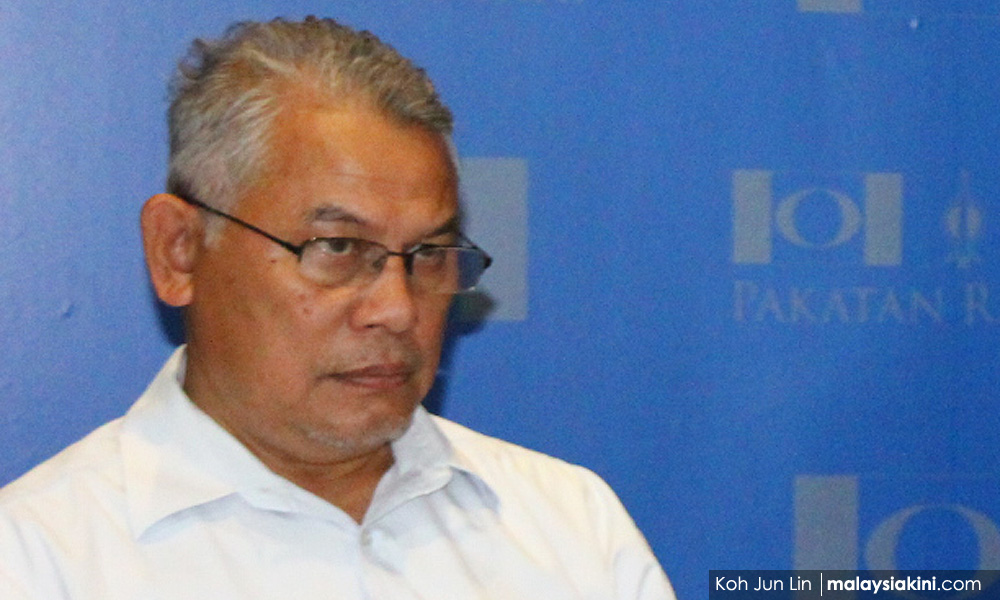 Economic Affairs Minister Azmin Ali's advisor has warned that lack of action against the person who claimed to have engaged in sexual acts with his boss would be perceived as a failure on the part of PKR president Anwar Ibrahim.
In a Facebook posting, Khalid Jaafar said this would tarnish PKR's image among the Malays and Muslims.
"Such amnesia will be seen as a failure of the leadership, especially its president," he added.
On June 16, Anwar reportedly said no action would be taken against Santubong PKR Youth chief Haziq Abdullah Abdul Aziz for the moment.
He said the party would wait for the outcome of the police's investigations instead of making a hasty decision.
Prior to this, PKR secretary-general Saifuddin Nasution Ismail said there would be no internal probe despite Azmin asking the disciplinary board to investigate how the perpetrators who disseminated the sex clips obtained the contact numbers of party officers.
Meanwhile, Khalid also rebutted Primary Industries Deputy Minister Shamsul Iskandar Md Akin who claimed that Haziq was once Azmin's intern.
"That is wrong. Haziq was never an intern to Azmin (when he was Selangor menteri besar)," he added.
Khalid, who once served as the strategy and research development director in the Selangor Menteri Besar Office, admitted that he recommended Haziq to be taken as Azmin's intern.
"Azmin rejected my suggestion. To protect Haziq's feelings, I then suggested to place him as the intern in the MB's office under my supervision," he said, adding that Haziq turned down the offer.
Khalid said Haziq was not a victim with regard to the sex scandal as he "proudly confessed" that he had committed carnal intercourse, which is considered a crime.
Haziq, in a "confession" posted on his Facebook, claimed that it was Azmin in the clips and that their alleged tryst was recorded in the minister's hotel room in Sandakan last month.
Haziq insisted that he was a victim as well because someone recorded and leaked what should have been a private moment.
Azmin has described the videos as part of a nefarious campaign to ruin his political career.
– M'kini
.