RETURN PASSPORT TO YOU? 'FLIGHT RISK' ZAHID'S LAST APPEAL UNANIMOUSLY THROWN OUT BY APEX COURT – EVEN HE TOO SHY TO SHOW UP IN COURT
THE Federal Court today unanimously rejected Umno president Ahmad Zahid Hamidi's appeal for his passport to be returned temporarily to perform umrah this month.
The five-person bench led by judge Azahar Mohamed ruled that the Kuala Lumpur High Court decision was correct in not allowing for the passport to be returned to Zahid.
The bench said the high court has applied correct principles in dismissing his original application.
High court judge Collin Lawrence Sequerah on May 8 dismissed Zahid's application, a decision that the Court of Appeal upheld on May 14.
"We agree with the learned judge that in the circumstances of the present case, where the appellant is facing multiple criminal charges, which are serious in nature, discretion may be exercised to prevent the appellant from leaving the country," Azahar said, reading out the statement today.
"We find no good and valid reasons why we should interfere in the exercise of the high court decision that was affirmed in the Court of Appeal. We, therefore, dismiss the appeal and affirm the decisions of the courts below."
Azahar said the panel found that Sequerah has considered "sufficiently and judiciously and took into consideration all the relevant factors" put forward by Zahid.
"It is an established principle of law, if the high court will allow the appellant's application for the temporary release of the passport, is a question of an exercise of discretion of the learned high court judge.
"It is also an established principle that, as another court, we will not interfere in the exercise of discretion of a learned judge unless we are clearly satisfied that the discretion has been exercised on the wrong principle, or there has been a miscarriage of justice."
On the panel were judges Alizatul Khair Osman Khairuddin, Abang Iskandar Abang Hashim, Idrus Harun and Nallini Pathmanathan.
Defence lawyers had earlier argued against Zahid's flight risk, saying he has been performing the pilgrimage to Mecca annually for 30 years.
They also point to concessions by other courts to Umno lawyer Shafee Abdullah and former Umno lawmaker Tengku Adnan Tengku Mansor, who got their passport returned temporarily despite the criminal charges filed against them.
"He (Zahid) still am a member of parliament. His family is here…  he could have fled much earlier when he was under investigation, when his passport was in his possession," said lead defence lawyer Hisyam Teh.
Defence lawyer Kitson Foong added Zahid has co-operated with the Malaysian Anti-Corruption Commission when he was called up for questioning last year.
"He has surrendered himself, submitting himself to due process. It is a matter of public record that the applicant has shown nothing but respect to the rule of law," Foong said, adding that the annual pilgrimage was not merely religiosity, but "out of his commitment to God to re-align his inner person in preparation of his criminal trial". 
His defence lawyers added that tickets from Kuala Lumpur to Jeddah were bought on April 9 and that "private arrangements" have been made.
"The purpose is not to block them from performing their religious duties, but not ensure they do not take flight (before the trial)," said Foong.
Meanwhile, deputy public prosecutor Sazilee B. Abdul Khairi argued the circumstances in previous years are different now as Zahid is now facing "serious and numerous" criminal charges.
Zahid faces 47 counts of money-laundering, criminal breach of trust and corruption involving RM72 million in funds from Yayasan Akal Budi.
His trial is to start on July 8.  THE MALAYSIAN INSIGHT
Zahid no-show at apex court, lawyers checking if case can proceed
The Federal Court this morning ordered lawyers and DPPs present to check on provisions of law as to whether a matter concerning Ahmad Zahid Hamidi's passport could be heard in his absence.
This came after Zahid's lawyer Hisyam Teh Poh Teik told the court that the Umno president could not be present today as he had travelled to Pekan for the funeral of late Sultan Ahmad Shah of Pahang.
The five-member bench led by Justice Azahar Mohamed then asked both Zahid's counsel and the DPPs whether the case could proceed without the appellant's attendance.
The court allowed a short break for the lawyers checked on legal provisions pertaining to the matter.
Zahid is seeking the return of his confiscated passport which was impounded by the Kuala Lumpur High Court as part of his bail conditions after he was slapped with a total of 47 charges for money-laundering, criminal breach of trust and corruption.
The Umno president was absent from court today as he was attending the funeral of Sultan Ahmad Shah who passed away at the National Heart Institute yesterday morning. He was 88.
After a 10-minute break, the court went back into session and heard from Zahid's counsel Hisyam Teh Poh Teik that it could proceed to hear Zahid's case and make a decision in the appellant's absence.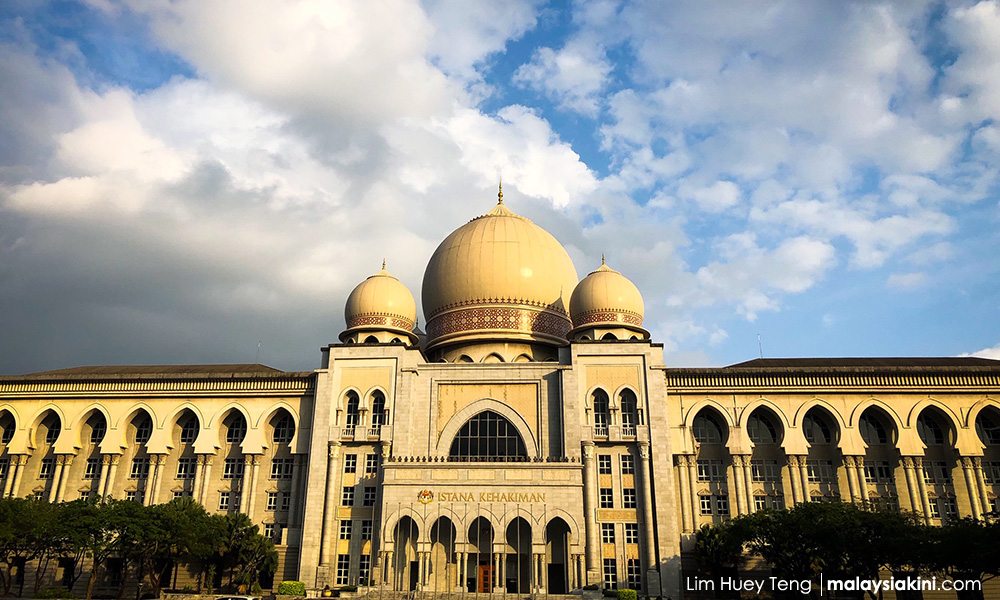 This was supported by DPP Ahmad Sazlee Abdul Khairi who said that according to the Rules of the Federal Court, an appellant can be represented by a legal counsel who is allowed to argue the case on his behalf.
"An appellant or his advocate need to be present, meaning that the appellant (can be absent from court) when he is being represented by a lawyer who can argue on his behalf," Sazlee said.
The panel of judges then allowed for the hearing of Zahid's appeal to proceed.
Zahid, who is a former deputy prime minister, was appealing against a decision by the Kuala Lumpur High Court on May 3 which dismissed his application to have his passport returned temporarily.
In his application, Zahid had cited that he wanted the international travel document to apply for a visa to perform the umrah during Ramadan which he said had been an annual event for him.
The politician had brought his case to the Court of Appeal after his application was turned down by the High Court but the appellate court dismissed his appeal on May 14. – MKINI
THE MALAYSIAN INSIGHT / MKINI
.