THE 'DEDAK' OR BRIBES CAME FROM UMNO – SO THIS IS 'NOT AN INTERNAL PARTY' ISSUE: ANWAR DEMANDS EXPLANATION WHILE 'CRAZY & WEIRD' HADI COUNTER-ATTACKS WITH'KAFIR' LABEL – INDEED, MACC SHOULD ALSO MAKE PUBLIC STATUS OF THEIR PROBE, SO EC CAN TAKE DUE ACTION IF UMNO-PAS ELECTORAL BRIBES FOUND
PAS owes the people an explanation on the "dedak cartel" given the seriousness of the allegations, said PKR president Anwar Ibrahim.
He added the Islamist party will be right to gag its members from issuing statements on the issue if it is an internal matter.
However, Anwar said the funds involved are from another political party.
"If it is purely an internal matter, it is for PAS to decide. But it is in the public sphere and it involves funds of other parties.
"The public has the right to know," he told reporters at the sidelines of an event at Universiti Kebangsaan Malaysia (UKM) today.
PAS had issued a gag order on party members PAS president Abdul Hadi Awang's son-in-law Zaharudin Muhammad said there is a group within the party that had received "dedak" (money) from Umno.
Without naming the corrupt persons in a post on Saturday, Zaharudin listed the five individuals as "Dr Hussam II", "Mr NT", "Mr KT", "Mr KH" and "everyone knows".
The allegation is widely believed to be linked to an audio recording involving Bachok MP Nik Abduh Nik Abdul Aziz talking about Umno's funding of PAS. – THE MALAYSIAN INSIGHT
Hadi crazy, weird, blaming Anwar for splitting Malays: Penang exco
Former PKR youth deputy chief Dr Afif Bahardin has decribed PAS president Abdul Hadi Awang as "crazy and weird" for accusing Anwar Ibrahim of being responsible for the culture of labeling other Muslims as infidels, thus splitting the Malay community.
"Hadi is crazy to say such things about Anwar when he (Hadi) was the one who raised the issue of kafiring others in his Decree (Amanat) in the 1980s," said the Penang exco.
"The late PAS spiritual leader Nik Aziz Nik Mat would have said that he is only spitting into the sky, if he hears what Hadi has said," Afif told Malaysiakini.
"We all know how much Anwar has contributed to the nation, not only as former deputy prime minister, but also for leading the reformasi movement, and uniting all races and multiracial parties in the opposition," Afif reminded.
He was referring to Hadi's statement in Pahang on Saturday, which was published in Harakah, that it was Prime Minister Dr Mahathir Mohamad who took in "extremists", among them Anwar Ibrahim, who used to label some Muslims as infidels, thus splitting the Malay Muslim community.
Hadi had thanked Mahathir for taking these "extremists" into Pakatan Harapan, saying Umno and PAS are not clean and free from such individuals.
Afif denied the split among Malays, saying it was Anwar who first mooted the Malaysian Economic Agenda so that all ethnic groups can benefit from the country's economy.
"The country cannot move forward if only one race benefits and others are left behind, likewise there is no point doing well when one supports corruption, stealing of funds and inefficiency in government," added the Sebetang Jaya assemblyperson.
"This is what Hadi failed to understand, why he cannot be prime minister, and why his party cannot gain traction," Afif stressed.
Meanwhile, the Malaysian Muslim Youth Movement (Abim) Penang branch's chairperson Mohd Tabi'in Sahri said Hadi's remarks amounted to a "blaming game" purely for the sake of politics.
"As ABIM's second president, Anwar continues to remain relevant through the times. His mission, since the 70s, is based on 'Islam As The Way Of Life'," said Mohd Tabi'in.
"Even when he joined politics in the 80s, there was not a single statement he made which had the potential to split the harmony between the Malays in this country," he added.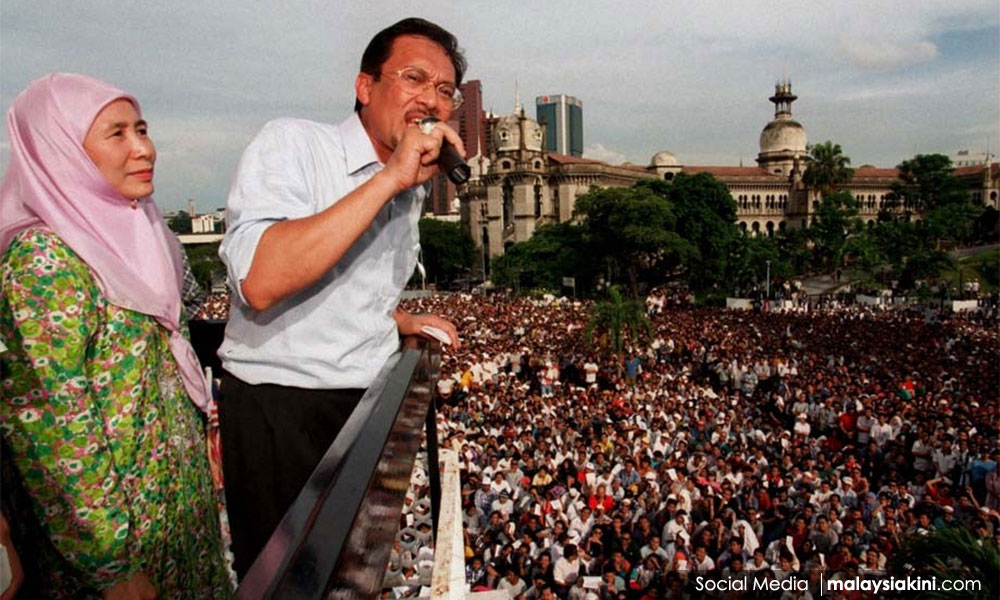 Mohd Tabi'in reminded Anwar's dertactors that without the Reformasi struggle which begun in 1998, PAS would not have been able to defend Kelantan or rule Terengganu.
At the time, Malay votes swung fully towards Barisan Alternative, where PAS was an ally of PKR and DAP.
"This clearly shows that Anwar did not split the Malays. He is, instead, a bonding factor who united the Malays and strengthened their ties with other races in the country," Mohd Tabi'in said.
Mohd Tabi'in urged Hadi to withdraw the allegation against Anwar, to preserve good ties among the Muslim community.
He said PAS should not hurl such accusations against Anwar, just because PAS wants to team up with Umno.
"PAS used to make Anwar their friend, and both have gone through ups and downs together in the past," Mohd Tabi'in reminded the Islamic party. MKINI
THE MALAYSIAN INSIGHT / MKINI
.