IN OMINOUS SIGN TO NAJIB, 3 MONEY LAUNDERING CHARGES INVOLVING RM47 MILLION GETS NOD FOR TRANSFER TO HIGH COURT
Former prime minister Najib Abdul Razak's three charges of money laundering involving RM47 million from SRC International Sdn Bhd have been transferred to the High Court in Kuala Lumpur.
High Court judge Mohd Nazlan Mohd Ghazali today allowed attorney-general Tommy Thomas' request to transfer the case from the Sessions Court under Section 417(1)(e) of the Criminal Procedure Code.
"A transfer is expedient for the ends of justice because the cases share interrelated facts, and it would not be in the interest of justice to have separate proceedings in two separate courts of different hierarchies in those circumstances," Justice Nazlan said.
However, he rejected Thomas' request for a joint trial with the other SRC International-related charges faced by Najib – the first hearing of which is scheduled for tomorrow.
The defence, led by Muhammad Shafee Abdullah and Havinderjit Singh, had objected to the request, arguing that the court only had jurisdiction to allow a transfer and not a joint trial.
In his ruling, Justice Nazlan agreed that he was only allowed to transfer the case under Section 417(2) of the CPC.
"On the application for a joint trial, it would be premature for this court to make a decision, as it would be up to the trial judge," he added.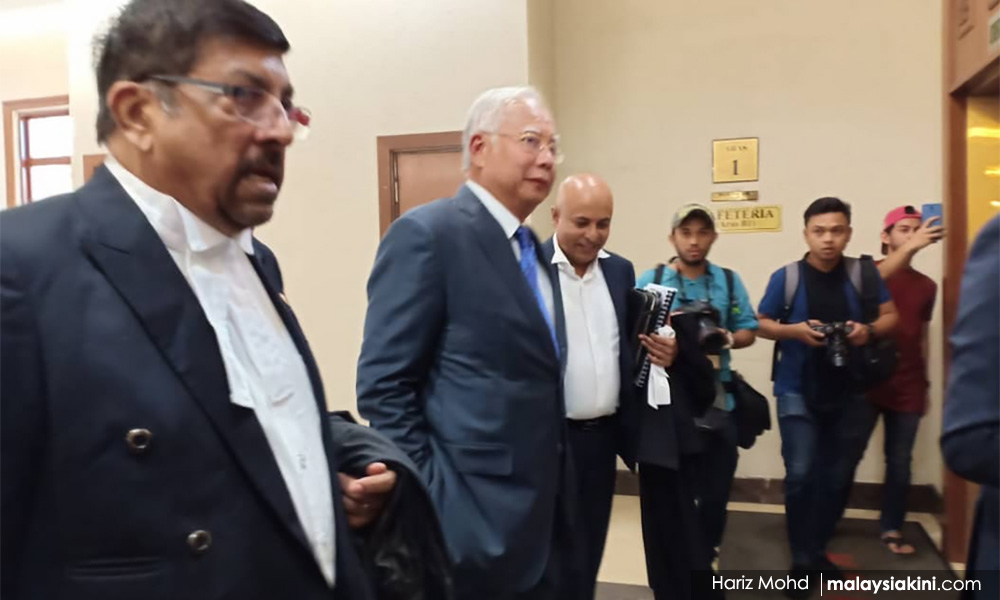 Although the case has been transferred with Justice Nazlan's ruling, the prosecution will still have to register the case before the High Court to see where the three money laundering charges will be heard.
Last Friday, Najib was charged again with three counts of money laundering in relation to RM47 million which he received in his personal AmBank account on July 8, 2014.
The prosecution had withdrawn the charges the previous day after the AG's application for discharge not amounting to an acquittal.
Najib claimed trial to the three charges.
Tomorrow is fixed for Najib's seven counts of abuse of power and criminal breach of trust in relation to SRC International, unless the Court of Appeal grants the defence a stay on the proceedings later today.
The defence also made an application for the prosecution to furnish the order of witnesses to be called tomorrow, should the trial proceed.
All in all, Najib is facing 42 charges since he was first brought to court on July 4 last year.