AZMIN CARTEL EXPOSE THEIR ULTERIOR MOTIVES: ONLY A FRACTION OF JULAU'S ALLEGED 13,000 NEW MEMBERS CAN VOTE, PRO-AZMIN SARAWAK PKR FINALLY ADMITS THE TRUTH – YET AZMIN'S OTHER ATTACK DOGS INTENSIFY ALL-OUT BID TO TARNISH THEIR OWN PARTY
PKR central leadership council member Latheefa Koya has called on the party to immediately suspend the upcoming polls in its Julau division in Sarawak, denouncing the party's decision to approve the contentious Julau membership list.
PKR communications director Fahmi Fadzil had said yesterday that there had been no breach in the new membership application process and that the membership list was thus legitimate.
In response, Latheefa said this was "nothing less than an attempt by PKR's highest decision-making body to whitewash the controversial Julau membership issue."
"We know that some political bureau members had raised serious concerns over this matter, but the approval was bulldozed through nevertheless.
"If the increase in membership is legitimate as claimed by the PKR political bureau, then why have so many people come forward with complaints that their names have been added to the Julau membership roll without their consent?" she said in a statement this morning.
The intake of new members in the Julau PKR division courted controversy after its membership shot up from 603 on June 26 to 13,000 a day later. The sudden spike in membership raised eyebrows, especially in view that party elections would be held soon.
The final leg of the PKR polls, already marred by controversy, is slated to be held in Sarawak this weekend.
"Irrespective of whether or not the objections were made to the list during the objections period, PKR cannot use this as an excuse to do nothing in the face of mounting evidence of fraud.
"Failure to object, even if true, cannot legitimise a fraudulent list," her statement read.
Latheefa pointed out that as a component party within the ruling federal government, the Julau issue could no longer be considered an internal party affair, but a question of public interest.
"Some of those who are responsible for approving the Julau increase despite these complaints, hold high government posts.
"It will be a shameful mockery of the election process if the voting proceeds in Julau on Saturday; hence the PKR political bureau must come to their senses and suspend voting in the division immediately," she stated.
Despite being cleared by PKR, checks by Malaysiakini on Julau PKR's membership database revealed that 84 percent or more than 11,000 members were registered using just 11 "addresses".
Malaysiakini also found that these "addresses" were incomplete and merely the combination of names of polling districts and state constituencies in Julau.
Meanwhile, Latheefa's statement comes two days after she questioned party president Dr Wan Azizah Wan Ismail's recent trip to Julau as deputy prime minister.
The former also criticised Wan Azizah's announcement of an RM100,000 allocation for a local road and the presence of Julau MP Larry Sng, himself a candidate in the party's Julau division polls.
Wan Azizah, however, claimed the trip had been part of a long-planned schedule and had nothing to do with the PKR elections.
Never mind Julau, Azmin is 'home and dry' in PKR polls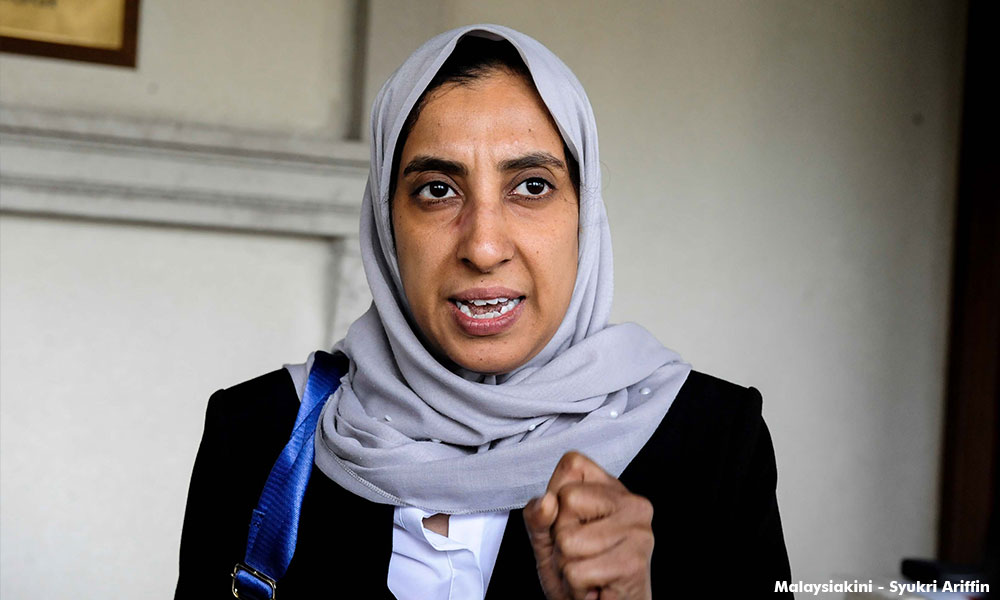 THE 13,000 new members from PKR's Julau branch who have yet to vote in the party elections would have little, if any, effect on the party deputy presidential race, whose outcome was already established, said PKR Sarawak information chief Vernon Kedit.
Mohamed Azmin Ali is certain to win because his 3,000-odd lead over Rafizi Ramli is unassailable at this point, Kedit said.
This is because not all of the 13,000 members would be able to vote in seven hours, the voting window.
At most, Kedit said, only a fraction of the 13,000 would actually get to vote.
"Technically, 13,000 are eligible to vote and their votes are valid. One would think that such a number could determine the outcome of the election," he said.
"But the question is, can all of them cast their votes within the stipulated voting period of seven hours?"  
He said earlier polls showed a member took about eight minutes to vote using the e-voting system.
"The average time could be a little longer for older, less tech-savvy voters and in a rural area where internet access leaves much to be desired.
"For all the 13,500 members in the division to vote – you take out your calculator and start calculating how long it will take.
"There's no way for all of them to be able to cast their vote in seven hours.
Short time
Polling is between 9am and 4pm.
"Party rules state the polling station doors must be shut at 4pm."
The PKR political bureau yesterday said it found no irregularities in the eyebrow-raising registration of nearly 13,000 members in Julau on the closing day for membership application in June.
The Malaysian Anti-Corruption Commission (MACC), however, is pursuing an investigation into the unlikely event
Unsurprisingly, all eyes have been on PKR's Julau branch and the party's equally controversial MP, Larry Sng.
Sng, who is openly aligned to Rafizi, reportedly boasted in a longhouse gathering after the 14th general election that Julau was the fastest growing branch, whose membership roll expanded from 603 on June 26 to 13,000 the next day.
Sng, who is running for the Julau branch chief's post, is no stranger to the rural district in the Saratok division about a seven-hour drive from Kuching.
His father, wealthy businessman Sng Chee Hua, was the MP for a term from 1995 to 1999. He was of Parti Bansa Dayak Sarawak (PBDS), then a component of Barisan Nasional.
Julau folk are mostly farmers and hunters, 90% of them longhouse-dwelling Iban. The small Chinese community are Foochow.
'So-called new members'
Sarawak PKR leaders backing Azmin believe that a majority of the new members in Julau will not vote for Sng and others in the Rafizi camp.
"These so-called new members are not people who have joined the party voluntarily, of their free will," said Kedit.
The pro-Azmin faction alleges that the 13,000 names were copied "wholesale" from the electoral roll and registered online, a process that does not call for the signature of the applicant.
Team Azmin said some of these new members might not even know they had become PKR members and they could be supporters of the ruling Gabungan Parti Sarawak (GPS) or even the old BN coalition.
In fact, they said, one of the new members was a GPS assemblyman. And some of them were dead, said the pro-Azmin members,
"You can also ask, why did our outgoing president (Dr Wan Azizah Wan Ismail) go to Julau to campaign for Rafizi and Sng?" said a party member who spoke on condition of anonymity.
"You don't preach to the converted. For Dr Wan Azizah (Wan Ismail) to head there to canvass for votes for Rafizi and Sng shows there are not many converts there.
"That's why we are not too worried. There's no guarantee the 13,000 new members will vote for Rafizi or Sng."  
The PKR president on Tuesday made a 1½-hour road trip from Sibu to Julau for a meet-the-people gathering at a longhouse in Nanga Ruyak.
She has denied her trip to Julau was to campaign.
PKR president for Rafizi, Sng?
"Yes, she did attend a development briefing on Julau and on the Peppers Board, which Sng now chairs, at the district office. That's only a smokescreen on the real purpose of her visit there," said the party member.
"Her open appeal to support Sng and Rafizi to the longhouse folk at the gathering says the true intention of the trip."
In the 2014 party polls, the Julau branch had 635 members. Only 16 voted, of which seven were in favour of Azmin, who then faced a challenge from Khalid Ibrahim.
Following the membership spike in June, Kedit on October 25 lodged a report with the MACC.
He said he went to the MACC because the state leaders had "exhausted all internal avenues to sort out the alleged irregularities in the registration of new members in the Julau division".
Kedit also made a statutory declaration that the high number of registrations was "irregular and illegal".
The membership department head at PKR headquarters and a worker at Sng's service centre were detained for questioning.  THE MALAYSIAN INSIGHT
MKINI / THE MALAYSIAN INSIGHT
.