BUDGET BLUES WEEK FOR MALAYSIA: ALL EYES ON GUAN ENG'S MAIDEN SPENDING PLAN FOR 2019
Pakatan Harapan's first budget to be announced on Nov 2 is going to be a terribly tough one because there are not going to be many sources of extra revenue nor many avenues for cost-cutting.
There is a reason why the Harapan government does not have enough money – and it isn't debt that they claim they didn't know about until they came to power. The real answer is the scrapping of the goods and services tax.
The cash crunch that resulted from the abolition of the GST in favour of the inferior sales and service tax will result in a yearly tax revenue loss of a massive RM22 billion initially, rising as the economy expands. Add to this the cost of fuel subsidies of RM3 billion, and the yearly shortfall is RM25 billion at least.
That is the kind of yearly gap in revenue that Putrajaya faces. Using projected 2018 figures, according to 2018 Economic Report, the RM25 billion loss of revenue represents 10.7 percent of the projected operating expenditure of RM234.3 billion for 2018.
No tax that the government imposes will come anywhere close to breaching the RM25 billion gap. If it were to impose substantial taxes to recover this money, it will result in hardship to the people along with rising prices – which Harapan said it intended to contain with the abolition of GST in the first place.
A wrong move
The truth is, the abolishment of the GST was a terribly wrong move, and has needlessly straitjacketed the Harapan government and led to a deterioration of its financial position.
As I have said before, it should not even have been a campaign promise as the consumption tax was no longer contributing to higher prices, having been implemented with considerable difficulty back in April 2015.
Also, the GST affected the poor very little because there was a very large list of exemptions which ensured that the prices of essentials would not rise as a result. It is a tax on consumption, and therefore those who consume more (the rich) will pay more, catching in the tax net those who evade income tax. Also, GST records can be used to investigate tax evasions.
If there was one manifesto promise that Harapan broke, it should have been the abolition of GST. That would have ensured that the government finances are in good shape as reforms are being implemented – which could even have included more targeted benefits for the low-income group.
The main reason for higher prices was currency depreciation, a problem that continues to plague us despite the removal of a kleptocratic government. In fact, abolishing the GST may have contributed to currency weakness because analysts and funds view the revenue shortfall as negative in terms of the financial condition of the country.
Finance Minister Lim Guan Eng actually said last month that the ringgit strengthenedrelative to most countries, despite the transfer of power and weak external demand, but the period he used was incorrect – beginning with end-2017. He should have used May 9, the date of the election.
The table below shows how the ringgit performed relative to the currencies of the Asean-5 from May 9 to yesterday.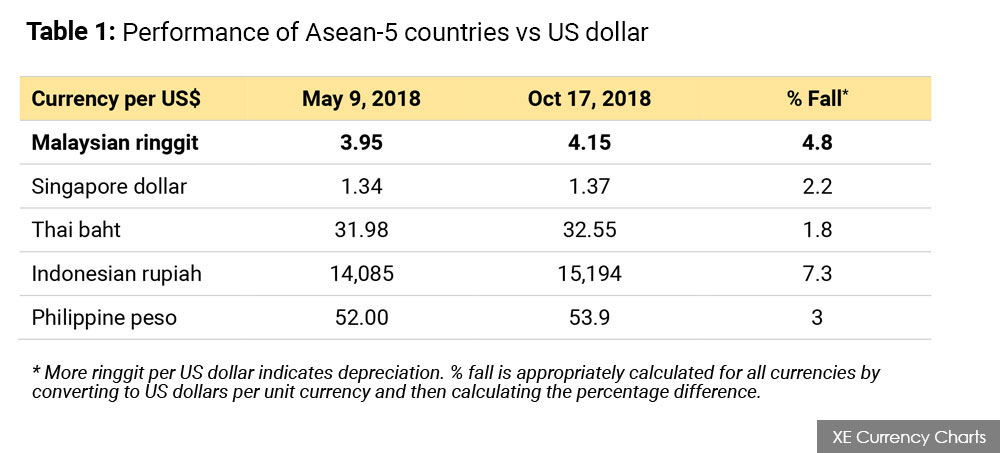 The table clearly indicates that the Malaysian currency significantly underperformed all the Asean-5 countries – barring Indonesia, which has considerable economic problems of its own.
Tightened belts?
Hopefully, the new government and finance minister can demonstrate through the budget that they have a proper grasp of the issues at hand and how to handle it to reverse the currency trend.
It won't be easy. While Lim has argued that the national debt exceeds RM1 trillion – and this has become wrongly used as the debt figure now – it is not. The debt as revealed in the 2018 in Accountant General's Report for 2017 is still RM687 billion, and increases to over RM1 trillion only if contingent liabilities and guarantees are included, as I have previously explained.
Even if some of the contingent liabilities and/or guarantees have materialised as debt and are not classified as such, the interest on them will still have to be paid. Therefore, there will be little material increase in the overall costs of interest, even if they are reclassified into debt. The problem remains the RM25 billion shortfall.
Some potential positives include increased oil prices and more dividends from government companies, but these are likely to be well under RM10 billion incrementally.
An examination of government costs shows that salaries, retirement benefits and debt service charges account for 57.6 percent of total operating costs of RM234.3 billion. These can't be cut.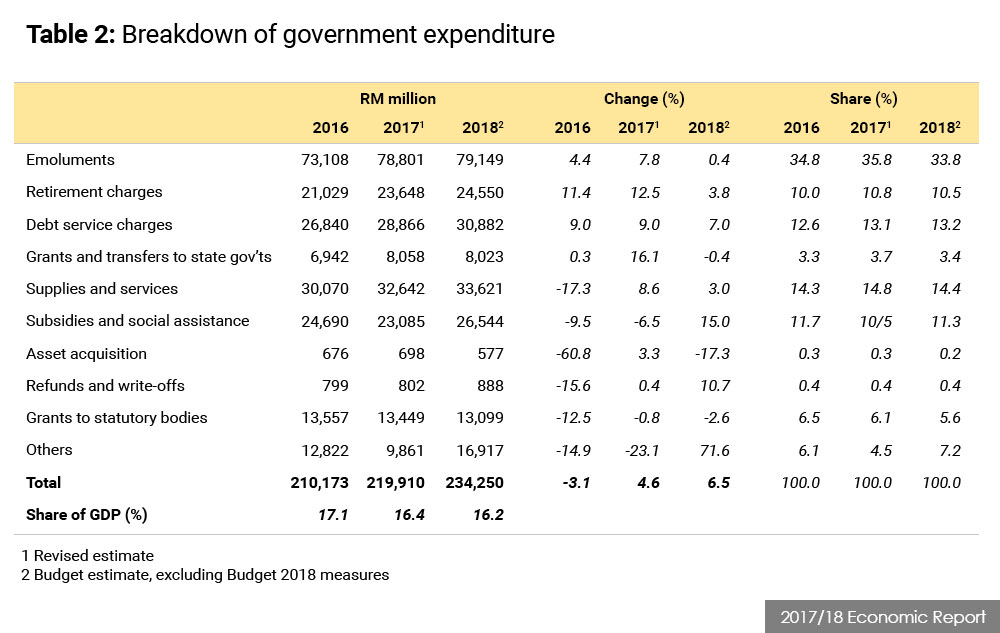 There is more room to cut 'supplies and services', and 'subsidies and social assistance' accounting for a total of RM60.2 billion, or 25.7 percent of total operating expenditure, but the cuts will have to be pretty sharp. Also, this will probably take away targeted aid to the poor if cash grants under the old BR1M are cancelled.
Harapan is finding out too late that they left themselves too little wriggle room when they abolished GST. Unless they reinstate it – and they aren't likely to do that because it will be an admission of a major blunder – they have to find other ways to raise revenue or cut costs.
Since the best, broad-based, value-added tax which goes by the name of GST here and implemented in over 160 countries around the world seems no longer available to them, and revenue-raising measures are limited, tightening the belt and prudent cost-cutting may be the order of the day.
If they do a good job of it, and come with a plan of also stimulating the economy to put growth on an upward trajectory again, analysts, fund managers, and most of all Malaysians, will show more faith in them and start putting money into the country.
It would also help to put the ringgit back on an upward path and suppress rising prices, or even lower them over the longer term. That entails honesty, openness, consultation, competency and a willingness to put the country and people above all.
Malaysians expect no less from the new government.
P GUNASEGARAM
MKINI
.