ZAKIR NAIK BANNED WORLDWIDE: BUT FOR DESPERADO NAJIB, HE IS THE 'GOD-SEND' TO DELIVER MALAY VOTES TO UMNO
Well the whole nation is aware of the Court case that has been filed at the KL High Court on Wednesday 1st March, 2017 against the gomen for allowing Indian hate preacher Zakir Naik to reside in Malaysia. Here is The Star :
http://www.thestar.com.my/news/nation/2017/03/02/declare-zakir-a-national-threat-19-also-want-court-to-revoke-preachers-pr-status-if-granted/
Thursday, 2 March 2017
'Declare Zakir a national threat'
19 started court proceedings to have Zakir Naik branded security threat
ask High Court to declare Zakir danger to public order, national unity
because of his teachings.
Plaintiffs:
Asiah Abd Jalil concerned about Zakir's speeches
Islam does not teach followers to belittle other cultures and religions
Muhammad Mujahidin Zulkiffli, said he rejected Zakir's radicalism
Siti Kassim said they filed action to uphold Islamic teachings
P. Waytha Moorthy, Hindraf chairman
Dr Lim Teck Ghee
Dr Jeffrey Kitingan
and several businessmen.
Zakir's PR in Malaysia to be immediately revoked
petitioning court to deport preacher
prevent him from ever entering the country
court order directing IGP to arrest Zakir immediately on their list
authorities not responded about Zakir's status and whereabouts
originating summons filed at High Court registry
My comments : First of all this is a Court action, filed at the KL High Court ACCORDING to the Laws of Malaysia. They are following proper procedures and upholding the Law.
Ini bukan kes main-main.
This is not an emotional outburst.
This is definitely not a 'kita tidak boleh menggunakan akal' situation.
The 19 plaintiffs like Asiah Jalil, Muhammad Mujahidin, Siti Kassim, Waytha Moorthy, Dr Lim Teck Ghee (a well known academic) and Jeffrey Kitingan have provided facts and verifiable information to support their case.
Quite predictably thus far, the religious people have reacted using the 'kita tidak boleh menggunakan akal' approach.
The other point to note is that the entire Court action against the gomen is based on a national security point of view. The plaintiffs consider Zakir Naik's presence here as a threat to national unity, national security etc.
The plaintiffs especially the minority non Muslims (Waytha Moorthy, Jeffrey Kitingan, Dr Lim Teck Ghee etc) are worried about the safety of their minority communities.
So lets look at some of the reasons put forth by the 19 plaintiffs and some of the facts about their case which they have filed with the High Court.
1. The Indian government Gazette records the following about Zakir Naik's connections with ISIS :
"The Indian Government vide its Ministry of Home Affairs Gazette published on the 17th November 2016 made the following observations;
a) The Islamic Research Foundation (IRF) and its members, particularly, the founder and President of the said Association, Dr. Zakir Naik, has been encouraging and aiding its followers to promote or attempt to promote, on grounds of religion, disharmony or feelings of enmity, hatred or ill-will between different religious communities and groups.
b) The Central Government has received information that the following cases have been registered against Dr. Zakir Naik and other members of the Islamic Research Foundation (IRF).
I. Nagpada Police Station, Mumbai has registered a case CR No. 271/16, under sections 10, 13 and 38 of the Unlawful Activities (Prevention) Act, 1967 (UAPA) against Arshid Qureshi, an employee of Islamic Research Foundation (IRF) and Others on 6th August 2016 on the bases of a complaint of Abdul Majeed, Father of Asfaq Majeed, one of the missing youth from Kerala, who has apparently joined Islamic State of Iraq and Syria (ISIS).
.
In the complaint, Abdul Majeed alleged that Arshi Qureshi of Islamic Research Foundation (IRF) was responsible for radicalization of Ashfaq, which led the later to join ISIS.
.
II. Palrivattam Police Station in Kerala has registered a case, CR No. 1017/16 dated 16.7.2016, under sections 153A, 34 of Indian Penal Code (IPC), and Section 13 of UAPA against Arshi Qureshi, resident of Navi Mumbai, an employee of Islamic Research Foundation (IRF). The Kerala Police arrested Arshi Qureshi in this case in July, 2016 for his role in promoting hatred and ill will between different religious communities and forcible conversation of Kerala youth, who went missing and are suspected to have joined the ISIS.
.
III. Sawantwadi Police Station of Sindhudurg District registered a case, CR No. 73/12, under sections 117, 153A, 295A, 298 and 34 of the IPC against Dr. Zakir Naik, the President of Islamic Research Foundation (IRF), for making derogatory statements against Hindu gods and he has been chargesheeted in 2014.
IV. Vengurla Police Station of District Sindhudurg registered a case CR No. 51/12 dated 25.10.2012 under sections 153A, 295A and 298 of the IPC against Dr.Zakir Naik for making derogatory statements against Hindu gods and he has been chargesheeted in 2014.
2. Zakir Naik's IRF gave 80,000 Indian rupees to one Abu Anas in Rajastan which he used to fund his expenses to join the ISIS in Syria :
n) Zakir Naik Sponsored Man Who Wanted To Fight For ISIS In Syria: Investigators bertarikh 22hb November 2016;
"Days after it filed a police case against controversial Islamic preacher Zakir Naik and raided several locations linked to his organisation Islamic Research Foundation (IRF), the National Investigation Agency or NIA has said that the tele-evangelist was sponsoring an alleged ISIS sympathiser."
"Sources in the NIA said that the IRF paid Rs 80,000 to Abu Anas- a resident of Tonk in Rajastan- who had been arrested in January this year in an ISIS related case. The money had apparently been sent to him as scholarship in October last year. As per the anti-terror agency, Mr Anas – who is presently held at Delhi's Tihar Jail – was planning to go to Syria and fight for ISIS at the same time."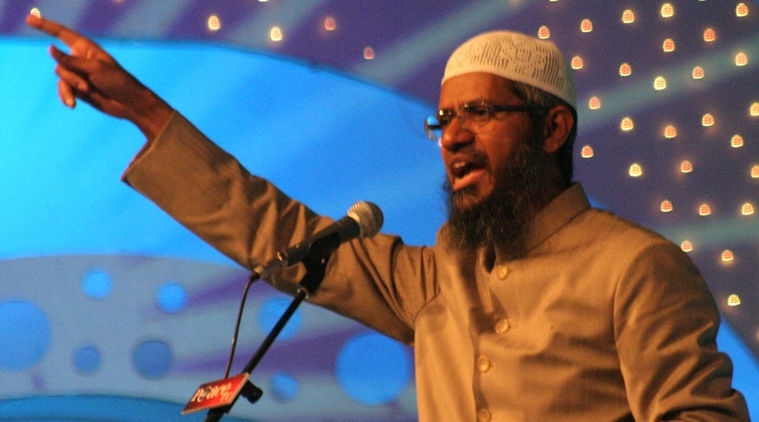 3. In 2016 India has issued a summons for Zakir Naik.
So he has become a fugitive.
He first ran away to Saudi Arabia.
But the Saudis are afraid of Donald Trump.
So they asked Naik to leave Saudi Arabia.
Now Zakir Naik has come to the land of the 'Kabilah DNA Bahalol'.
He is a fugitive from the law in his own country India.
'Enforcement Directorate Question Officials Working In Controversial Zakir Naik's NGO bertarikh 24hb Januari 2017;
"Earlier, the ED had issued summons to Dr. Naik and IRF
agency had registered a case under the provisions of the Prevention of Money Laundering Act (PMLA) after taking cognisance of an NIA complaint under the Unlawful Activities (Prevention) Act against them"
ED is looking into charges of illegal funds laundered by the accused and the subsequent proceeds of crime thus generated"
"The National Investigation Agency (NIA) had last month registered a case against 51-year old Naik under anti-terror laws for allegedly promoting enmity between religious groups"
"Dr Naik, who is in Saudi Arabia to evade arrest after some perpetrators of the Dhaka terror strike last year claimed they were inspired by him . .
"The charges levelled by the NIA also include those under sections 10 (being member of an unlawful organisation), 13 (punishment for being member of illegal organisation) and 18 (punishment for being involved in a conspiracy for committing any terror act) of UAPA"
4. Then six countries have banned Zakir Naik. This includes our neighbor Singapore, Bangladesh (which has also banned Zakir Naik's Peace TV), Canada and the UK.
"Zakir Naik appealed the decision to refuse him entry into the United Kingdom and the
matter was disposed by the UK Court of Appeal vide Case No: C4/2010/2913 Neutral Citation Number: [2011] EWCA Civ 1546. The Court of Appeal attached as Annex A a list of 11 statements by the Home Secretary attributed to Dr. Naik as evidence of "Unacceptable Behaviour"; and as Annex B a list of 4 reports said to provide "further context to the influence statements made by Dr. Naik have previously had on those engaged in terrorist related activity". The Court of Appeal upheld the decision of the Home secretary to exclude Zakir Naik on grounds of unacceptable behaviour. "
In 2010 (SEVEN YEARS AGO) the UK banned Zakir Naik for his hate speeches. In 2011 the UK Courts denied an appeal by Zakir to lift the ban. Please note that the British Home Secretary at that time was Theresa May, who is presently the British Prime Minister.
5. Bangladesh was shocked by those ISIS terrorists (who had studied in Malaysia) who attacked a cafe in Dhaka in July 2016 and killed 20 people – using parangs and knives, truly ISIS style. Some of the ISIS guys had said that they were inspired by Zakir Naik's speeches.
6. Zakir Naik's financial officer has also been arrested for money laundering where he illegally transferred large amounts of money.
http://www.india.com/news/india/intelligence-agencies-find-link-between-zakir-naiks-islamicresearch-foundation-and-jamaat-ud-dawa-1316487/
The Economic Times in a report dated 20th February 2017 reported; "Three days after controversial preacher Zakir Naik's chief financial officer Aamir Gazdar was arrested by the Enforcement Directorate (ED) for alleged money laundering, the trail has led the sleuths to Pakistan and the D-Company.
In what could turn out to be massive hawala racket in India, the ED is probing a few businessman in Karachi, known to be close to Dawood Ibrahim. Who have purportedly "moved" large amounts of money into Naik's Islamic Research Foundation (IRF) accounts".
(My comments : Dawood Ibrahim is India's notorious underworld character. Dawood Ibrahim and Zakir Naik grew up in the same neighborhood in Mumbai.)
" A closely coordinated investigation is on to conclusively find out whether linked with a Pakistan-based terror outfit masquerading as social workers organisation, and businessman close to Dawood Ibrahim have moved funds to Naik's NGO, a high ranking ED official said".
g) The Central Government is of the opinion that the aforesaid activities of the Islamic
Research Foundation (IRF) and its President Dr. Zakir Naik are highly inflammatory in nature and prejudicial to the maintenance of harmony between various religious groups and communities and if urgent steps are not taken there is every possibility of many youth being motivated and radicalized to commit terrorist acts leading to promoting enmity between different religious groups.
h) The Central Government, having regard to the above circumstances, have declared the Islamic Research Foundation (IRF) as an unlawful association.
7. Darul Uloom Deoband issues fatwa against Zakir Naik as Ghair Muqallideen
"However, the most surprising condemnation comes from the Darul Uloom Deoband, the seat of the Deobandi school of Sunni Islam, which is head quatered in Deoband in Uttar Pradesh. The Deobandis are often referred as the Wahhabis, as they share many of their beliefs with Wahhabism. Darul Uloom has issued a series of fatwas against Naik since 2007"
.
"The Deoband school said that religion should be learned through authorised ulema (Muslim scholars with specialised knowledge of Islamic theology) and books, and added that Naik was a self-styled preacher unaffiliated to any of the four schools of Sunni Islamic thought"
"One of the fatwas issued by the Darul Uloon against Naik states that "Zakir Naik is an agent of Ghair Muqallideen, away from knowledge and wisdom from the four schools of thought, spreading mischievous things and misguiding simple Muslims to wrong path"
.
.
Conclusion : Darul Uloom Deoband has been issuing fatwas against Zakir Naik since 2007. United Kingdom has banned Zakir Naik since 2010. The whole world has been aware of Zakir Naik for a long time. This guy has been causing trouble for a long time.
The Kabilah DNA Bahalol has just discovered him now.
These are just some of the reasons stated in that affidavit filed in the Kuala Lumpur High Court, justifying the request that Zakir Naik should be deported and never allowed into Malaysia.
The counter argument may be that although Zakir Naik may have committed these offences in India or that the United Kingdom, Bangladesh etc have banned him, he has not yet committed any of these types of offences in Malaysia.
This will be the logic of the 'Kabilah DNA Bahalol'.
My question is : Havent we banned other people from entering Malaysia before? I am certain we have done so. Why did we ban certain people from entering Malaysia? They too have not commited any crimes, yet we still banned them from entering Malaysia.
The reason is because we had reason to believe that such people are trouble causers. We do not need them in Malaysia.
Sarawak has banned many West Malaysians (especially Opposition politicians and that muallaf-China-masuk-Islam retard) from entering Sarawak. Why did Sarawak do that? These people have not committed any crimes yet. Sarawak did that because Sarawak is NOT part of the Kabilah DNA Bahalol. They do not want trouble causers coming into Sarawak.
The same logic applies to Zakir Naik. This fellow is banned in so many countries. He is a fugitive from Indian Police (their National Investigation Agency) which has already issued a 'summons' against Zakir Naik to appear for questioning.
The Indian NIA has also declared Naik's Islamic Research Foundation an illegal organisation.
We do not need emotional outbursts from our religious fraternity, including Perlis Mufti Dr Mohd Asri Zainal Abidin.
Court papers have been filed. Let the Court decide.
I hope our infamous IGP does not make any prejudicial statements about this case. Leave it to the Court to decide.o
The Home Ministry / Police must assist the Court in providing evidence whether the FACTS presented in the Court affidavit filed by those 19 plaintiffs is correct or not. The Police can verify those statements.
Is there an Indian Gazette statement about the involvement of IRF staffers as recruiters for ISIS? Is there a basis for the Indians gazetting such statements?
Then let the Courts decide.
(Err . . . to the Tan Sris at the Majlis Keselamatan Negara, you can please remove your finger from your backside now. Thank you.)
Finally here is a statement attributed to Zakir Naik :
i. "The pig is the most shameless animal on the face of the earth. It is the only animal that invites its friends to have sex with its mate. In America, most people consume pork. Many times after dance parties, they have swapping of wives; many say, 'you sleep with my wife and I will sleep with your wife.' If you eat pigs, then you behave like pigs. [Occasion unspecified, referred to in Western Mail August 2006].
I say Zakir bhai, did the pig tell you this?
Are you saying that before Islam came to India, before your parents and great grand parents became Muslims they too were behaving like this?
– http://syedsoutsidethebox.blogspot.my/
.