'YES I AM A VERY ANGRY MAN, I WILL BURN YOU': MAHATHIR TAKES A SWIPE AT S'GOR SULTAN A DAY AFTER SHOWING WHAT HE THINKS OF THE RULER'S COMMENTS BY RETURNING HIS AWARDS
Responding to Selangor ruler Sultan Sharafuddin Idris Shah's scorching remarks about him, Dr Mahathir Mohamad admitted in jest that he sets things on fire with his temper.
"Yes, I am a very angry man, you can see how angry I am.
"I will burn you, I am always burning things," the 92-year-old former premier told reporters with a stern face, but broke into a broad grin moments later.
Mahathir, who is Pakatan Harapan chairperson, was asked to comment on the ruler's remark that his anger could raze the nation.
The former premier also commented on his decision to return the awards conferred on him by the Selangor palace.
"Why I returned (them?) I don't think he (the ruler) thinks I am fit enough to be decorated like that.
"You see, I was decorated because he thinks I deserved it, but now I am going to (set) fire (to) the whole country, I think I don't deserve it anymore," he said.
Mahathir's wife, Dr Siti Hasmah Ali, had also returned her royal awards.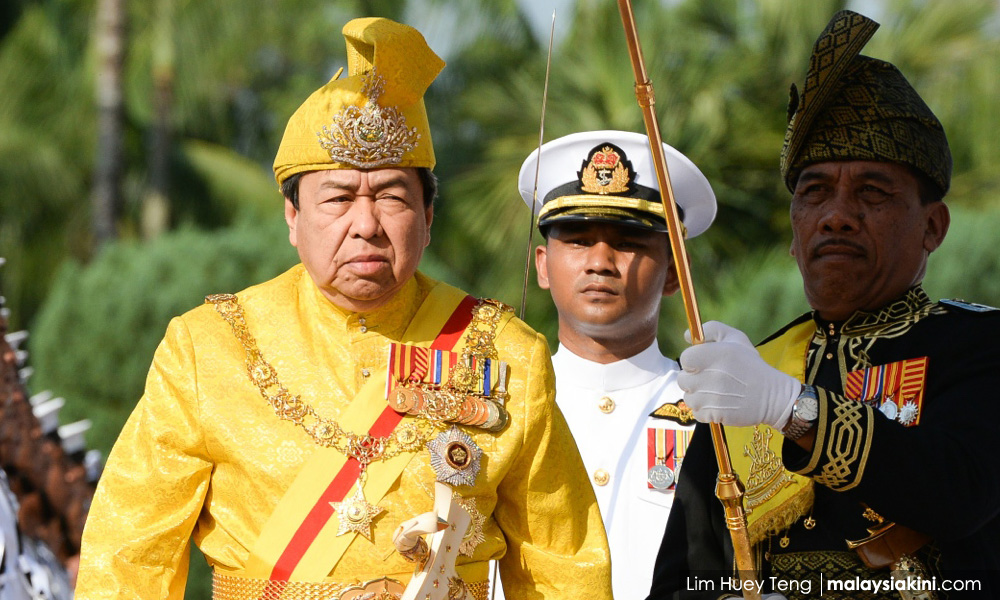 The relationship between Sultan Sharafuddin (photo) and the former premier had become strained after the sultan rebuked Mahathir.
This came after Mahathir had courted the ruler's wrath with his "Bugis pirate" remark.
Last week, the sultan unleashed a vitriolic salvo on Mahathir, saying that the latter had an inferiority complex and deep hatred.
Prior to that, Johor ruler Sultan Ibrahim Sultan Iskandar also took Mahathir to task for his "Bugis pirate" remark.
When asked if he planned to return his awards to the rulers of other states as well, he asked:"Why should I?"
Mahathir also dismissed Sungai Besar Umno division chief Jamal Md Yunos' demand for him to leave Selangor if he can't accept the sultan as head of state.
"Does the state belongs to him?"
– M'kini
.