WORLD IN SHOCK: FEMALE ASSASSINS KILL KIM JONG-UN'S BROTHER AT MALAYSIA'S KLIA AIRPORT
The estranged half-brother of the North Korean leader Kim Jong-un has died in Malaysia, police in Kuala Lumpur have said.
Kim Jong-nam died en route to hospital from Kuala Lumpur international airport on Monday, police said, adding that they had not yet confirmed the cause of death.
A member of the staff at the emergency ward of Putrajaya hospital said Kim's body was now in the forensic department awaiting a postmortem examination.
South Korean media reports claimed that Kim had been poisoned by two North Korean operatives at the airport. The South Korean cable broadcaster TV Chosun said Kim, who has reportedly never met North Korea's current leader, was attacked by two unidentified women with "poisoned needles".
The Guardian has not been able to verify the reports. Previous reports of executions and purges involving people deemed to be enemies of the North Korean regime – including those emanating from South Korean intelligence – have proved unreliable.
Kim Jong-nam, the eldest son of the late North Korean leader Kim Jong-il, does not hold an official title and has played no part in running North Korea. But just weeks into his younger half-brother's rule, he described the regime as "a joke to the outside world" and said he opposed the hereditary transfer of power in the country.
Those comments appeared in a book by Yoji Gomi, a journalist with the Japanese newspaper the Tokyo Shimbun, who said he had exchanged emails with Kim Jong-nam over seven years.
The suspects reportedly fled the scene in a taxi, but Malaysian law enforcement officials believe that North Korea was behind the attack, South Korea's Yonhap news agency said.
South Korea's foreign ministry said it could not confirm the reports, and the country's intelligence agency could not immediately be reached for comment.
If confirmed that North Korean operatives were responsible, Kim's death would be the highest-profile killing connected with the Pyongyang regime since Kim Jong-un ordered the arrest and execution of his uncle and close adviser, Jang Song-thaek, in December 2013.
North Korea is known to target critics, mostly inside the secretive state. Kim Jong-un is thought to have presided over several high-profile purges, including executions, since he became leader.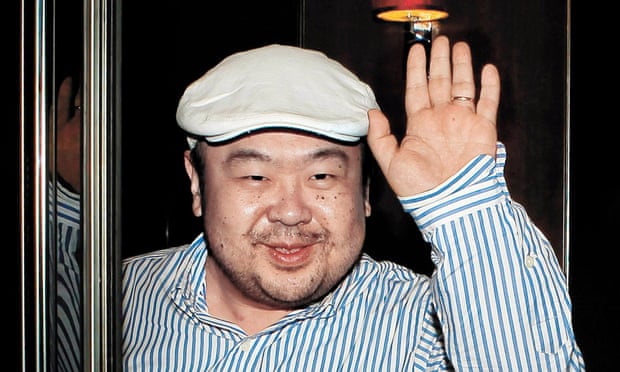 In 2012, a former member of the North Korean special forces was found guilty in South Korea of attempting to kill Park Sang-hak, a leading anti-North Korean activist who headed a a campaign to send leaflets to the North attacking Pyongyang's leaders.
The would-be killer, referred to in court only by his surname, Ahn, had been arrested in possession of a torch that was, in fact, a gun capable of firing a bullet coated with a poisonous chemical. Ahn was also carrying a fountain pen capable of firing a bladed projectile, and a ballpoint pen that concealed a needle with a poisoned tip.
Kim Jong-nam's death comes days after the regime came under renewed international pressure following the test-launch of a medium-to-long-range ballistic missile to coincide with Donald Trump's summit with the Japanese prime minister, Shinzo Abe.
Kim Jong-nam's mother is Sung Hae-rim, a South Korean-born actor who died in 2002, possibly in Moscow. She was never married to Kim Jong-il.
Kim, who is believed to have spent the past 15 years living in China and Macau, was once tipped to succeed Jong-il as the third member of the Kim dynasty to rule the authoritarian state. But he reportedly fell out of favour after embarrassing the North Korean government when caught trying to enter Japan on a fake passport, saying he wanted to visit Tokyo's Disneyland, in 2001.
He said several times over the years that he had no interest in leading his country. "Personally I am against third-generation succession," he told Japan's Asahi TV in 2010, before his younger brother had succeeded their father. "I hope my younger brother will do his best for the sake of North Koreans' prosperous lives."
– /www.theguardian.com