WHO THE HELL IS NAJIB? CHINA BUILDS 'GREAT WALL' IN HIS HOME STATE EVEN AS UMNO RATCHETS UP RACIAL RHETORIC AGAINST LOCAL CHINESE
The Gebeng Bypass, which links Jabur in Terengganu with Gebeng near Kuantan Port, has always been a mundane drive, with kilometres after kilometres of greenery since it opened in 2006.
But beginning 2013, a section of the highway in Gebeng, a small town 25km north of Kuantan, has seen an explosion of activities, with 1,219 acres of land cleared and large-scale construction in full swing.
A new ramp diverges from the Gebeng Bypass to the cleared land, which is now known as the first phase of the Malaysia-China Kuantan Industrial Park (MCKIP).
A huge four-storey building under construction sits adjacent to the circular ramp, which is protected by an eight feet tall wall. Satellite images show the wall spanning around the entire project site, with an estimated length of at least nine kilometres.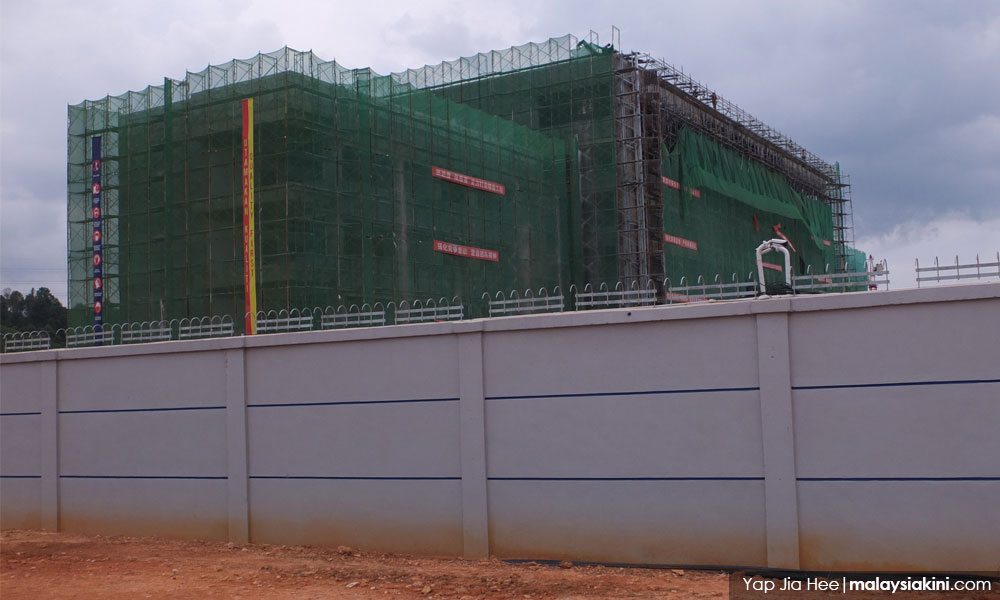 For the local folk, the dull grey wall topped with steel hooks, with the exception of certain sections which are brick red for aesthetic purposes, has come to be referred to as Kuantan's "Great Wall of China".
The wall is not exceptional, but its apparent purpose of keeping those inside separate from the outside world has fuelled speculations among the local community.
The regular folk of Kuantan are not allowed within the walls without the approval of the site's administrator. The small number of locals who are allowed in are those who have business dealings inside.
The main entrance, the only entry point, for the time being, is strictly manned by guards in white uniform from a local private security firm, as well as by guards from China, who don black uniforms.
The best glimpse people outside can get of what's inside are the buildings under construction that tower over the wall, with many Chinese motivational slogans being hung over the green safety nets that are typical of construction sites of companies from China.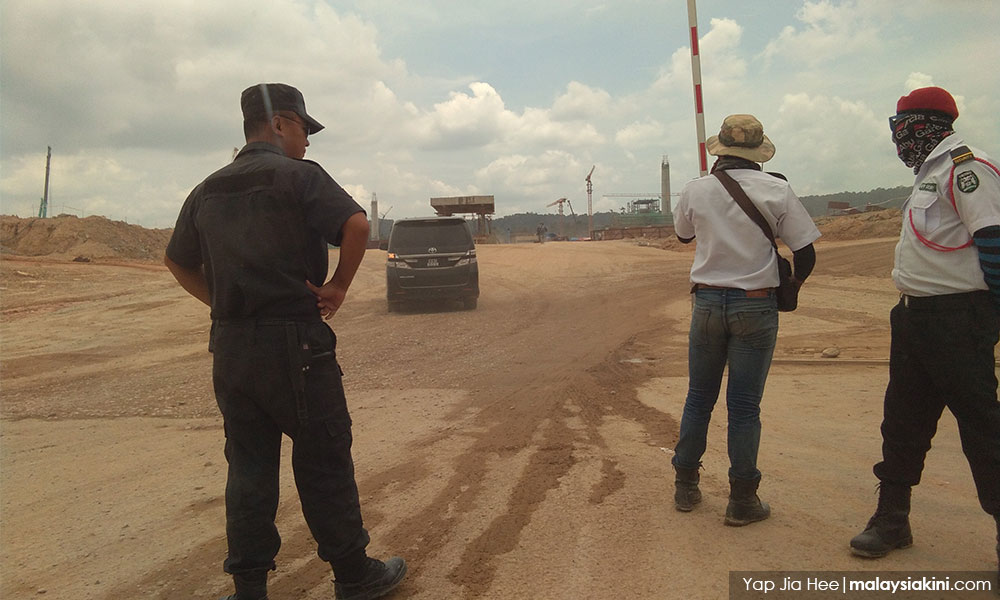 These observations have given rise to talk among the local community that a China enclave has been carved beyond the wall.
Assemblyperson denied entry
Teruntum assemblyperson Sim Chon Siang had applied to MCKIP to enter the site, in an attempt to dispel the speculations, but he was rejected. Instead, MCKIP sent two representatives to meet Sim outside the industrial park.
Officially launched on Feb 5, 2013, MCKIP is 49 percent owned by Guangxi Beibu Gulf International Port Group Co Ltd, a China company owned by the Guangxi Autonomous Region government and 51 percent owned by a Malaysian consortium – Kuantan Pahang Holding Sdn Bhd.
Kuantan Pahang Holding Sdn Bhd is a public-private partnership comprising IJM Land Bhd (40 percent), Sime Darby Property Bhd (30 percent) and the Pahang government through Perbadanan Setiausaha Kerajaan Pahang and Pahang State Development Corporation (30 percent).
The grand opening was graced by Prime Minister Najib Abdul Razak and the then chairperson of the National Committee of the Chinese People's Political Consultative Conference, Jia Qinglin.
Divided into three phases, the current 1,219-acre development will be followed by another 1,000 acres and 800 acres in Phase Two and Phase Three, respectively.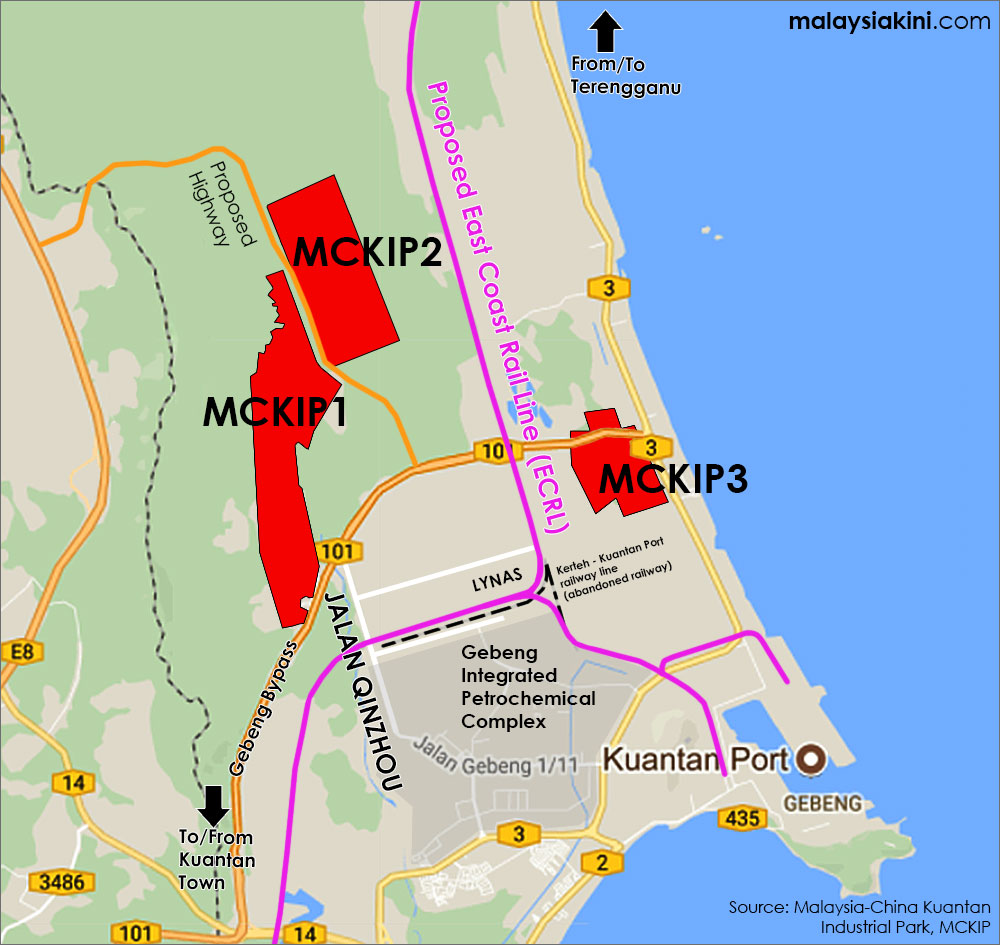 A large part of the first phase, or 710 acres, has been sold to Alliance Steel (M) Sdn Bhd, a joint-venture between two China entities – Guangxi Beibu Gulf Port International Group Co Ltd and Guangxi ShengLong Metallurgical Co Ltd – according to a Pahang state assembly written reply dated Sept 14.
The written reply said Alliance Steel, the first China company to invest in MCKIP, is building a modern integrated steel plant, which is already 50 percent completed and is expected to commence operations by the year-end.
The Pahang government also revealed that a China company specialising in car batteries has promised to invest in Phase Three of MCKIP. Media reports also say another China company will be investing in the industrial park to construct an aluminium factory.
MCKIP was the first project to be granted "National Industrial Park" status and has been touted as a booster for local economic growth and will create thousands of new jobs for the Kuantan folk.
But more than four years on, the local community is starting to grumble that this promise has yet to be met.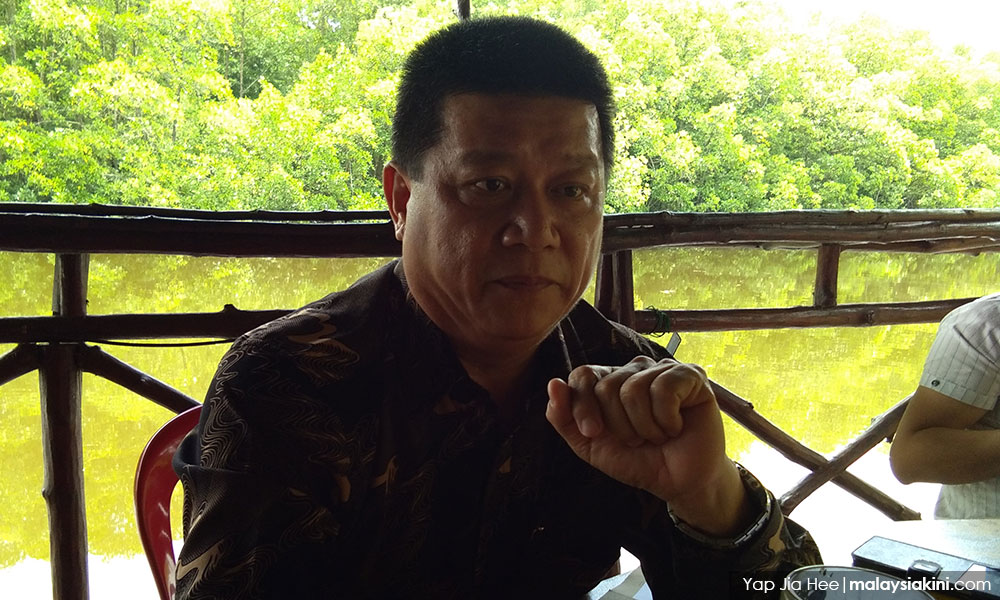 As the assemblyperson of the constituency where the MCKIP is located, Sim (photo) had been following the issue closely because of the many inquiries and complaints he has received.
The city beyond the wall
Describing MCKIP as a "closed city", Sim said it was nothing like the other industrial parks in greater Kuantan, such as the Gebeng Industrial Park and Semambu Industrial Park, where people are free to enter and the walls or fences are only confined to the individual factories or company buildings.
"We were looking forward to the first phase of MCKIP at the beginning, but now the construction is almost done and we have yet to see any major changes in Kuantan.
"The most important is to increase local employment opportunities so that young people can stay in Kuantan.
"We hope MCKIP can grow the Kuantan economy instead of walling themselves inside – like a Federal Territory – and we know nothing about what is happening inside," Sim told Malaysiakini when met in Kuantan.
Having failed to secure permission to visit MCKIP, Sim turned to the Pahang state assembly, where he questioned the state government on the composition of the workers on site.
The Pahang government, in a written reply on Sept 14, said during peak periods, a total of 6,000 construction workers were employed at a ratio of three foreign workers to two local workers.
This puts the number at 3,600 foreign workers and 2,400 local workers working on Phase One of the MCKIP. The state government did not specify whether the foreign workers were from China or other countries.
The state government said the composition was necessary to ensure the factories can be completed and commence operations on time for the benefit of the local community.
It added that the materials used for the construction were 50 percent local and 50 percent from China.
Beyond the official responses from the state government, the happenings beyond the wall remain a mystery, to elected representatives and to the people of Kuantan as well.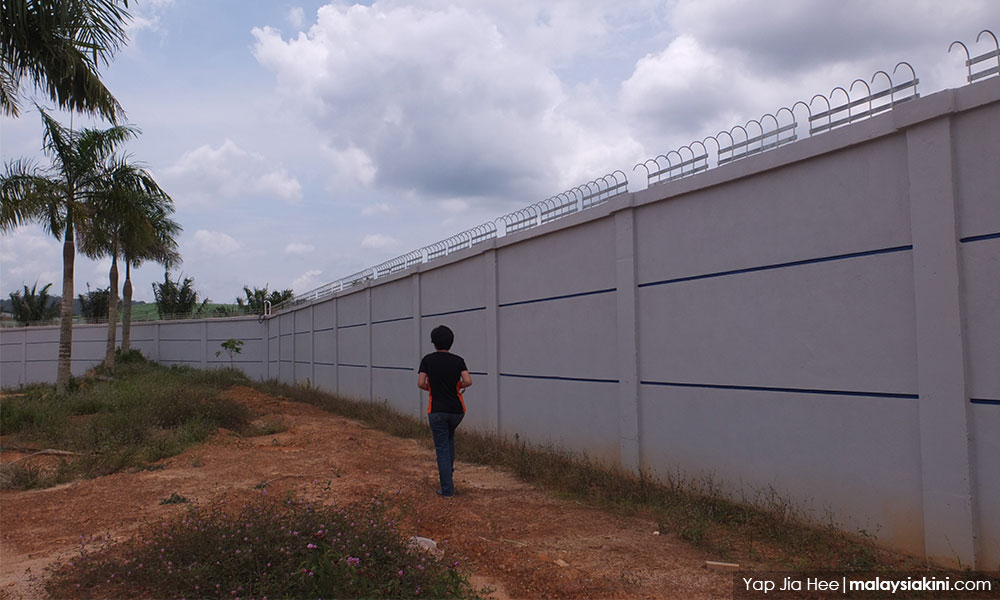 During an impromptu visit to the MCKIP, Malaysiakini journalists were also denied access.
Malaysiakini has written to MCKIP and the East Coast Economic Region (ECER) to apply for a formal visit and is yet to receive a response at the time of writing this article. MCKIP and ECER have also not responded to requests for comment.
However, Malaysiakini managed to speak to several people, local and Chinese citizens, who work or live within the walls of the MCKIP site.
A local driver who ferries workers from their hostels to the construction site, all within the MCKIP site, said he was required to live inside the industrial park.
Apart from ferrying workers, the local driver, who spoke on condition of anonymity and wanted only to be referred as Tan (not his real name), also takes on other roles, including running errands.
"I will leave the industrial park if there is a need for procurement," he told Malaysiakini.
It is during this time that Tan would seek out local restaurants in Kuantan, explaining that he was not used to the "authentic" China food served by the canteens within the site.
'Job opportunities will come'
Tan acknowledged that there were only a few Malaysians working inside the first phase of the MCKIP, but he believes this will change in future when the factories become operational.
"At this stage, Kuantan people are only seeing a little benefit but the factories' production lines, when they are completed, will provide long-term jobs.
"Last month, they have already advertised that they want to recruit 4,000 employees for the soon-to-be-completed factories. I may also change to the production line in future," said Tan, who had been jobless for a while before taking on this job last year.
Malaysiakini also spoke to two Chinese citizens, who work for Hubei Qianxi Construction Engineering Co Ltd and were in their company uniforms.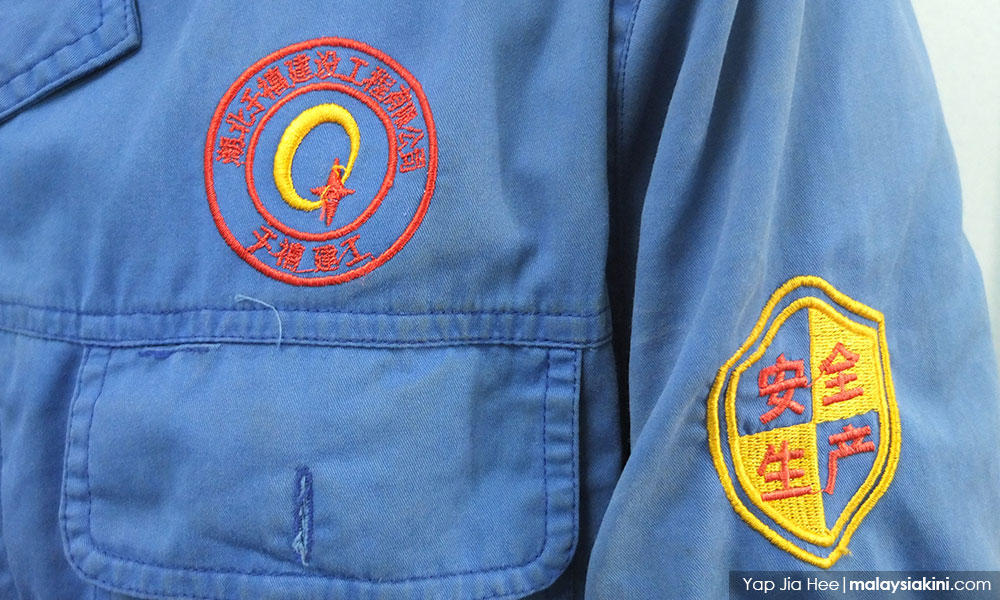 Both spoke condition of anonymity for fear that they may lose their jobs, and will be referred to as Zhang and Wong (not their real names).
Zhang said Hubei Qianxi was one of the many construction companies in China involved in the construction of Alliance Steel's integrated steel plant. The same company had also built the MCKIP showroom, located outside the industrial park.
He said his company alone had deployed some 400 construction workers, mostly from Hubei, China, comprising welders, steelworkers, carpenters and others.
"Our workers come and go. Some have yet to arrive while others will be going back when their permits expire," he said.
Apart from Hubei Qianxi, Zhang said there were at least 30 other China companies involved in the construction of the 710-acre steel plant, with each company being tasked to construct a specific component of the complex.
He added that workers from the different companies, who hail from different regions in China, were segregated into different living quarters to avoid disputes among them.
Asked for an estimate on the number of China workers inside, Zhang said he believed it was more than the 3,600 official figure provided by the Pahang government.
Zhang said he and other workers were paid in Malaysian ringgit but the amount is a few hundred renminbi higher, compared to working in China.
He claimed that "90 percent" of the workers inside the industrial park at present were from China.
The remaining workers, he said, were mostly Bangladeshi, Indonesians and some Malaysians working as interpreters or procurement personnel.
'Just like living in China'
Asked how he felt living within the wall, he replied: "It's just like living in a city in China, if we don't come out."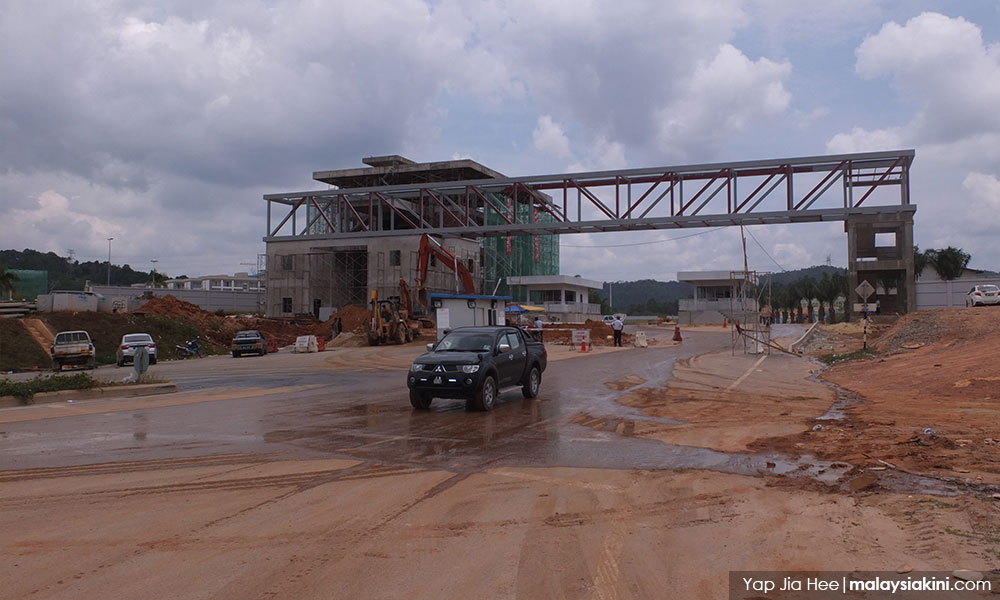 Echoing this, Wong said it would be difficult to live there if it did not feel like home.
"If not, you may not be able to stay here for a day, or you will not come here to work at all," Wong said.
The two of them explained that the different living quarters prepared authentic China cuisine, according to the region in China where the workers come from.
For example, the canteen hosting workers from Hubei Qianxi would serve Hubei cuisine while the living quarters for Sichuan workers provided Sichuan cuisine. The duo admitted that they did not enjoy Kuantan food.
However, Zhang refuted talk on the outside that all supplies within the wall were imported from China.
He said every living quarter has a convenience store that stocks daily supplies, which mostly comprise Malaysian products.
He added that a new Malaysian supermarket, which has several chain stores in Pahang, recently opened its door within the industrial park.
Zhang said only a handful of supplies, such as snacks, wines and cigarettes, were imported from China.
"The new supermarket sells more Malaysian goods but the smaller stores have some China goods, such as Baijiu (grain-based liquor), Master Kong instant noodles, Lao Gan Ma (China brand chili sauce) and cigarettes like Huanghelou.
"We don't smoke Malaysian cigarettes because they are too 'sweet'," he said.
Prohibition from leaving the wall
Unlike Malaysian workers who are allowed to leave the industrial park when running errands, the China workers are strictly prohibited from leaving the confines of the wall.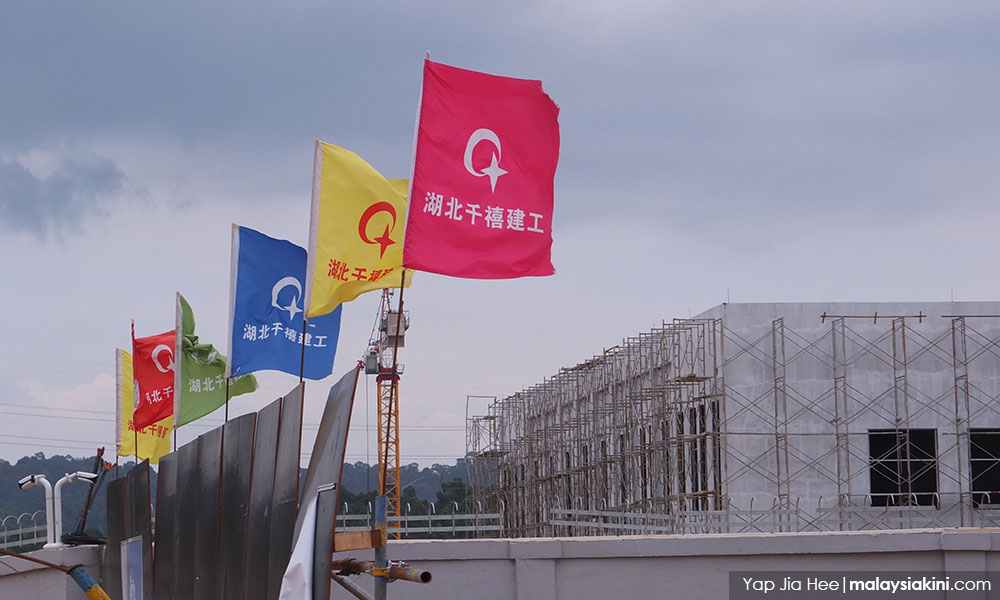 However, Zhang said, there was no need for him to leave the industrial park as it was self-sustaining with all necessities available within the wall.
"In our living quarters, a room has four beds for four people and it is air-conditioned and with lights.
"The room is comfortable and there is a television in the canteen and a few communal toilets," he said.
Chipping in, Wong said the company explained that the workers were not familiar with the outside world and the prohibition was aimed at protecting their safety.
Wong said for him and his co-workers, they had no qualms staying behind what locals described as the "Great Wall of China", as they had no interest in visiting Kuantan town.
Zhang said they are only allowed to leave the industrial park if they fall sick and the medication acquired for them by procurement personnel is ineffective.
This would require approval from their company, after which they would be ferried to town to see a doctor.
"We are not allowed to come out even when we are on leave.
"When we are on leave, we will sing karaoke, watch television or play basketball. There is not much entertainment inside the industrial park," Zhang said.
MKINI
.