WHAT OPTIONS DOES NAJIB HAVE BUT TO NEGO WITH N.KOREA? AFTER SHOWY BUT BRIEF EMERGENCY MEET, NAJIB HAS LITTLE TO ANNOUNCE ON HOSTAGE CRISIS
This evening, I chaired an emergency National Security Council meeting in TUDM Subang upon my arrival from Jakarta.
This meeting was also attended by YAB Deputy Prime Minister Dato' Seri Zahid Hamidi and the Multimedia and Communications Minister Datuk Seri Salleh Said Keruak as well as senior government officials.
I was briefed in detail on the current situation. Our main focus is to ensure the safety of Malaysians who are being detained in North Korea and to ensure their safe return to Malaysia.
I know that the family and friends of our fellow Malaysians detained in North Korea are anxiously anticipating news of their loved ones.
We are doing our very best to secure their safe return.
WRITER: NAJIB RAZAK
https://www.najibrazak.com
MEETING LASTED ABOUT AN HOUR
MEANWHILE, according to Malaysiakini:
Prime Minister Najib Abdul Razak has given his assurance that Putrajaya will do everything that was necesary to bring home Malaysians being held in North Korea.
"I understand the feelings and concern of the family and friends of Malaysians being held in North Korea.
"We give our guarantee that we will do all we can to ensure their safe return," said the PM in a post on his official blog.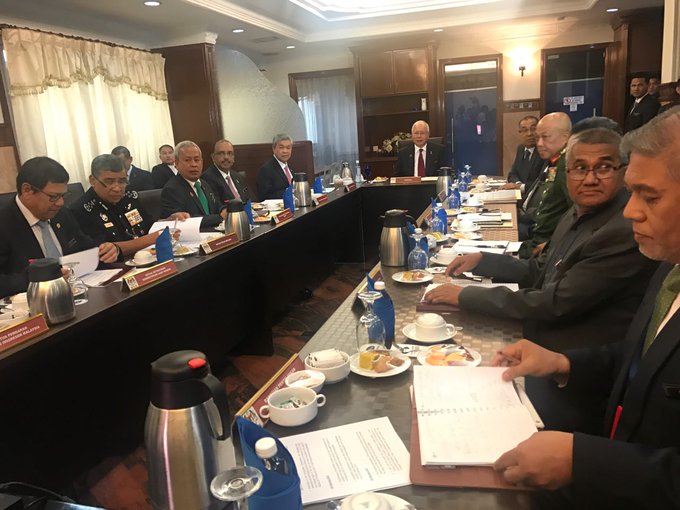 Baru selesai Mesyuarat Tergempar Majlis Keselamatan Negara mengenai situasi Korea Utara yg dipengerusikan oleh PM @NajibRazak
He added that he was fully briefed on what transpired, explaining that the focus now is to ensure the safety of our citizens and on what can be done to bring them home unharmed.
According to several news reports, there are eleven Malaysians in North Korea, including embassy staff, their family memvers and two individuals who work for the United Nation's World Food Programme.
Najib had earlier chaired the National Security Council (NSC) meeting at the Subang Royal Malaysian Air Force base amid the escalating diplomatic row with North Korea.
"Just arrived at Subang Royal Malaysian Air Force airport from Jakarta.
"I am chairing an emergency NSC meeting here," he said in a Facebook posting at 6.30pm.
 Others present at the meeting include Deputy Prime Minister Ahmad Zahid Hamidi, armed forces chief Raja Mohamed Affandi Raja Mohamed Noor, chief secretary to the government Ali Hamsa, Communications and Multimedia Minister Salleh Said Keruak, attorney-general Mohamed Apandi Ali and inspector-general of police Khalid Abu Bakar.
The meeting ended about an hour later, at 7.36pm, according to a tweet from Ahmad Zahid.
The meeting was called following North Korea's move to bar Malaysians from leaving the country.
According to Wisma Putra, 11 Malaysians, including three embassy staff and their families, are in North Korea.
In a tit-for-tat response, Putrajaya also imposed a travel ban on North Koreans in Malaysia.The NSC Act states that the security council is made of the prime minister, deputy prime minister, home minister, defence minister, chief of defence, chief secretary as well as the communications and multimedia minister.
MKINI
.