UMNO WARLORDS START TO GET IMPATIENT WITH NAJIB: EVEN SYCOPHANT NAZRI PANS MAT TAIB'S RETURN TO UMNO – 'WE DON'T NEED BIG NAMES TO COME BACK. WHAT IS IMPORTANT IS TO WIN THE HEARTS OF THE PEOPLE'
The return of former Selangor menteri besar Muhammad Muhammad Taib to Umno was a grand affair, with Prime Minister Najib Abdul Razak himself making the announcement.
However, Umno supreme council member Nazri Abdul Aziz said he is not sure what Muhammad would bring to the table.
"I don't know. You've got to ask him," he said when quizzed on what the former menteri besar could do for Umno.
Nazri said BN was prepared for the next general election, with or without former leaders returning to its fold.
"We don't need (them to come back). We are ready for election with or without them, we do not want to be distracted by this.
"We are already prepared, (in terms of) our mindset and our psyche, everything is being tuned towards the coming general election.
"I don't think there is any importance in bringing big names to our party. What is most important is to win the hearts of the people. That is more important," he told reporters in Kuala Lumpur.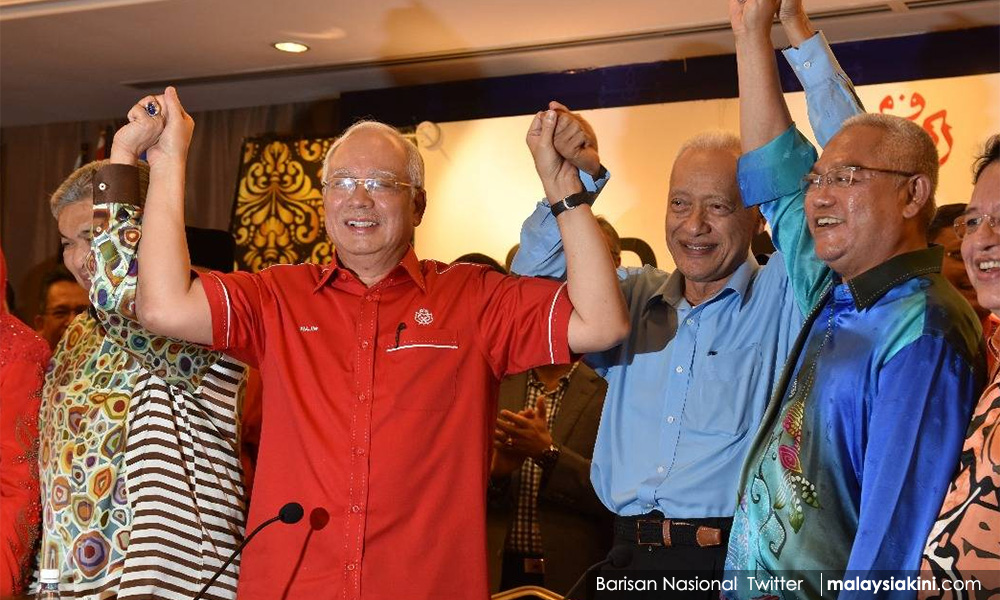 At a press conference yesterday, Najib said Allah had opened the former menteri besar's heart to return to Umno after quitting the party to join PAS and later PKR.
"He realised that the opposition's struggle namely that of PKR's is in vain," he said.
When news of Najib's special press conference broke, speculation was rife that the prime minister was either going to announce the dissolution of parliament or that a top gun from the opposition had switched camps.
However, the premier courted criticism when the announcement concerned Muhammad Taib, who is better known as Mat Taib.
Opposition leaders took to Twitter to mock the prime minister, claiming that the former Selangor menteri besar was not a political powerhouse who warranted such hype.
Pakatan Harapan chairperson Dr Mahathir Mohamad had likened Muhammad to a "frog", hopping from one party to another.
– M'kini
.