UMNO DECLARES WAR ON ARTISTES: SHUT YOUR MOUTH, WHAT DO YOU BIMBOS KNOW, DON'T MEDDLE IN GOVT AFFAIRS , GO TO HELL!
KUALA LUMPUR: Puteri Umno executive committee member Khaidhirah Abu Zahar from Tangga Batu, Melaka took a jab at actress Fathia Latiff at the Umno annual general assembly here Wednesday (Dec 6).
"If she really wants to talk about the struggles of the people, then go on the ground like Puteri Umno. If she just wants to simply type words using her smartphone, then there's no need," said Khaidhirah.
She said that Fathia can sit quietly and work on her acting and herself.
"There's no need to meddle in government affairs," Khaidhirah said in her speech.
Fathia is known to be vocal on social media about issues ranging from fuel prices to politics.
In a recent Instagram post, she posted a tribute to former prime minister Tun Dr Mahathir Mohamad, saying that his contributions to the country seemed to have been forgotten.
Dr Mahathir responded by thanking and praising Fathia for voicing her opinion.
"I'm impressed with the bravery of @fatiyalatiff," he tweeted, referring to the actress by her Twitter handle.
Fathia had interviewed Dr Mahathir on the live-streaming programme Apa Kata Tokoh on June 16.
MEANWHILE, according to Malaysiakini:
Azwan Ali to Sheila Majid: Go to hell!
Popular TV personality Azwan Ali has condemned songstress Sheila Majid for publicly complaining about rising cost-of-living issues.
Azwan told reporters at the sidelines of the Umno general assembly that he was shocked that Sheila, a person whom he respected, would make such remarks.
"Her whining will spoil the new generation. You are a major artiste. Successful. Has a Datuk title. Rich. You have millions of followers.
"Is this not because of the government? Go to hell!" Azwan said.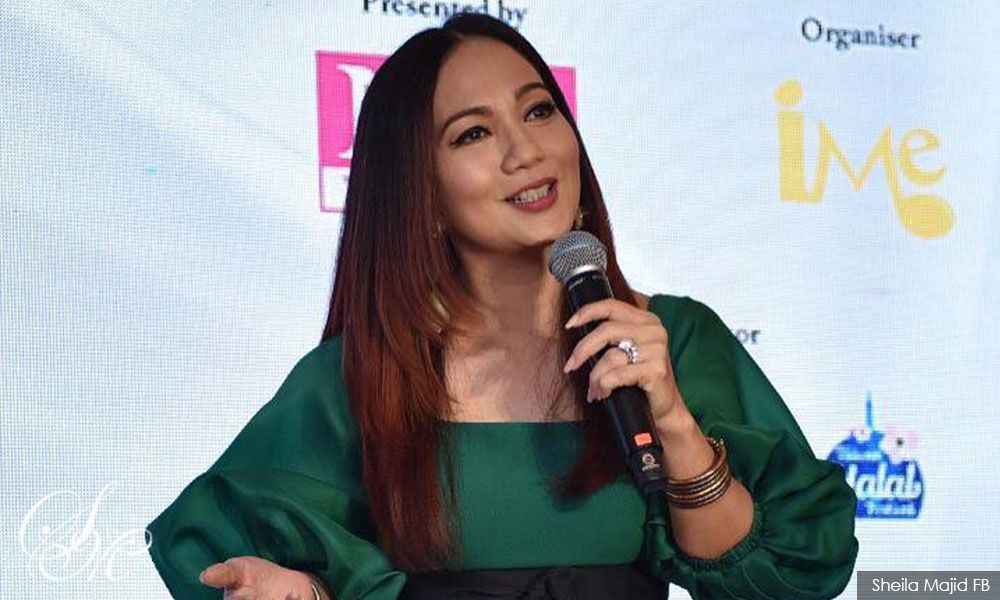 Azwan said that Sheila's (photo) comment was "suicidal" and accused her of forgetting that she had benefited from BN.
"She is influential. A diva should use 'common sense' and not get emotional. People respect her. By making such statements, it is suicidal.
"What she says won't affect BN. Najib doesn't need entertainers to win elections. Najib is too big a name," he said.
Azwan is primarily known for hosting TV programmes. He is also the elder brother of Selangor Menteri Besar Mohamed Azmin Ali.
On Monday, Sheila Majid set tongues wagging after she tweeted about cost-of-living and unemployment issues.
She also suggested that Malaysians are angry for "being squeezed" over "debts we did not create".
Food is expensive, ringgit is weak,cost of living is high & jobs are scarce.Msians are becoming tired & angry for being squeezed over debts we did not create.Stop making excuses & looking for faults.Focus on the job of getting our country back on track! 🇲🇾 Disappointing!!

— Sheila Majid (@SheilaMajid) December 5, 2017
At the time of writing, her tweet had been retweeted 17,223 times and "liked" 10,083 times.
The tweet had attracted an equal mix of praise and brickbats from netizens.
Her comment had struck a chord with Pakatan Harapan chairperson Dr Mahathir Mohamad, who praised her for speaking up for Malaysians.
Sheila's tweet came a few days after actress Nur Fathia Latiff tweeted her displeasure over the Royal Commission of Inquiry findings on Bank Negara's forex exchange losses in the 1990s.
Fathia had suggested that it would be better to investigate bank deposits to "someone's" personal accounts.
This earned her a warning from Rizal Mansor, the aide to the prime minister's wife Rosmah Mansor, who told her to stick to entertaining instead of politics.
ANN / MKINI
.